When searching for the best soft luggage, I put a premium on durability and strength because I want my belongings to stay safe and secure as I travel. If you're like me, I'll tell you why kevlar is the best material for your luggage.
Kevlar luggage is durable, lightweight, and abrasion-resistant, making it able to withstand the rigors of travel. While not bullet-proof, it can resist wear and tear better than most other materials. Few models are available, but they offer top performance and longevity.
Keep reading to know more about the benefits of kevlar and why it's the ultimate choice for soft luggage. From its unique properties to its superior performance, I'll dive into everything you need to know about kevlar and how it can make a difference in your travel experience.
Kevlar: The Ultimate Material for Soft Luggage – What it is and Why it Matters
Soft luggage made of kevlar is superior in strength, durability, and performance. But what is kevlar, and what makes it so strong?
What is kevlar?
Kevlar is a heat-resistant, para-amid synthetic fiber that's incredibly strong because of its complex molecular structure and numerous inter-chain bonds. It was first developed at DuPont by Stephanie Kwolek during the 1960s.
This material is most famous for its use in body armor and protective gear, such as the bullet-proof vests that have reportedly saved the lives of 3,100 law enforcement officers since 1987.
Despite its strength, kevlar is incredibly lightweight, making it ideal for a variety of applications, including body armor, racing sails, and, of course, soft luggage.
Due to its strength-to-weight ratio, kevlar is five times stronger than steel on an equal-weight basis, which is why it's so reliable.
Advantages of kevlar luggage
When it comes to luggage, kevlar won't protect your belongings from bullets. However, it has several other advantages that make it the best choice, especially for people who are used to traveling often.
Durability and strength
Kevlar is a high-strength material that can withstand harsh conditions and rough handling, making it ideal for adventurous travelers.
It has a high tensile strength-to-weight ratio, which means that while it can handle the weight of your belongings, it won't add too much extra weight to your luggage.
Moreover, kevlar is known for its excellent durability. It won't break down easily and can endure wear and tear over extended periods.
Unlike other materials that may degrade or crack under tough weather conditions or prolonged exposure to sunlight, kevlar will remain resilient even after years of use. It's also resistant to naturally occurring chemicals, such as salt water, that may harm other materials.
Additionally, kevlar can be combined with other fibers such as polyester, nylon, and carbon fiber to create composites that are strong, lightweight, and resistant to heat and wear.
Extremely lightweight
As a frequent traveler, I'm also concerned with the advantages of using Kevlar: Kevlar is lighter than most other materials, making it easier to carry and transport.
Weight is especially important for frequent travelers who know that every ounce counts when it comes to luggage.
The lightweight properties of Kevlar can help you pack more without exceeding the weight limit set by airlines.
Resistance to punctures, tears, and abrasions
Due to its unique structure and chemical composition, kevlar is extremely resistant to punctures, tears, and abrasions. Compared to other materials, it's less likely to develop holes, tears, or other types of damage.
When used as material for luggage, you can expect it to withstand being tossed onto luggage carts, thrown onto conveyor belts, and bumped around in overhead compartments.
All these mean that your luggage will last longer and is less likely to require repairs or replacement.
Disadvantages of kevlar luggage
While kevlar has many advantages, it's not without its drawbacks. Here are some downsides to kevlar luggage that you'll want to keep in mind when shopping for yours.
Expensive
Luggage made of kevlar tends to be more expensive than other materials. You can find different prices depending on the brand, but you can expect prices to be around $300 or more.
Compared to nylon and polyester suitcases, which you can find for less than $200, kevlar luggage can be pricey.
However, it's worth noting that the high cost can be justified by the material's exceptional strength, durability, and longevity. Though it's a more expensive upfront investment, you can save money in the long run by needing fewer replacements.
Availability
Another downside to kevlar luggage is it's not as widely available as other types. Fewer brands carry suitcase models made of kevlar, but there are a few great options that you can easily order online.
I'll talk about some of the existing models now to give you a better idea of the available choices.
Kevlar Luggage Brands
If you're convinced that kevlar is the best choice for you, then you're probably wondering which brands carry this type of suitcase. Here are some of the top brands that sell kevlar luggage on the market and their products.
If you know of any other brands offering kevlar luggage options, I invite you to share them in the comments or reach out to me, so we can all benefit from the information.
Samsonite
Samsonite is a top brand that sells luggage (including curv material luggage), backpacks, and other travel accessories. They're well-known for their innovative and durable designs. Their SKX Line features different products reinforced by kevlar, including the SKX Carry-On Expandable Spinner.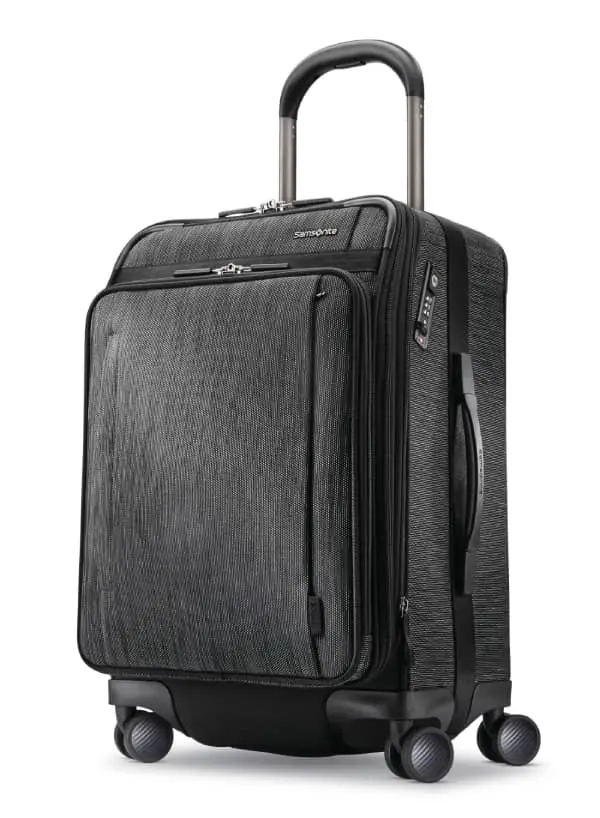 Apart from this product's strength and durability, it also has features like a USB port for charging electronic devices and an optional 1.5″ expansion for additional packing capacity.
Gregory
Gregory is another brand that offers bags made with kevlar material. They have a line called the Supply Duffel series, which features ultra-durable Kevlar® reinforced fabric on the bottom for added strength and functionality.
These bags come with oversized zippers, custom-molded T-grip pullers, and a padded handle wrap for comfortable handling.
The series includes four sizes:
Supply Duffel 40 (40-liter capacity, weight: 1.28 lbs)
Supply Duffel 60 (60-liter capacity, weight: 1.41 lbs)
Supply Duffel 90 (90-liter capacity, weight: 1.70 lbs)
Supply Duffel 120 (120-liter capacity, weight: 2.02 lbs)
You can find the Gregory Mountain Product's Supply Duffel series on their official website and also on Amazon.
XD Fitness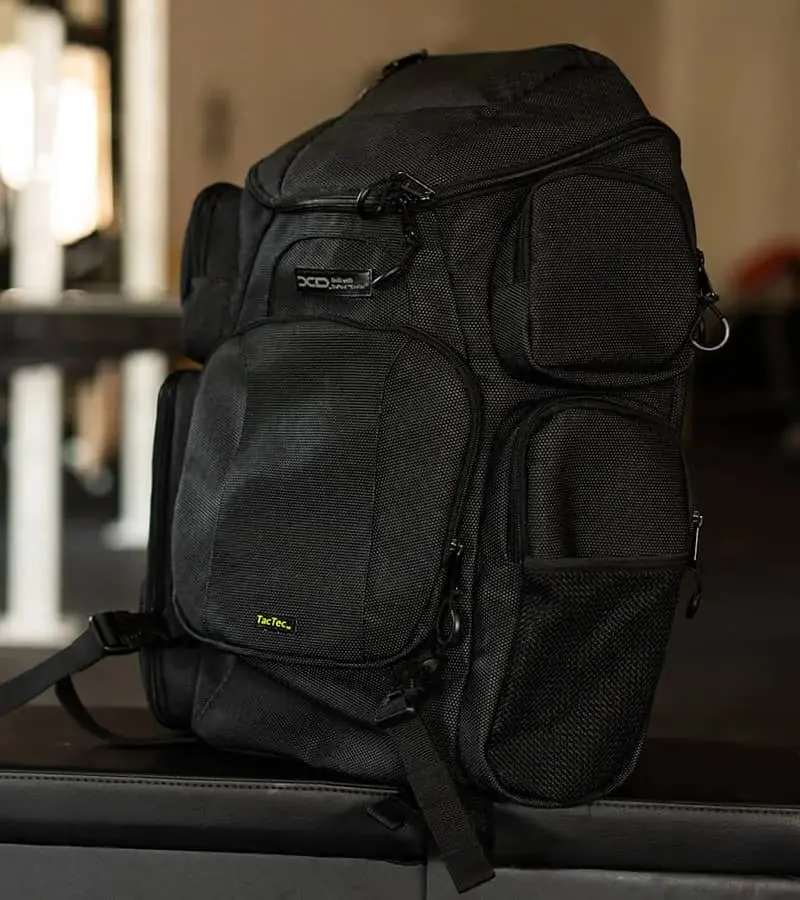 XD Fit is another place to go if you're looking for kevlar-based products. They're more focused on fitness equipment and accessories, but they do have a few travel bags that you might want to check out.
The XD Kevlar Backpack and the XD Kevlar Duffle Back can work well as carry-ons or road trip bags.
However, at the time I'm publishing this article, it's important to note that you may encounter difficulties when trying to purchase directly from their website, as there seems to be no "buy" button available. This is quite unusual and the first time I've come across such an issue.
To overcome this obstacle, you might want to consider looking for their products on other e-commerce platforms or contacting their customer support for further assistance.
Conclusion
Kevlar luggage offers exceptional durability, strength, and resistance to punctures, tears, and abrasions, making it the best choice for frequent travelers. Its lightweight design makes it an even more attractive option.
However, there are some downsides to kevlar luggage, such as its high cost and limited availability. There are currently only a handful of brands designing luggage reinforced by Kevlar.
As technology continues to improve and more people see the benefits of using kevlar in different products, we may see more kevlar utilization in luggage design. In the meantime, kevlar remains a top choice for those looking for a reliable and long-lasting travel companion.
If you already own kevlar luggage or have experience using it, I'd love to hear from you!
Please share your thoughts and insights in the comments below, so others can benefit from your experience and make an informed decision about this type of luggage.
Sources
As the founder of Container FAQs, my goal is to provide readers with in-depth information on the containers used in daily life and related subjects. Don't hesitate to reach out to me if you have any suggestions for articles you would like to see on my blog.