Whether you're a frequent traveler or just setting off on your first trip, Oxford cloth luggage is an excellent choice. What makes Oxford cloth luggage the go-to choice for budget travelers seeking durability and style?
It's a wise choice for budget travelers due to its endurance, affordability, and resourcefulness. Luggage made with oxford material can be helpful for people looking for a budget-friendly option that can still offer convenience and ease of use. However, you should note that other more efficient materials than Oxford cloth are ballistic nylon or cordura nylon (they offer better protection).
Read on to learn more about Oxford cloth and what it's made out of. I'll also cover the fabric's main benefits and drawbacks, so stick around!
What Is Oxford Cloth?
If you're looking for the perfect bag for your next budget-friendly getaway, Oxford cloth luggage might just be what you need.
But what exactly is Oxford cloth? It's a lightweight woven cotton fabric that was first produced in the 19th century.
For instance, its tight weave of fabric makes it breathable, resistant, and ideal for use in clothing and luggage. Oxford cloth bags come in a variety of colors and styles, so you'll have plenty of options to choose from when packing your essentials.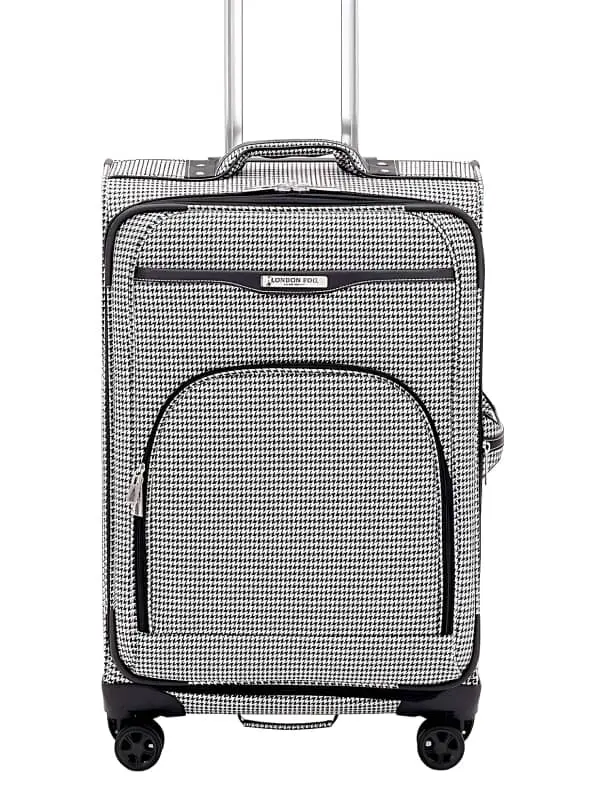 To further appreciate the versatility and durability of Oxford cloth luggage, it's important to explore the denier numbers that represent the thickness of the fibers used in the fabric. The following table offers a comparison of common denier numbers found in the market, providing you with valuable insights into the correlation between fiber thickness and the overall strength of Oxford cloth bags.
Understanding oxford cloth thickness: a denier comparison guide
| Denier* (D) | Thickness Description |
| --- | --- |
| 30D | Ultra-thin, lightweight fabric often used for lightweight garments and linings |
| 70D | Thin and lightweight fabric, commonly used for clothing linings, umbrellas, and windbreakers |
| 150D | Medium thickness, used for a variety of clothing items, bags, and lightweight outdoor gear |
| 210D | Medium to heavy thickness, often used for backpacks, duffle bags, and more durable outdoor gear |
| 400D | Heavy fabric, often used for luggage, outdoor gear, and heavy-duty bags |
| 600D | Very heavy fabric, commonly used for backpacks, luggage, and heavy-duty tarps |
| 1000D | Extremely heavy fabric, typically used for highly durable items such as military gear, heavy-duty bags, and protective coverings |
* The number represents the thickness. The higher the number, the thicker and stronger the weave.
Is oxford cloth luggage good?
As someone who has used Oxford cloth luggage for budget travel, this type of bag is an excellent choice for those looking to travel without spending too much. Oxford cloth is a tightly woven fabric that's incredibly durable yet reasonably priced.
In terms of cost, Oxford cloth luggage offers an economical alternative to high-end materials like genuine leather or ballistic nylon. Its affordability helps travelers who don't want to incur massive expenses.
What's more, the luggage comes in a wide range of styles and designs, including backpacks, wheeled suitcases, and duffel bags.
What is oxford fabric made out of?
Oxford cloth is made from synthetic fibers like polyester or nylon, which gives it strength and resistance to wear and tear. Its cotton material gives it an added layer of protection against dirt and spills, making it perfect for travelers who want to keep their bags clean.
Consequently, to further understand why Oxford cloth makes such great luggage material, let me explain the characteristics of the two fibers used: polyester and cotton.
Oxford cloth, often made from a blend of polyester and cotton fibers, gains durability to tears and wrinkles from the polyester, while the cotton fibers provide added breathability and comfort to keep your belongings fresh.
The combination of these two fibers makes Oxford cloth a fitting material for any kind of bag.
Benefits and Drawbacks of Oxford Cloth Luggage for Budget Travelers
When it comes to budget-friendly luggage, Oxford cloth luggage can offer some great benefits!
The benefits
Here's what makes Oxford cloth luggage great for travel:
Affordable
These bags are usually much cheaper than other types of luggage, making them the right option for budget-conscious travelers.
Lightweight
Its thin fabric makes the Oxford cloth luggage easy to carry and use during your travels.
Flexible
Its flexibility allows it to bend when exposed to rough handling during travel. The suitcase also offers many pockets and compartments.
Very Classy Looking
Oxford cloth luggage looks both classy and casual, but it's all based on the design and style of the luggage. Its high-quality fabric adds a touch of sophistication and elegance to the luggage.
The drawbacks
The two cons to expect with Oxford cloth luggage are:
Less Durable Than Nylon
Even though Oxford cloth has good durability and wear resistance, it's not as wear resistant as nylon.
The specific type of fabric and thickness used with nylon makes it more durable. Its breathability and portability aren't as good as nylon either.
Not Completely Water-Resistant
Oxford cloth luggage comes with a water-resistant coating, but it may not be enough in extreme weather conditions, like heavy rain.
Alternatives to Oxford Cloth Luggage for Budget Travelers
At this point, Oxford cloth has proved to be a perfect budget-friendly option for travelers, but some might have access to better choices. These alternatives are just as efficient and offer more protection than Oxford cloth too.
Ballistic nylon
Ballistic nylon is more expensive than Oxford cloth but offers more strength and durability.
The main benefit of using ballistic nylon over Oxford cloth is its resistance to scratches and tears, making it ideal for travelers who want to avoid damage to their luggage.
It also comes in various shapes and sizes, which makes it easier to find one that's well-suited to your needs.
Cordura nylon
Cordura nylon is another excellent alternative for budget travelers who don't want to let go of quality. Its material resembles canvas, but is composed of a tighter weave, giving it strength and lightness.
Moreover, Cordura nylon is water-resistant and can't be scratched easily.
FAQs
Is oxford fabric better than canvas?
Indeed, Oxford fabric is better than canvas as it's lighter, stronger, and its fabric construction is more tightly woven.
Canvas is a more traditional material used in luggage, and while it can last a long time if properly cared for, Oxford fabric is a better option in terms of softness, durability, and flexibility.
Is oxford cloth durable?
Definitely! Oxford cloth can withstand all sorts of wear and tear without falling short on strength.
It's also waterproof, meaning, you don't have to worry about water getting into your luggage or the fabric being affected over time.
Conclusion
In conclusion, there are a few key reasons why Oxford cloth luggage is one of the best choices for budget travelers. Not only is it lightweight and comfortable, but it also offers a high level of endurance and is waterproof.
Additionally, the various colors, styles, and patterns that come with it ensure that you can find a bag that fits your unique tastes and needs. Overall, Oxford cloth luggage is an incomparable choice for anyone looking for a budget-friendly and reliable luggage option.
Sources
As the founder of Container FAQs, my goal is to provide readers with in-depth information on the containers used in daily life and related subjects. Don't hesitate to reach out to me if you have any suggestions for articles you would like to see on my blog.