Some say that the secret behind Samsonite's lightweight yet stylish suitcases is the CURV technology.
Well, if you're like me, you've probably wondered if the material is worth the hype. To my surprise, some digging around revealed that CURV isn't only excellent for suitcases but is also useful beyond the luggage industry!
Read on to learn all about CURV's origins, advantages, and availability.
The Ultimate Guide to Choosing CURV Material Luggage for Your Next Trip
There are a few basics to cover before you rush and order yourself a pricey CURV suitcase, from how the material is made to its top highlights.
What is CURV material?
CURV is a thermoplastic material used to make suitcases, among other products. Yet, it's most commonly associated with the luggage manufacturer Samsonite.
So, what is the Samsonite CURV material or technology?
Well, this material is a woven and compressed polypropylene.
To make this material, the polypropylene grains are melted to form a sheet that is then cut into thin strips. Next, the manufacturer stretches these strips and weaves them together to create a net.
Then, the nets are stacked above each other, heated, and put under pressure. This process compresses multiple layers of woven polypropylene into a thin sheet that makes up the rigid shell of some of Samsonite's suitcases.
RELATED:
What Makes Polypropylene Luggage Material the Top Choice for Frequent Travelers?
That said, I'd like to point out that Samsonite didn't invent the CURV technology. In fact, you can see patented material in other industries, including:
Teijin uses it for ballistic protection
Dakine makes its Fusion Harness with it (composite flex shell)
Bauer uses this composite in its Vapor 3X Pro hockey skates
None of those companies (Samsonite, Teijin, Dakine, and Bauer) created this thermoplastic material, but we'll get to the details about the real inventor in a minute!
What are the benefits of using CURV material in luggage?
There are a few perks that make CURV a good fit for suitcases, briefcases, backpacks, and carry-on bags.
High impact strength
After weaving the polypropylene together, the result is a self-reinforcing structure that's way stronger than regular polypropylene.
Yet, that's not a huge surprise when you consider that some industries use the innovative CURV technology for ballistic protection. If it's good enough to stop bullets, it'll do just fine for luggage!
Impact test of CURV vs Polycarbonate
Unsurpassed durability
Did you know that CURV has double the stiffness-to-weight ratio compared to polycarbonate?
So, while the CURV suitcases aren't 100% invincible (I believe they'll scratch at some point), they still perform better than other options on the market. Of course, if you take care of your luggage, it'll last even longer!
RELATED:
Is Polycarbonate the Best Material for Your Next Luggage Purchase? Find Out Now!
Stiffness to Weight vs. Material
This graphic from ProPex Furnishing Solutions compares the stiffness-to-weight ratio of CURV material to other materials, highlighting its superior performance.
Weight reduction
Despite its durability, this great material is unbelievably lightweight. Don't just take my word for it; Samsonite managed to use it to make bags under 5 lbs. For instance, the Black Label Cosmolite 3.0 carry-on weighs only 3.7 lbs.
The shell's thickness isn't an issue, either.
During the manufacturing process, the woven polypropylene is subjected to just enough heat to get the material to soften a bit but not fully melt. Then, it's compressed to reduce its bulk significantly, leaving behind a thin layer.
Resistant to Cold
You don't have to worry about your suitcase cracking from the frost if you travel somewhere with harsh winters or store the luggage in an unheated attic.
CURV is made to handle extreme cold.
For one, the highly durable material can maintain decent impact strength between -40°F and 68°F. That's a huge perk if you put CURV in a head-to-head comparison with other luggage materials like ABs and polycarbonate.
RELATED:
Is ABS Material Right for You? Pros and Cons of This Luggage Material
Chemically inactive and impermeable
CURV's chemical inertness comes in handy in the luggage industry. After all, it means you can just wipe down the shell with mild soap or a cleaning spray without worrying about leaching.
Additionally, there's little to no risk of water leaking into the suitcase.
Visually attractive material
Since this material is fairly easy to mold into shape, luggage manufacturers have a lot of freedom when it comes to designs and sizes. So, you don't have to settle for bland suitcases.
Plus, I find the material's level of shine just perfect!
Recyclable
As it happens, the CURV material is 100% recyclable. That's a great bonus point to have around in case you can't donate the old suitcase to a shelter or someone in need.
Which company created and owned CURV composite material?
The company behind the lightweight yet durable material is Propex Furnishing Solutions (PFS).
So, PFS produces this material in its factories (it has facilities in Germany, Hungary, and the United States). Then, Ocean State Innovations handles its distribution to tactical gear companies in North America.
Aside from composites (self-reinforced polymers) like CURV, the textile company also specializes in technical fabrics, including:
Artis (woven polyester)
Actionbac
Polybac
Which brand uses CURV material for their luggage?
While more than one sports gear brand gets to use CURV, the luggage industry is an entirely different story.
Previously, hard-side suitcases with a CURV shell were only available from Samsonite, but now Hartmann's Innovaire and 7R models also utilize the same material.
Keep in mind that Samsonite licensed CURV from PFS back in 2005. The luggage company then patented the process of incorporating the licensed material into the shells.
CURV vs Polycarbonate: Explanations in video
You won't believe how much of a step up CURV is from polycarbonate until you see how they both perform in impact testing.
Discover the Samsonite CURV Collection: Lightweight, Durable, and Stylish Luggage for Your Next Adventure
As Samsonite is the primary luggage company that uses PFS' patented material, you might be curious to know more about the Samsonite CURV Collection. Simply put, it's a comprehensive range of hard-side suitcases that are made using this innovative material.
Here are some details about this collection:
C-Lite Collection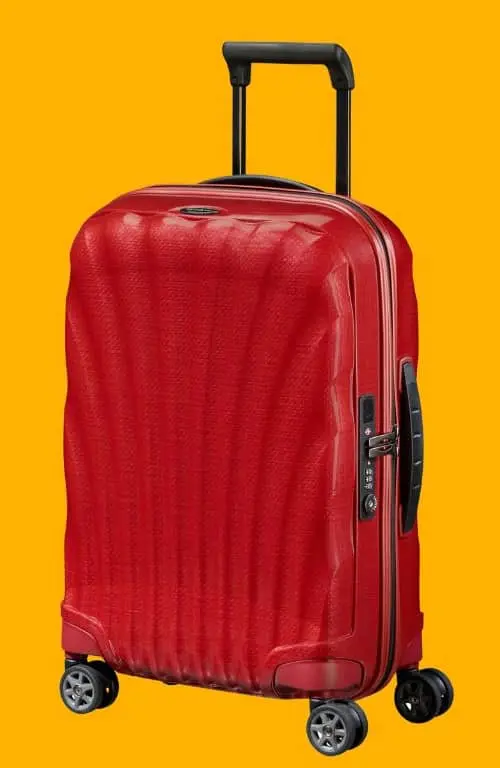 C-Lite is a Samsonite collection consisting of two sizes: the 7.87-lb extra large spinner and the 4.52-lb international carry-on.
Both spinners have CURV shells that come in chili red, black, and off-white. However, the inner lining is made from the trademarked Recyclex (recycled PET plastic bottles) fabric, making it a great option for all eco-conscious travelers out there.
For the design, the C-Lite Samsonite features a double-pull handle and rounded corners.
Curv Cosmolite 3.0 Collection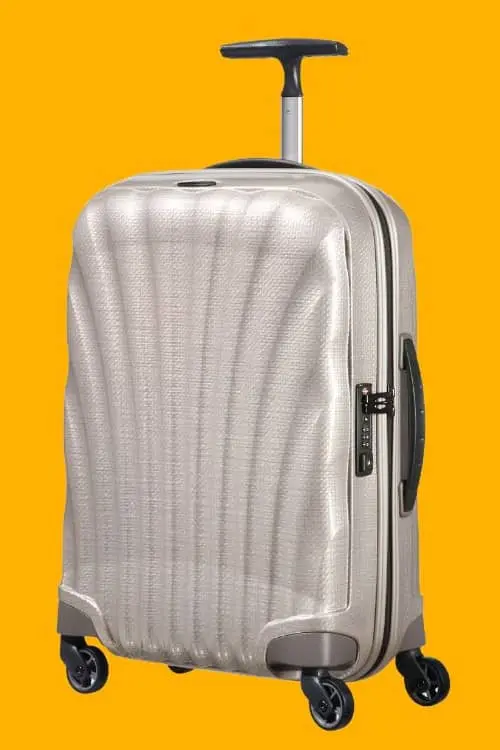 In 2008, Samsonite released what it called "the company's strongest and lightest suitcase" in the Cosmolite collection.
Fast forward to today, the Cosmolite 3.0 collection still has the same iconic silhouette but has been touched up to improve performance.
In the collection, you get to choose between the 3.7-lb carry-on, the 6.44-lb large plus spinner, and the 7.7-lb extra large spinner.
However, it's worth noting that the handle here, unlike the C-Lite suitcase, is a retractable mono-tube.
Lite-Shock
Lite-Shock is yet another mono-tube suitcase by the CURV master, Samsonite.
The two aspects that set this model apart are its wavy design and high shock resistance, especially around the corners.
Besides, there are quite a few size options to choose from, including carry-on, medium, large, and extra large.
Lite-Cube DLX
Going back to the double (but leather soft!) handles, we have the Lite-Cube DLX suitcase by Samsonite. To match the pleasant-to-touch handlebar, the DLX is equipped with a soft buckle for its main compartment.
Plus, even the design reflects a notion of luxury. I particularly love the hint of elegance in the toffee accents; they just break the monotonicity and make the suitcase stand out from the crowd!
You'll get to enjoy these comfort features whether you pick the carry-on, large, or extra-large model.
Lite-Locked
If you're not a fan of zippered suitcases for theft-related concerns, you'll probably want to opt for a medium or large Lite-Locked spinner. Here, Samsonite ditched the traditional zipper and used a three-point locking system.
Of course, the lock is TSA-approved. That means you don't have to worry about getting your suitcase rejected by airport agents during check-in.
Interestingly, Samsonite used both CURV and Roxkin for this suitcase model. Roxkin also happens to be the main shell material in the non-CURV hard-side collection Proxis.
Firelite
Samsonite's Firelite keeps things sporty and sleek, design-wise. For me, this aesthetic aspect is convenient since it complements CURV's lightweight reputation nicely.
If you're a light traveler, you can pick the smallest suitcase in the Firelite line: the domestic (20") carry-on. However, it's still possible to go with other spinner sizes, including the medium at 25", the large at 28", and the extra large at a spacious 30".
Conclusion
In a nutshell, CURV is a durable, lightweight, and 100% recyclable material used to build hard-side suitcases.
Although Samsonite is not the owner of the original patent, it is currently the main luggage manufacturer that uses the innovative CURV technology in their hard-side suitcases. However, it's worth noting that Hartmann also utilizes the same material in some of their suitcase models.
Personally, I think the woven polypropylene material is a game-changer. However, you still need to be careful while handling it to extend its lifespan.
So, that's pretty much all there is to know about PFS's CURV. Now, you're ready to move on to the next topics:
One question before you bounce: what's your favorite suitcase from Samsonite's collection? Share your thoughts in a comment below!
Sources
As the founder of Container FAQs, my goal is to provide readers with in-depth information on the containers used in daily life and related subjects. Don't hesitate to reach out to me if you have any suggestions for articles you would like to see on my blog.