If you're in the market for a luxury suitcase, you've probably heard about the rising trend of traveling with aluminum luggage. This poses the question: is aluminum even a suitable option for travel?
Yes, aluminum is a great material for travel luggage due to its strength, durability, and lightweight construction. Manufacturers can also customize it to fit flight regulations for overhead storage. However, it's not as common as polycarbonate or fabric.
Read on to find out all about aluminum luggage's pros, cons, and top brands.
Is aluminum Good for Luggage?
Generally speaking, aluminum suitcases won't disappoint if you're a frequent traveler. That said, there are some downsides to keep in mind.
But let's start with the cons first!
Pros of aluminum as a luggage material
There are plenty of reasons why frequent travelers love aluminum suitcases. Here are the 7 most important ones.
#1 Exceptionally robust
You might have heard how soft-sided luggage lasts a bit longer than your average hard-sided suitcase, but aluminum adds a new perspective.
For one, you can expect aluminum to last longer than other materials, especially plastic. So, it can be a good pick if you travel a lot and jump from one ride to another.
Then, when the material finally gives after decades, you can recycle it. This aspect makes aluminum luggage rather sustainable and durable.
This is a common benefit of aluminum products, as the material is infinitely recyclable and can be repurposed for other uses.
RELATED:
Unbreakable Luggage: The Top 5 Most Durable Materials for Your Next Trip
#2 Offer better security and protection
Unlike zippered bags, aluminum luggage is mostly equipped with latches or locking clasps.
Of course, these clasps are there for more than just making the bag look unique; they make it much harder for someone to open your suitcase after you check it in.
That's why aluminum suitcases can be a common option among professionals who travel with valuable items or equipment.
Indeed, they are known for being able to protect their contents, as the material is strong and resistant to damage. This makes them a popular choice among professionals who need to transport valuable or delicate items, such as photographers, musicians, or athletes.
#3 Lightweight
Surprisingly enough, aluminum bags aren't as heavy as the name might imply.
On average, the suitcase will be 10-16 lbs. That's still within most airline regulations and isn't too heavy to handle.
E.g., if you take the widest aluminum model of the Rimowa brand (ORIGINAL Trunk XL), it weighs only 15lbs (6.8kg) for the following dimensions and volume:
Measurement: 31,5 x 17,2 x 18,1 INCH (80 x 43,5 x 46 CM)
Volume: 34,3 Gal (130 L)
I think it's amazing, right?
#4 Outstanding water-proofing
There's a reason why people use aluminum tape for waterproofing; the material handles water perfectly!
Apply the same principle to a suitcase, and you get a shell that resists rust and leaks. So, aluminum luggage is ideal if you expect some light rain where you're going. A very useful piece of luggage when traveling to wet climates!
That said, I'd still like to note that while aluminum itself is leakproof, the latches and rivets might not be. So, if full weather resistance is that important to you, you might want to confirm with the manufacturer that the bag is 100% waterproof.
#5 Stylish and modern design
The thing I like the most about aluminum suitcases is how sleek they look. Take the Rimowa Original Twist, for instance. It's an iconic, professional design that suits most tastes.
Not only that, but the metallic aesthetic reflects a sense of importance. Somehow, I find that it echoes the "briefcase full of cash" TV trope, but on a larger scale.
Plus, identifying an aluminum bag in a sea of black nylon suitcases in baggage claim should be a breeze!
#6 Resistant to temperature changes
Aluminum (and its alloys) handle changes in temperature rather well.
In fact, you might find some brands that rate their products up to a whopping 1800°F, like Level8's Gibraltar.
#7 Easy to Clean
With aluminum material, we don't face the same issues that we encounter with other materials. For instance, fabric tends to collect dust and stains easily, while harsh detergents may cause the color of plastic to fade.
To clean your aluminum suitcase, it's easy. Grab a soft cloth with a bit of mild soap (suitable for cleaning aluminum), then use your elbow grease until the traces have disappeared!
Cons of aluminum as a luggage material
While aluminum is a popular choice for luggage due to its durability and lightweight nature, there are several drawbacks to using this material that should be considered before making a purchase.
#1 Costly
Aluminum luggage is considered a luxury product, and this affects the price tag. On average, you can expect to pay three or even four figures.
If you're on a tight budget, you're better off getting something polypropylene.
RELATED:
What Makes Polypropylene Luggage Material the Top Choice for Frequent Travelers?
#2 Heavier than other luggage
Although handling aluminum bags isn't a rough chore, they aren't the most lightweight option. In fact, they're heavier than both plastic and fabric luggage.
#3 Not flexible
If you often need to stuff your carry-on in tight places, aluminum might not be the right pick for you; it'll either get stuck or dent.
However, some people find that these dents add character to the bag.
#4 Downside: No overpacking
Unlike fabric, metal doesn't have that give. That's why it's much harder to force an aluminum bag shut when it's overstuffed.
On the one hand, this can help you nip your overpacking tendencies in the bud. Yet, it might also be an inconvenience in some cases.
Which Brands Offer the Best aluminum Luggage?
If you're sold on the idea of investing in an aluminum suitcase, you might want to check out the top options on the market first.
Away
Away is a New York-based luggage company that makes aluminum and polycarbonate suitcases.
The company's aluminum suitcase line includes four size options:
Carry-on (35L)
Bigger carry-on (40.9L)
Medium (64.6L)
Large (96.1L)
👉 View all models on Away
Rimowa
Rimowa is considered a high-end aluminum luggage market leader; the company has been at it for more than 75 years!
Interestingly, Rimowa started using the material after the factory caught on fire back in the 1930s. The only material that survived? Aluminum.
So, the company had to work with what it had, and the rest is history.
Today, Rimowa offers cabin, check-in, and trunk suitcases in multiple sizes. The catalog also includes pilot, compact, and twelve-bottle cases.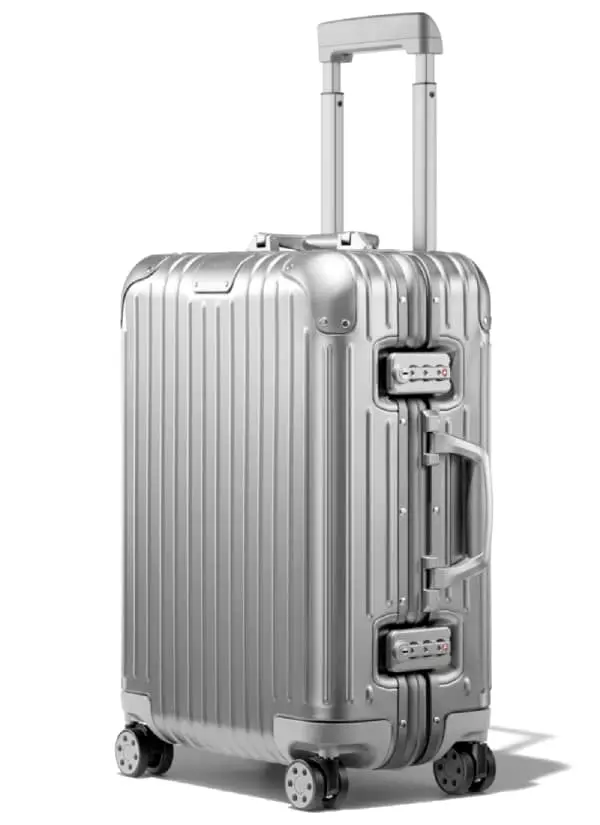 👉 View all models on Rimowa and Amazon
Tumi
Operating under Samsonite as its parent company, Tumi focuses on design.
For instance, the company's bestseller is the 19 Degree Extended Trip Packing Case, featuring Tumi's iconic fluid-like ridges. If you want to add your own touch to the design, you can get a monogram with your initials.
One more thing that you'll probably love here is the color selection. While most companies opt for classic silver, black, and rose gold, Tumi took things to the next level with dark denim.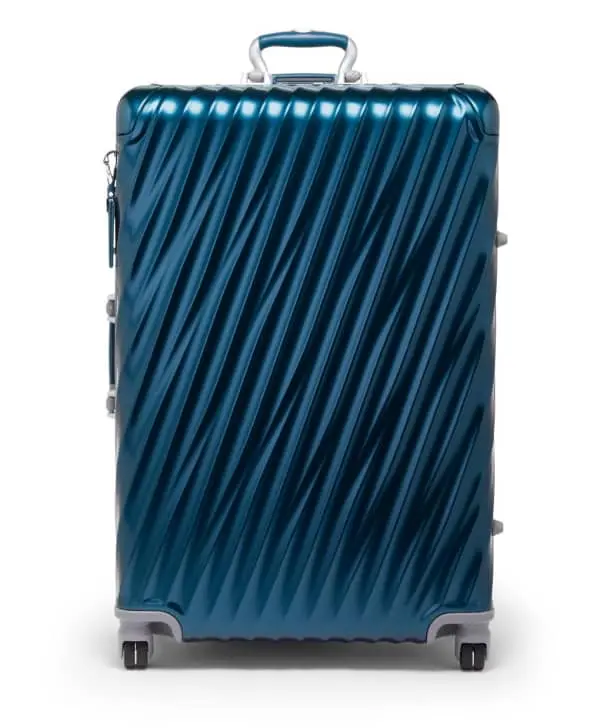 👉 View all models on Tumi and Amazon
Monos
Monos, a Vancouver-based company, offers relatively affordable aluminum luggage.
Thankfully, being on a budget doesn't mean settling. Monos combines both aluminum and polycarbonate in its Hybrid collection, with sizes ranging from carry-on to trunk.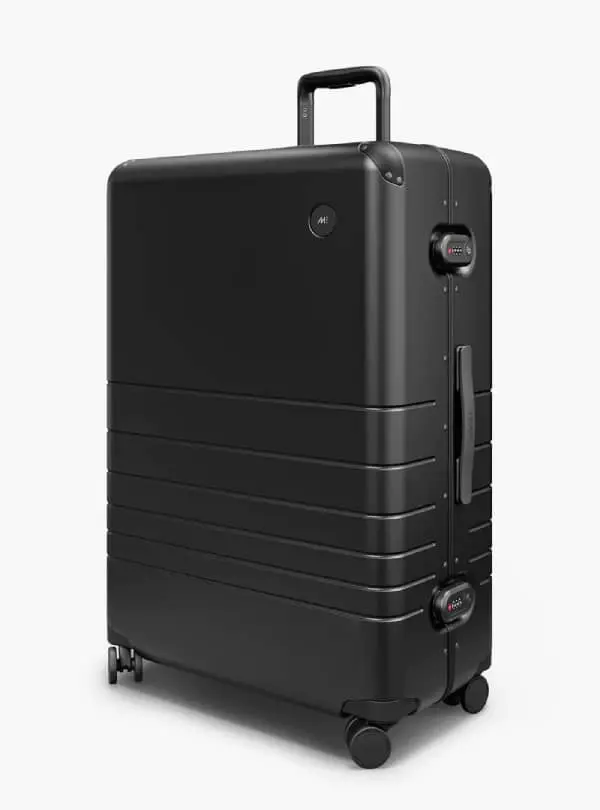 👉 View all models on Monos
Level8
Level8 is yet another budget-friendly brand to consider. Just keep in mind that the company's aluminum suitcase selection might not be as diverse as other manufacturers on the list.
All in all, the Gibraltar suitcase is the most common option in Level8's catalog.
👉 View all models on Level8 and Amazon
Arlo Skye
Arlo Skye began its aluminum luggage journey in 2016, but the brand quickly wrapped up four award designs.
Plus, the frame collection has a design collaboration with Audi if you want something over the top!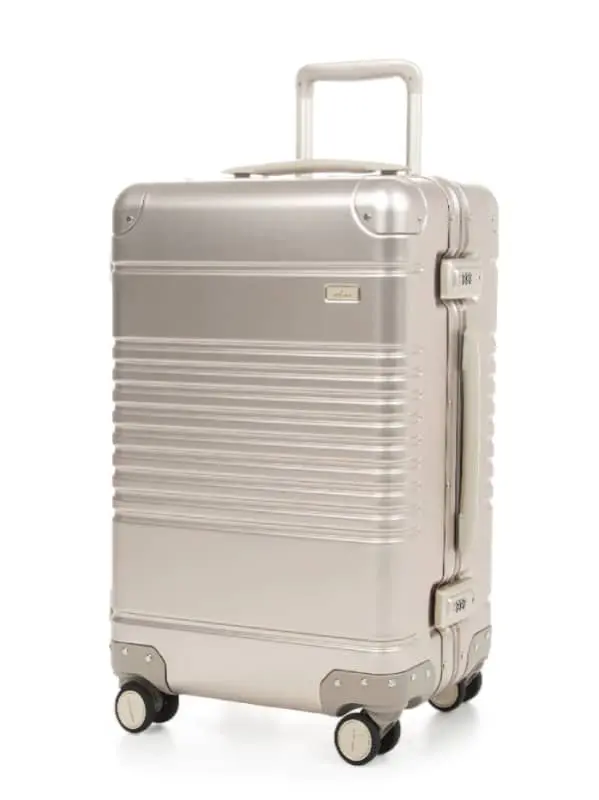 👉 View the model on Arlo Skye
Zero Halliburton
In 1938, Zero Halliburton put its first aluminum luggage out on the market. Today, the brand has two aluminum lines: Geo and Pursuit. Each of those lines comes in three sizes.
Interestingly, one of Zero Halliburton's designs was featured in the Industrial Society of America (IDSA).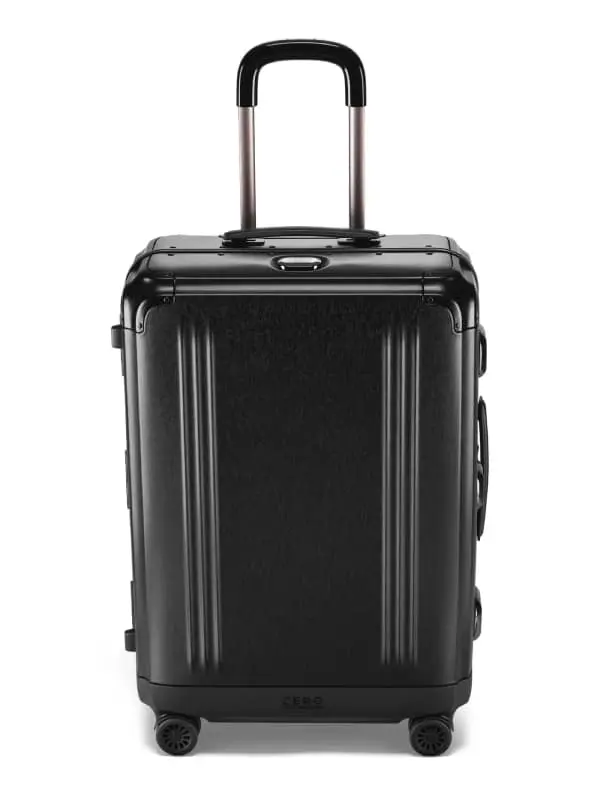 👉 View all models on Zero Halliburton and Amazon
MVST Select
If you're into sci-fi, you'll love MVST Select's Space and Trek aluminum luggage lines.
While both offer similar aesthetics for carry-on and medium cases, the Trek line has more sizes and color options. On the other hand, you can pick between textured and smooth shells if you go with the Space line.
👉 View all models on MVST Select
Yuemai
If you can't afford to splurge, you can just grab one of Yuemai's luggage from Amazon.
The brand isn't as high-end as other options on the list. However, it has a wide product range, from smooth-finished carry-ons to mini makeup cases.
👉 View all models on Amazon
Gucci
On the other side of the spectrum, you have the aluminum cabin trolley from GUCCI. Although this one is quite pricey, it can be a good fit if completing the designer look is your priority.
👉 View the aluminum cabin trolley on Gucci
Samsara Luggage
Samsara's aluminum collection combines sleek designs with Apple's AirTag tracking technology for maximum convenience. Plus, the brand's carry-on is made of recycled aluminum, which helps keep the product sustainable.
However, you only have three options: natural silver, classic silver, or matte black.
👉 View the aluminum collection on Samsara Luggage
Sterling Pacific
Unlike its competitors, Sterling Pacific manufactures only full-aluminum luggage; there are no polycarbonate or fabric options in the company's catalog.
The two sizes offered by the Nevada-based company are the cabin (35L) and the check-in (80L).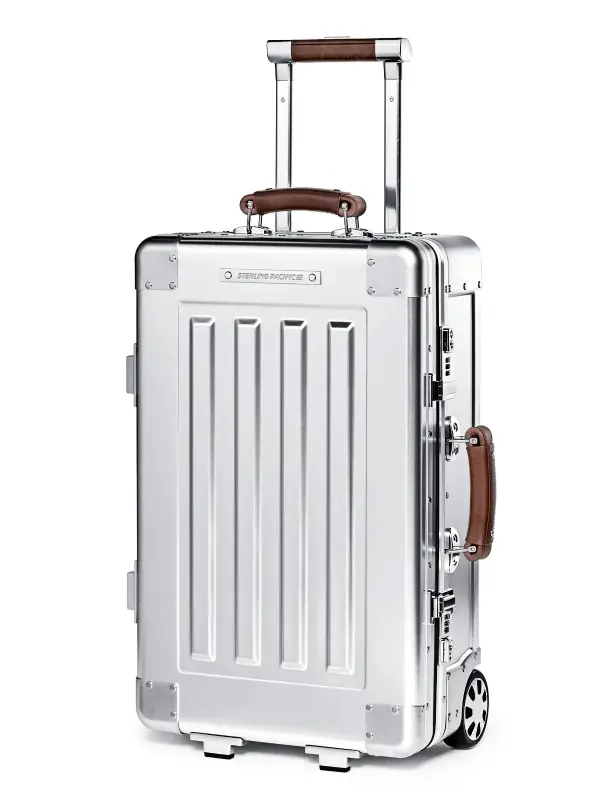 👉 View all models on Sterling Pacific and Amazon
What are the Top Aluminium Luggage Trunk Brands in the Market?
Although many manufacturers make aluminum suitcases, you'll only find trunks from a handful of brands. Let's take a look at the best options out there:
RELATED:
7 Tips for Checking Your Trunk on a Plane: A Comprehensive Guide
Conclusion
Are aluminum suitcases good? The short answer is yes; they last longer, look sleeker, resist stains, and are harder to steal.
However, these features come at a hefty price. So, is aluminum luggage worth it?
Well, an aluminum suitcase can be well worth the money provided that you like to stand out from the crowd with luxury items and don't mind a shell that's too rigid to overpack.
Would you give aluminum luggage a shot? Leave a comment below!
RELATED:
As the founder of Container FAQs, my goal is to provide readers with in-depth information on the containers used in daily life and related subjects. Don't hesitate to reach out to me if you have any suggestions for articles you would like to see on my blog.