Lampe Berger reemerged during COVID-19 due to its efficient function of killing bacteria you breathe in. It became famous for the first time in 1898, and hospitals mostly used it to fight sepsis and flu bacteria. Even though it works, people have always wondered about its effects on health and are worried about other risks.
There is no harm in using Lampe Berger, and it is not bad for your health. You can use it without any fear or risk. However, take time to read on how to use the lamps properly and always practice precautions as anything can be harmful when overdone.
There are many precautions to consider while using Lampe Berger. Moreover, I will be discussing the proper way to use it and showcasing how it works.
Read below to learn more about these lamps that help us deodorize the interior of our homes!
Is Lampe Berger Toxic & Bad For Health?
The simple answer to this barely answered question is that Lampe Berger is not unhealthy, risky, or in any way harmful or toxic to health. Yet, there are several guidelines you must ensure you follow for any unalarmed harm, which I will discuss later.
First, you need to understand why it does not cause any harm and what the science behind it is to satisfy your guts.
Lampe Berger is a scent based on alcohol and does not release any toxic or chemical byproducts.
Instead, it emits particles of essential oils from the fragrances, which help soothe the environment. The unique catalytic burner moves fresh air over the hot stone. This kills germs and gets rid of foul odors.
A Detailed Explanation of Lampe Berger & How To Use It Safely
The Lampe Berger, first created in 1898, was an early attempt at cleaning the air and eliminating unpleasant odors. It quickly became a standard in French hospitals and mortuaries because it was good at cleaning and could make pleasant smells.
In the early 1900s, it wasn't very useful, but the French quickly made up for that by giving it a lot of attention. Coco Chanel and Jean Cocteau loved the artistic shape of these lamps, and they quickly became a household necessity.
The Lampe Berger is well-known as one of the best ways to spread scents around the house and control the air quality. It has been shown to get rid of airborne pollutants and has a long history of being a stylish, practical, and healthy part of the environment.
Modern Lampe Bergers preserve the original catalytic combustion technology but are more elegant.
How Does a Lampe Berger Work?
A Lampe Berger runs on a (flameless) catalytic combustion with the help of a catalyst. Because of the help of a catalyst, the activation energy required is lowered, so the work is done at a lower temperature than in other reactions. This lowers the energy consumption required.
The Lampe Berger uses Platinum as the catalyst. This expensive metal is placed around the burner of the lamp. The ceramic support equipped with the catalyst works together to eliminate odors and clean the surrounding air.
The catalytic zone reaches nearly 500°C or 932°F. This high-temperature assists in the catalytic oxidation of isopropyl alcohol present in the lamp, which then removes the bad odors.
Lampe Berger Safety Tips and Precautions you Need to Follow If You're Using One
Here are a few safety tips and precautions for using the Lampe Berger.
Check for any signs of damage or leakage in the fuel container.
Always keep the airtight lid securely fastened while the bottle is not being used to avoid evaporation (the combination of alcohol vapor and the air is very combustible).
Avoid leaving the operating equipment unattended.
Keep out of a closed space without enough ventilation.
Lamp fuel should not be inhaled, ingested, or used in any other way.
Filling the scent lamp requires considerable care. Keep the area well-ventilated and free of any sources of an open flame.
Before illuminating the lamp, ensure the surrounding is clean of any spills.
Do not use lamps without a dish on hardwood tables. The fuel will damage furniture.
Scroll below to find out the easiest way to operate this diffuser.
How To Use a Lampe Berger?
The process is easy and simple to understand, even for newbies.
Each lamp has a body, a wick with a catalytic burner, a protective ornamental cap, an extinguishing protective cap that puts out the flame, and a funnel.
No time to read? Watch the video
Here's how to use your new Lampe Berger fragrance and lamp to give your house a lovely, relaxing scent:
STEP 1
After removing the lamp's ornamental guard, burner cap, and wick, fill it with the lamp scent using the included funnel until it's about halfway full.
STEP 2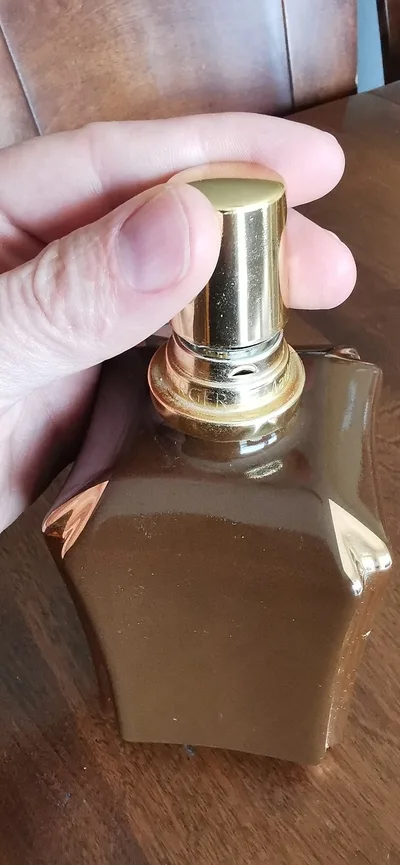 Just put in a new wick and let it sit for 20 minutes to allow the scent to permeate the lamp.
STEP 3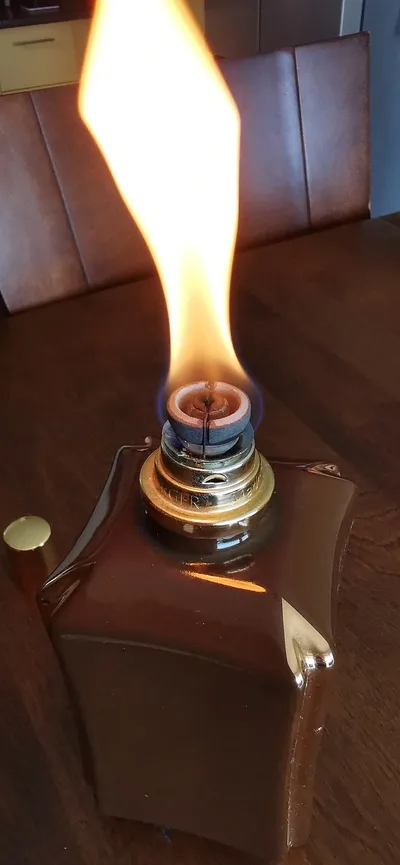 Light the catalytic burner with a match or lighter and set the lamp down in a secure location to let it heat up for 2 minutes.
STEP 4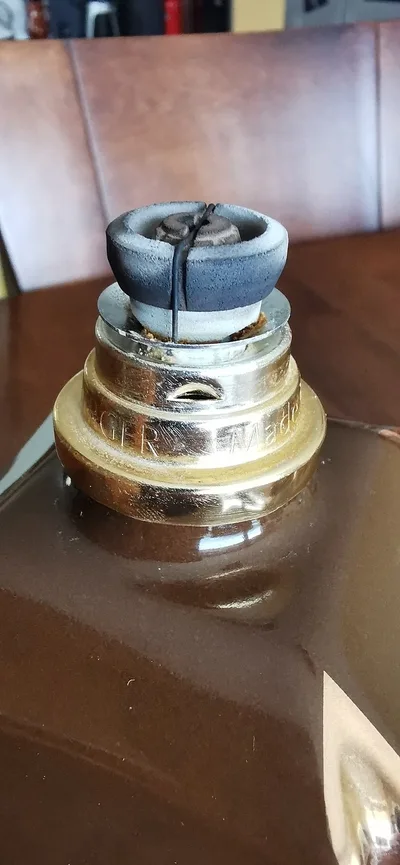 Puff the flame out carefully after two minutes. In addition to the pleasant aroma of burning fuel, you may also see a thin cloud of smoke rising from the flame.
STEP 5
Cover the burner with ornamental protection and store the light somewhere so that you can keep it safe from pets and toddlers
During and after use
If necessary, relocate it to a new place/room twenty to thirty minutes later.
When you feel the air in the room has been appropriately purified, remove the open protective top and place the stopper cap on the catalytic burner to extinguish your fragrance lamp.
Bonus Tip: To prevent the wick from drying out, turn off the burner before the scented oil in the lamp is depleted. There will no longer be a mandatory 20-minute wait time between scent refills and lamp illumination.
Is Lampe Berger Safe For Pets?
Since the essential oils in Lamp Berger scents are diluted, it is safe to use them around pets.
However, you must note that it is very dangerous if your pet spills the contents lamp. So make sure to find a safe place for your lampe berger if you have a pet.
You'll also need to be careful while setting up the lamp, as fragrances can spill and cause allergies.
Other than that, Lampe Berger is safe to use around pets.
Lampe Berger's Fragrances
Lampe Berger is famous for using French perfumeries to manufacture its lovely fragrances. It created a total of "8 Fragrance Families" comprising 85 scents.
Families & Scents
Check out the fragrance families and scents 👉 Visit the MAISON BERGER Store!
Aroma (10)
| | |
| --- | --- |
| D-Stress | Dream |
| Energy | Focus |
| Happy | Love |
| Relax | Respire |
| Travel | Wake Up |
Floral (8)
| | |
| --- | --- |
| Cherry Blossom | Hibiscus Love |
| Lavender Fields | Orange Blossom |
| Paris Chic | Precious Jasmine |
| Wildflower | Ylang's Sun |
Fresh (13)
| | |
| --- | --- |
| Aloe Vera Water | Eternal Sap |
| Festive Fir | Forest Mist |
| Fresh Eucalyptus | Fresh Mint |
| Fresh Wood | Imperial Green Tea |
| Ocean Breeze | Radiant Bergamot |
| Summer Rain | Tonic Lemon |
| Zest Of Verbena | |
Functional (9)
Anti-odor Bathroom
Aquatic
Anti-odor Bathroom
Floral & Aromatic
Anti-odor Kitchen
Fresh & Floral
Anti-odor Kitchen
Green & Zesty
Anti-odor Pet
Floral & Zesty
Anti-odor Pet
Fruity & Floral
Anti-odor Tobacco
Fresh & Aromatic
My Home Free From Tobacco
Odors
Summernight
Fruity (8)
| | |
| --- | --- |
| Citrus Breeze | Grapefruit Passion |
| Green Apple | Lemon Flower |
| Lychee Paradise | Savory Tangerine |
| Sweet Fig | Tropical Mango |
Pure (7)
| | |
| --- | --- |
| Aquatic Wood | Cotton Caress |
| Delicate White Musk | Fresh Linen |
| Pure White Tea | Soap Memories |
| White Cashmere | |
Spicy & Woody (22)
| | |
| --- | --- |
| Amber Powder | Amber's Sun |
| Black Angelica | Charleston |
| Enchanting Sandalwood | Exquisite Sparkle |
| Heavenly Spruce (favorite) | Heavenly Sun |
| Home Sweet Home | Lolita Lempicka |
| Musk Flowers | Mystery Patchouli |
| Oriental Star | Precious Rosewood |
| Sandalwood Temptation | Under The Olive Tree |
| Velvet of Orient | Virginia Cedarwood |
| Wild Wood | Wilderness |
| Winter Joy | Winterwood |
Sweet (8)
| | |
| --- | --- |
| Candy Apple | Christmas Cookies |
| Coconut Monoï | Creme Brulee |
| New Orleans | Orange Cinnamon |
| Sweat Pear | Vanilla Gourmet |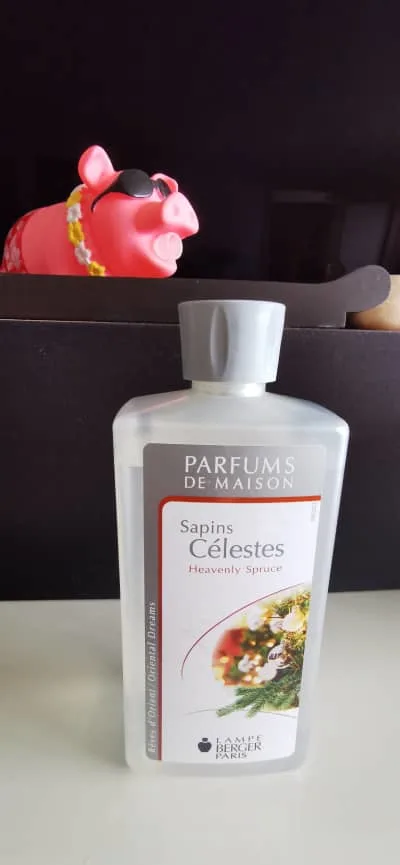 Final Thoughts
I hope now you have understood the safety of Lampe Berger from the listed facts above.
Lampe Berger not only fills the atmosphere with a pleasant smell but is also sure to guard you against bacteria and viruses. Its function is enough to show that it is entirely safe to use until and unless its precautions are respected.
Now sit back and enjoy your nicely scented room!
Source
As the founder of Container FAQs, my goal is to provide readers with in-depth information on the containers used in daily life and related subjects. Don't hesitate to reach out to me if you have any suggestions for articles you would like to see on my blog.