How To Keep Trunk Organizer From Sliding? (​3 Efficient Ways)
Whether going on a week-long road vacation or running errands, a trunk organizer can store all your supplies — from first-aid kits to grocery bags — in one orderly location. However, sometimes items start sliding around and falling off the trunk organizer, making your problems worse. So how can you keep the trunk organizer from sliding? Luckily, I found the perfect solution.
To prevent the trunk organizer from sliding in the back of the vehicle, you can use tie-down hooks or velcro to fasten them to the trunk floor. You can also look for trunk organizers, which feature non-slip bottoms so they won't budge on any surface.
Finding goods sprawled over the trunk of your car is not something you would look forward to after a journey, but it can happen all too easily if you don't take a few precautions. Let's check out how to keep your truck organizer from sliding around.
3 Ways To Keep Your Trunk Organizer From Sliding
If your trunk organizer keeps sliding around in your vehicle, there are three ways you can prevent this from happening:
1. Get a Foldable Trunk Organizer
Several types of trunk organizers are available on the market, and foldable organizers are one of them. These organizers are popular since they can be folded up for convenient storage and easily fit in any space. Since you achieve a perfect fit every time, the organizer doesn't slide around in your car.
Since they are adaptable, these trunk organizers also help free up a lot of trunk space which you can use for storing other stuff. Some of these trunk organizers also include different sections that can be modified to fit your needs. Others, on the other hand, have divisions of varying sizes to help you store your items effectively.
2. Use a Velcro Strap
A velcro belt allows you to safely secure your trunk organizer anywhere in your car without worrying about your items flying around after a sharp turn. The popular velcro trip by Stayhold is a great solution to the trunk-organizer conundrum, allowing you to attach your trunk to your car's floor mats so they won't budge.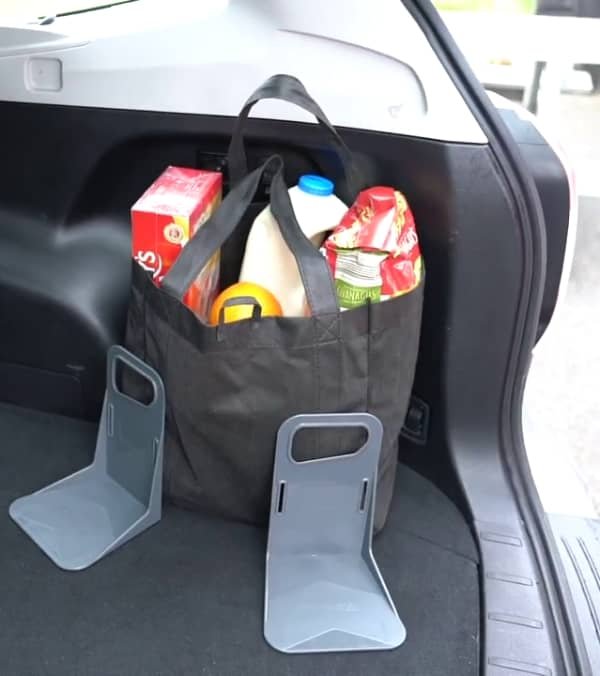 However, one disadvantage of using velcro straps is that they eventually lose their ability to fasten the trunk organizer in place. Therefore, you should always choose a velcro strip that is quite sturdy and doesn't get worn out too quickly.
3. Get a Tie-down Strap
If you don't want your trunk organizer to budge, you can always buy one with built-in tie-down straps, such as the one by Drive Auto. These straps are quick and easy to hook with the backseat or anchor point inside your car and prevent your items from cluttering.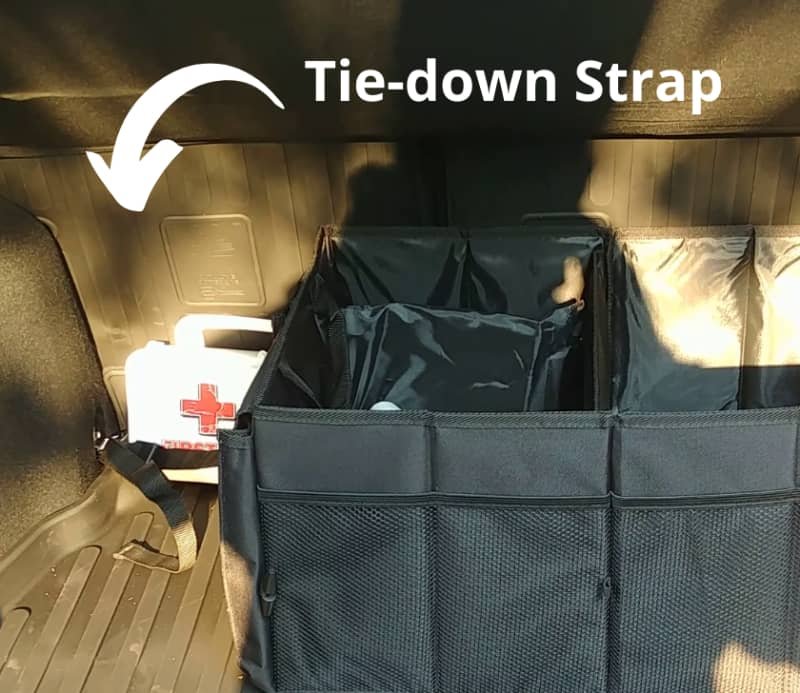 However, if you've already spent money on an organizer without tie-down straps, you can always get separate straps from the market and attach them to your trunk case. If you're purchasing your straps independently, there are certain things you need to keep in mind:
The Maximum Weight
When selecting tie-down straps, ensure that the weight limit of your cargo does not exceed the total Working Load Limit (WLL) of the tie-down straps. This means that if the weight inside your trunk organizer is 1000 pounds and you buy two belts, the combined WLL should be larger than 1000 pounds. Otherwise, the straps won't be able to keep the trunk organizer from sliding.
Length of Straps
Another factor that you need to take into account is the length of the straps. If you choose tie-down straps that are too short, they won't be able to go beyond your baggage, and you will be unable to secure the trunk organizer. Furthermore, if you purchase straps that are extremely long, the straps will remain loose, causing unnecessary sliding of the trunk organizer.
What Causes the Trunk Organizer To Slide?
I learned that unless I had attached my trunk organizer with velcro or a tie-down strip, it excessively slid around in my vehicle. Traveling on bumpy and uneven roads was even worse; even regular braking and acceleration caused the trunk organizer to slide about.
Therefore, I decided it's best to have my trunk organizer attached to some part of my car, which will make less mess and prevent my items from cluttering.
The Benefits Of Using a Trunk Organizer For Your Car
Between daily commutes, from driving to work, and running errands, humans spend a significant portion of their day in automobiles. As a result, more and more of our belongings end up in our cars. Sometimes, this results in an extremely cluttered vehicle because there isn't a specific place to store everything. This is where a car organizer is the most useful.
Great For Children
For parents with little children, a trunk organizer that goes over the front car seats can be a life saver. These organizers come with pockets and pouches that allow you to store all kinds of stuff such as toys, books, or other times that will help keep your little one engaged during a car drive.
Can Be Used As a Garbage Bag
Often, I don't know how to dispose of the garbage, such as food wrappers, inside the vehicle. Most of the time, I simply chuck these wrappers in a corner and forget about them until it's too daunting to clean them.
To help with this problem, I've found an over-the-seat trunk organizer that contains a separate slot to store most of the garage in one place. This way, I'm able to avoid making a mess in the car, and it also makes cleaning a whole lot easier and cheaper.
Can Store Multiple Items
Front seat organizers also function as mini-shelves or workstations for business people who frequently travel in their cars. These organizers contain multiple storage areas for folders, pens, pencils, and other office supplies, allowing you to have easy access.
Some trunk organizers also come with a flat writing surface. This is great for someone like a broker who needs to handle a lot of paperwork in their car between appointments.
Trunk organizers also allow you to secure all your grocery bags in place, preventing them from tipping over and spilling their contents in your car.
Customize Items Based on Their Priority
Many conventional trunk organizers have moveable or detachable divisions that you may customize according to your needs. Whether carrying groceries or driving a car full of kids and their items, you can easily place items in the trunk organizer based on their priority to access them easily later on.
Conclusion
Getting a trunk organizer isn't enough; you have to ensure that it doesn't slide around in your car and create a mess. To deal with that problem, you can choose between several ways that have been mentioned above to attach the trunk organizer to your car and prevent it from sliding around. Happy traveling!
Sources