If you're looking for a storage container for a limited period, renting a storage container is almost always a better option than buying one. People frequently rent storage containers when they are relocating to a new house or when they want to get rid of most of the stuff they have collected over the years. The question, however, is how much does it cost to rent a storage container?
Monthly rental costs for storage containers generally range from $75 to $200. However, the rent depends on the size, additional features, and the condition of the container. If you choose a large-sized container or add extra features, your monthly cost might spike up between $125 and $500.
Renting storage containers is a cost-effective approach to meeting storage demands. However, I found out that the cost of rent depends on your specific needs and preferences and the reason behind your storage needs. Therefore, I have prepared a guide to help you navigate the world of renting a storage container.
Types of Storage Containers and Their Rental Prices
The cost of storage container rentals varies depending on the container you need. There are two standard storage container rentals: for home or business.
Storage Container Rent For Home
Buyers may rent portable storage containers to reside in. These containers come in a variety of sizes, but the most prevalent are 12 inches tall, which can house one or two rooms of furniture and 16′ tall storage containers that accommodate three or four rooms. Generally, the smallest size offered is 7′.
Excluding the pickup and delivery costs, which vary depending on your location, you will have to pay $200 to $300 monthly for a storage container rental for housing purposes. Even if you just want the container for a few days, most dealers will not go below the one-month pricing.
Storage Container Rent For Business
If you're looking to rent a storage container for your business, simple dry containers of 20 inches or 40 inches in height can cost around $50 to $300 per month, whereas modified, insulated, or refrigerated containers can cost $125 to $500. Delivery fees are also determined by the distance between the customer and the dealer.
Businesses that plan to use a storage container for a year or longer may be able to reduce their monthly costs by committing to a longer lease. If you sign an 18 or 24-month leasing agreement, you can save a lot of money.
Storage Container: Lease or Rent?
The significant difference between a rental and lease agreement is the duration of the contract. A lease is valid for the period of time that is specified in the agreement. On the other hand, a rental agreement covers a short period of time that is not necessarily stated.
A rental contract is ideal if you require a storage container for less than a year since it is less expensive than a lease contract. However, if you wish to rent a unit container for longer than a year, I suggest going for a lease arrangement.
| Lease | Rental |
| --- | --- |
| Ideal for long-term occupancy | Ideal for short-term occupancy |
| Rental cost does not change | Rental fee may change each month |
| Less flexible in terms of ending contract | More relaxed in terms of ending contract |
| Provides greater stability | Less stable in terms of monthly payments |
5 Factors That Influence Storage Container Rent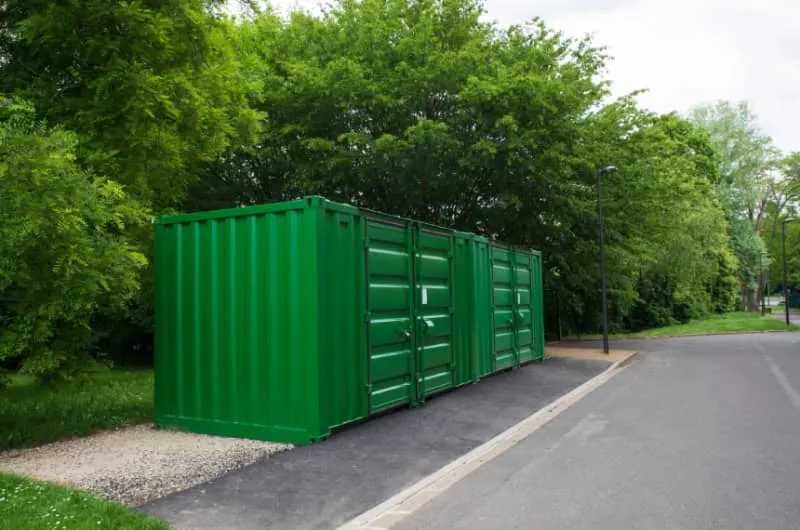 I've compiled a list of the most important factors influencing the price of renting a storage container so that you can plan accordingly:
1. Size
The first thing to consider before renting a storage container is its size. Naturally, a larger container will cost more than a smaller size one. You can expect prices to range between $125-$500 per month, depending on the size you want.
2. Duration of the Renting Period
If you plan to rent a container, a significant factor impacting the price is the length of time you want to rent your container. There is a substantial difference between storing items for a few weeks and storing them for several years.
Some storage companies offer a minimum rental time, such as three months. Others will give you a discount if you need to rent a storage container for longer.
3. Condition of the Container
Pricing will undoubtedly be affected by the state of the storage container. You might be able to spend less for an older unit. Keep in mind that these older containers will have minor dents, dings, and fading paint on the interior and outside.
If you aren't too concerned with the container's appearance, a used, older container might be a suitable and economical option. A new storage container will be more expensive, but it will have fresh paint, no corrosion, and no dents.
4. Customization Cost
The customizations you need are the next major aspect affecting the cost of the shipping containers. You may have specific requirements and would like the container modified to meet them. The overall cost of the storage containers will, of course, be determined by the extent of the changes necessary.
Various companies provide a wide range of valuable containers with pre-installed customizations. These might be as basic as changing the color of the paint or adding a logo for your business. You can even have customizations as elaborate as whole living quarters, restrooms, or workshops.
5. Relocation Cost
If you want to rent a storage container for relocation purposes, you'll also need to factor in the transportation costs. Transportation charges may be a couple of hundred dollars or less if you relocate across town, and if you're relocating across the country, you may have to budget thousands of dollars.
According to my research, renting a storage container for a long-distance relocation typically costs between $500 and $7,600, depending on factors such as the overall distance and the number of containers being carried. The base price includes one month's storage, mileage, and gasoline, but labor and packing supplies can also add to the base price.
| Container Size | Monthly Base Price On-Site Rent |
| --- | --- |
| 8-foot | $200 |
| 12-foot | $220 |
| 16-foot | $250 |
FAQs
Are Offsite Containers Better Than On-site Containers?
Having an on-site container gives you 24/7 access to it, allowing you to work late into the night. Offsite containers may have time constraints for when you are granted access to work. On-site containers are appropriate for those who do not require access to their items for lengthy periods.
Are Renting Costs Higher in Urban Areas?
Yes, the cost of renting a storage container in urban areas is significantly higher due to the increased demand for storage containers.
Is It Better To Buy a Storage Container or Rent It?
That depends on how long you plan on using the storage container. However, purchasing a container requires high upfront costs, which can be a huge barrier.
Conclusion
The growing need for extra storage spaces can often be fulfilled by renting a storage container. Depending on your requirements, renting a storage container is relatively inexpensive, although the cost shoots up significantly if you try to customize it.
Sources
As the founder of Container FAQs, my goal is to provide readers with in-depth information on the containers used in daily life and related subjects. Don't hesitate to reach out to me if you have any suggestions for articles you would like to see on my blog.