Some creative individuals have figured out a creative way to turn storage containers into affordable housing. This has caused a trend in the US, especially among people looking for a full-fledged home minus the construction cost. However, the question haunting most buyers is: how much do storage container homes cost in the US?
The cost of shipping container homes in the US varies between $10,000 and $35,000 to build, while bigger and more posh container homes can cost up to $175,000. On average, the cost per 160 sq. ft. is around $1200, while a 320 sq. ft. can cost as low as $10,000.
The cost of building a storage container house rises based on the facilities you want and the materials you use. The more things you choose, the higher the price of your container house. Therefore, I have compiled a guide on how these factors play a role in determining the overall cost for a storage container home in the US.
Price of Shipping Containers
The price of a shipping container is primarily determined by its dimensions. Generally, shipping containers are available in two standard dimensions: 160 square feet and 320 square feet. Though the price of the container is budget-friendly, the larger the surface area of a container, the more it will cost.
According to my research, the base price for a 160-square feet shipping container is $1200, whereas a 320-square feet container can cost a minimum of $10,000. Buying a new container will cost you more than purchasing a used one, and the prices also tend to increase depending on the number of amenities you're willing to install.
Here's a rough cost table to help you out if you're looking to get a rough estimate on the total price you'll need to pay for a container home in the United States.
| Container Requirements | Cost |
| --- | --- |
| Base Price (160-square feet container) | $1200 |
| Base Price (320-square feet container) | $10,000 |
| Concrete Foundation Cost | $4 to $25 per square foot |
| Electrical Wiring Cost | $600 to $2,300 |
| Plumbing Cost | $1,500 to $15,000 |
| HVAC Installation Cost | $5,000 to $12,000 |
| Insulation Cost | $4 to $16 per square foot |
| Drywall Installation Cost | $1.5 to $3 per square foot |
| Roof Installation Cost | $5,000 to $45,000 |
3 Reasons Why Storage Container Homes Are Cheaper Than Conventional Housing
Storage container homes are quickly gaining popularity in the US, and for a good reason. As real estate prices shoot up in the US, people are looking for alternative and affordable options for themselves. Here's why storage container homes can be less expensive than traditional housing in the US.
#1 They Require Less Labor and Building Materials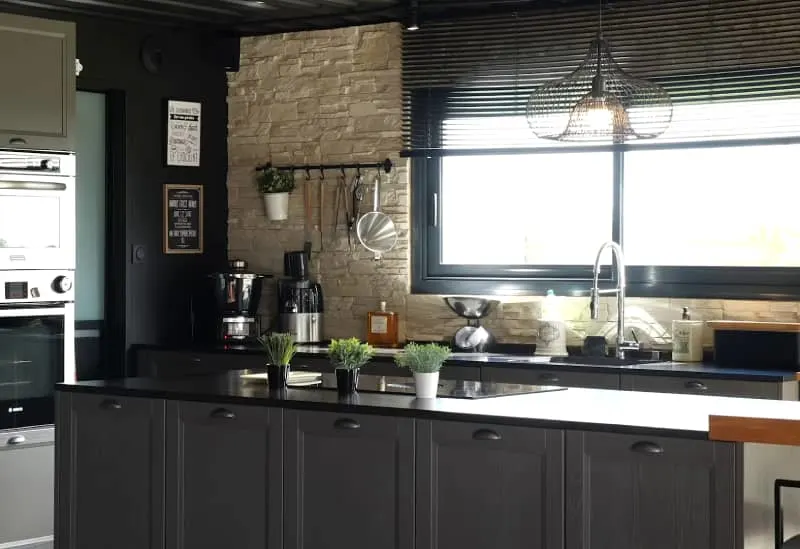 Storage containers are often less expensive to build than traditional homes since they need less building materials and labor.
To build a container home, all you need is a metal storage container and some labor to add essential utilities, such as lighting and sanitary, and you are good to go. You may save the expense of personalizing your container home by remodeling it with your own hands.
#2 Costs Are Predictable
Most containers are built in factories with fixed prices, meaning their prices do not vary too much compared to traditional building materials.
The only variable expenses you need to deal with are the delivery cost of the container to the land you want to reside on, the site preparation, foundation, assembly, and utility connections. In short, depending on the project's complexity, container homes can save customers 15% to 50% on the overall construction expense compared to building a traditional house.
#3 Recycled Storage Homes Can Cost Less
Buying a used or repurposed storage container over a new one can save you around $1,500 to $5,000 on average. However, the price can vary significantly based on the location, the quality of the container, size requirements, customizations, and delivery cost.
These storage containers last up to around 20-25 years. They can, however, survive longer if cared for properly. If you're searching for a recycled storage home, make sure that it is free of rust, has additional siding, and has a built-in roof for more insulation and protection.
Buying Pre-made Storage Container Homes
The availability of pre-made container homes is excellent news for those who don't know how to convert a storage container into a proper residence. Multiple companies in the US acquire old storage containers and resell them to clients as finished residences. You may check the designs of pre-made storage containers online to select the one that fits your needs and budget.
Pre-made container dwellings start at roughly $30,000. They offer features such as kitchens, bedrooms, and rooftop terraces. Many companies provide a variety of models and designs that you can choose from depending on your preferences.
3 Essential Things To Consider Before Building a Storage Container Home
People build storage container homes for a variety of reasons. Some individuals have a distinct style and are bold enough to construct unique dwellings, while others just look for an affordable place to live in.
Although storage container homes are less expensive than typical dwellings and provide greater flexibility in terms of location, there are still some key factors you should consider before and while building a storage container home:
1 – Consider the Land Cost
While the expense of building a container house is minimal if you keep the construction modest, you must also consider the location where you will install it. Unlike tiny homes that can live on a trailer and be moved to other sites, a container home stays put at whichever location you place it. This means you must own the land on which you will place your container home.
Price Skyrockets In Urban Dwellings
The average cost of an acre of farmland is around $3500—however, this figure skyrockets when you look at land parcels in large urban regions. You may realize that the expense of purchasing land consumes a significant amount of your entire home construction budget.
Another essential thing to keep in mind is that there are several types of land you can purchase. Raw land lacks utilities such as roads, sewer systems, and electrical grid connections. On the other hand, these facilities are more readily available in commercial areas, contributing to an increase in cost.
2 – Choose Your Shipping Container
Next, you need to figure out which container you want. You have two choices: a new or a used container.
A shipping container is typically 20 feet by 8 feet in dimension. Used storage containers cost around $3,000 on average, although some can get them for as low as $1500. A container can cost up to $8,000.
The Number of Containers Used
Some builders stack many containers on top of one another. To build larger homes, you might want to purchase two to six containers at once. Containers are commonly available in two sizes: 8-by-8-by-20 and 8-by-8-by-40. Most people who build container homes combine multiple storage containers to create a larger space.
3 – Installing Insulation and Amenities
After securing your shipping container to the ground, you can work on the building to make it livable. The first thing you need to do is install the insulation to keep the temperature under your control. Blanket insulation costs around $0.5 to $2 per square foot.
Adding the Amenities
The cost of building a container home starts to vary drastically with the amenities you install. Commonly, the amenities your shipping container requires are HVAC units, electricity, plumbing, interior design, windows, and flooring.
FAQs
Are Storage Containers Environmentally Friendly?
Yes. Most environmentally aware organizations throughout the world consider reusing a shipping container to be eco-friendly since it does not need the use of extra energy or construction materials such as cement and bricks.
Is It Easy To Obtain a Building Permit for Storage Container Homes?
This depends on the region where you live in. However, several US states, such as Texas, California, and Colorado, have regulations regarding storage container homes, making obtaining a permit easier.
Are Storage Container Homes Durable?
Despite being built out of durable steel, most storage container homes aren't strong enough to withstand certain weather conditions. These homes often require multiple reinforcements after every few months.
Conclusion
Storage container homes are far less expensive to construct than traditional houses. They require fewer resources and can be designed to look like conventional homes.
However, the cost of building or buying a storage container home can significantly increase depending on the facilities you're going for. The more customization you want, the more expensive the storage container house will be.
Sources
As the founder of Container FAQs, my goal is to provide readers with in-depth information on the containers used in daily life and related subjects. Don't hesitate to reach out to me if you have any suggestions for articles you would like to see on my blog.