During my professional experience, I've often needed to acquire shipping containers, whether new or used, for transporting various products.
Why? Simply because it was more cost-effective to invest in these robust structures rather than renting them, given the high number of trips they made between different locations around the world to receive and ship my goods.
Moreover, it is important to note that these maritime containers are no longer limited to transporting goods only. Indeed, they can be repurposed to build your own home, be used as mobile catering establishments or pop-up shops, or even transformed into innovative swimming pools.
As a result, the demand for purchasing containers is increasing, and more and more people are asking a legitimate question on the Internet: "Where can I buy a shipping container in the United States, whether new or used?"
To precisely answer this question that preoccupies many people, I conducted extensive research on the web and contacted numerous service providers in this field.
I therefore invite you to review all the results I obtained, and I am delighted to share with you. They highlight a list of the best platforms currently on the web (including the most reputable) for purchasing maritime containers, whether new or used, and in all possible dimensions.
In this way, you can choose the container that best suits your needs, taking into account its cost and condition.
I wish you an excellent read!
1 – BOXHUB.COM: Your One-Stop Shop for Shipping Containers

Looking for a reliable place to buy new or used shipping containers in the US? Then, Boxhub has got you covered. With their vast variety of container types and conditions, coupled with excellent customer service, Boxhub stands as one of the top-rated container suppliers in the industry.
Boxhub offers three types of containers based on your specific needs: the 20′ Standard, the 40′ Standard, and an additional option of the 40′ (High-Cube ).
Also, these containers come in three different conditions:
Wind & Watertight: These are used units that have spent an average of 12-18 years at sea. They might not meet the structural requirements for international shipping, but they are perfectly suitable for static storage purposes with fully functioning doors and intact floors.
Cargo Worthy: This category also includes used units that have braved the high seas for 12-18 years or longer. The difference? These units retain their structural integrity enough to still be certified for international cargo shipment. Boxhub can help you with the certification process upon purchase.
New (One-trip): As the name suggests, these containers have only shipped one single load of dry cargo to the U.S. Built to last for decades, these containers need no upfront maintenance or painting and are ideal for tiny home/office projects or highly visible areas.
The process of buying a shipping container from Boxhub is as straightforward as counting 1-2-3
Find Your Container: Choose the size and condition that suits your needs best, and Boxhub will source the best available unit from a port near you.
Schedule Delivery: Decide on a delivery timeline that works for you. Boxhub ensures a quick, professional delivery right at your doorstep.
Receive Your Container: An experienced truck operator will deliver your container and place it exactly where you need it.
At Boxhub, they've taken the stress out of purchasing a shipping container. No need to spend hours on phone calls, depot visits, or trucker scheduling – Boxhub handles all the heavy lifting for you, providing a simple, stress-free experience from start to finish.
Here are the reasons why Boxhub deserves to be among the best places to buy a used or new container:
1. Boxhub is highly rated on Trustpilot, with over 400 customers giving it an "Excellent" rating.
2. The company commits to deliver within 7 to 10 days, with emergency options available if needed.
3. You benefit from a 30-day money-back guarantee to ensure your satisfaction.
4. Boxhub also offers a condition guarantee to ensure the container you buy is in good shape.
Here's an additional benefit worth noting: Boxhub specializes exclusively in the sale of shipping containers, rather than rentals. This allows them to focus on providing customers with high-quality, durable containers for long-term use.
Furthermore, for those who wish to customize their containers, Boxhub offers DIY modification kits, which include features such as doors, windows, lock boxes, and vents.
What I love about Boxhub.com
A childishly simple website
The types of containers for sale and their condition are very clear
Prices are displayed.
Easily reachable customer service
What I like less about Boxhub.com
Not much choice in terms of container size
Ready for more details or a quote? 👉 Reach out to Boxhub's responsive team now. They're eager and quick to cater to your every need.
2 – EVEONCONTAINERS.COM: Your Sustainable, Reliable Choice for Shipping Containers

Much like Boxhub, Eveon offers its products across the United States and maintains a stock of shipping containers in three universal, ISO-certified sizes: 20ft standard, 40ft standard, and 40ft high cube.
These containers are designed to withstand even the harshest conditions, assuring you of their durability and reliability.
One notable feature of Eveon Containers, in line with Boxhub, is the transparency of their purchasing process. Eveon provides direct, upfront pricing on their website, eliminating the need for quotes or the worry about hidden costs. The process is clear and efficient, making your purchasing experience stress-free.
Quality is also a top priority at Eveon Containers. Like Boxhub, they adhere strictly to ISO criteria when repairing their freight containers, which guarantees a universal quality standard. Their shipping containers are wind and watertight, featuring wooden floors for additional durability.
Eveon also offers a 30-day Money-Back Guarantee, demonstrating a shared commitment to customer satisfaction.
What sets Eveon apart is its commitment to environmental sustainability. By choosing to sell used containers exclusively, Eveon aims to mitigate the massive CO2 emissions that result from the production of new containers.
At Eveon, they go beyond simply selling containers – they are committed to sustainable practices that make a real difference. Here's a snapshot of their principles, which resonate with me:
1. Lifetime extension: Eveon is in the business of giving shipping containers a second life, promoting their longevity.
2. Reduced environmental impact: They prioritize eco-friendly transport methods to limit their carbon footprint.
3. Emission offsetting: They take responsibility for their emissions, including the delivery of their containers.
4. Transparency: Eveon openly shares their environmental performance yearly, fostering trust and accountability.
5. Positive influence: They're striving to join the global B Corp community, showing their commitment to benefiting their wider network.
6. Supporting sustainability: They're passionate about fostering sustainable ideas within their community, acting as a hub for eco-conscious individuals.
In essence, Eveon offers more than just containers – they're actively crafting a sustainable future.
Let's explore the pros of using Eveoncontainers.com
The classifications of the containers available for purchase, as well as their state, are distinctly outlined.
Eveon provides a clear delivery guide on their website to streamline your container purchase experience.
One con of Eveoncontainers.com
In my opinion, their website appears somewhat less professional than Boxhub's, which could potentially hinder a purchase.
👉 Feel free to visit Eveon Containers
3 – CONEXWEST.COM: Your Comprehensive Source for Quality Shipping Containers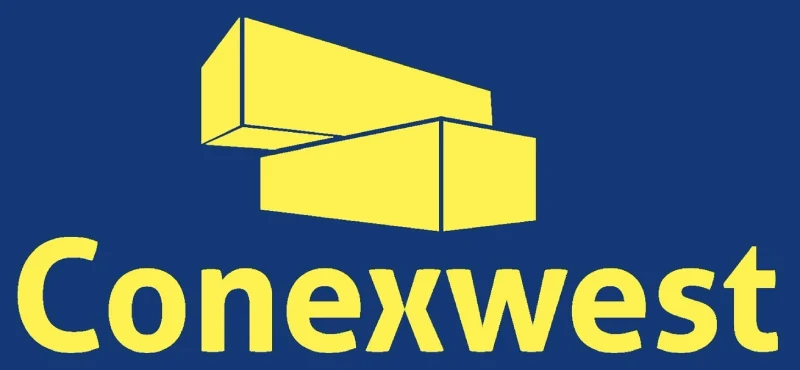 In my quest for the perfect container, I also came across Conexwest. They've been a nationwide supplier of shipping containers since 2013 and have a great reputation among a range of customers, from local neighbors to Fortune 100 companies. This tells you they're trusted by folks from all walks of life.
Conexwest's website is a goldmine of information. The variety of containers they offer is remarkable. They stock everything from standard 10′ containers right up to 45′ high cube containers, insulated containers, and even specialty containers with doors on both ends or open sides.
However, they don't stop at just selling containers, though. Conexwest also offers an array of modification services.
Want to add windows, HVAC, or electricity to your container? They can handle that. Need a custom paint job? No problem. These guys can even convert your container into a fully branded trade show booth or a cool seaside restaurant!
And the best part is that all their containers, whether new or used, come with a solid warranty—10 years for new ones and 5 years for used. Plus, they guarantee that each storage container is durable, secure, and leakproof. That really gives you peace of mind!
Also, their website features a handy customer portal and an interactive map that shows you the locations of their shipping containers near you. This user-friendly tool can greatly reduce your time and effort.
What I appreciate about Conexwest.com
The unique feature that allows you to design your own container!
Flexible rental options, with terms as short as 4 weeks.
An impressive range of shipping container types to choose from.
Areas for improvement on Conexwest.com
Due to their extensive selection, navigation can be a bit overwhelming. But honestly, that's me nitpicking – their service is generally top-notch!
For a more comprehensive look at what Conexwest can offer, I recommend visiting their website!
👉 www.conexwest.com
---
That's all for now. I'll continue to explore and add more companies to this list as there's an abundance out there. Bear with me while I carefully review each to ensure I provide you with the most accurate and useful information.
As the founder of Container FAQs, my goal is to provide readers with in-depth information on the containers used in daily life and related subjects. Don't hesitate to reach out to me if you have any suggestions for articles you would like to see on my blog.