Compact Storage Solutions When Camping: Which Are The Best?
Everyone, whether an experienced camper or a novice, appreciates a decent space-saving tip. Packing, in general, can be difficult. So, I have compiled some of the best solutions for compact storage for when you're camping next!
For compact packing, you can use techniques such as military-style packing, collapsible storage boxes, zip lock bags, and portable kitchens! Listing the items by category is a good place to start. Make sure that you have a plan of how many individuals are camping, the location of the trip, and the possible weather changes to make an informed choice.
From weekend vacations to long-distance treks, storage is an ongoing challenge while camping. Even the largest vehicles prefer to pull out of the driveway completely loaded. To assist you in becoming a packing pro, here is a list of space-saving techniques to get it right from the start.
Military-Style Packing
Folding your things differently makes a great difference in terms of space. Embracing military folding skills is a useful strategy for any journey you may make. Here's how you do it:
Lay the T-shirt flat and smooth the bottom up two or three inches inside out, as shown below.
Fold over one-third of the garment, then fold the sleeve back over itself.
Fold the remaining third over the center as well, then turn the T-shirt, so the collar is facing you.
Roll the garment as tightly as possible from the collar to the edge of the flipped part. Then, tightly pull the flipped edge from the opposite side across the entire garment.
To get more in-depth tips and techniques, don't forget to read my article on storing clothes for camping.
Collapsible and Foldable Storage
Choose collapsible storage choices to minimize trip risks. Consider integrating folding pantry alternatives in the kitchen, as well as a simple pop-up shelf.
The table below summarizes the advantages and disadvantages for collapsible and foldable storage options:
| Collapsible Storage | Normal Storage |
| --- | --- |
| Flexible dimensions | Fixed dimensions |
| High initial cost | Low initial cost |
| Takes up less space | Takes up more space |
| More travel-friendly | Less travel-friendly |
| Lesser durability | Greater durability |
While foldable camping storage boxes are sometimes less durable, they do provide a more compact storage solution for your camping stuff. They're especially useful for hauling gear that will be out or in use for most of your stay at camp (hammocks, sleeping bags, stoves, etc.) because they can collapse and tuck out of the way when they're empty and not required.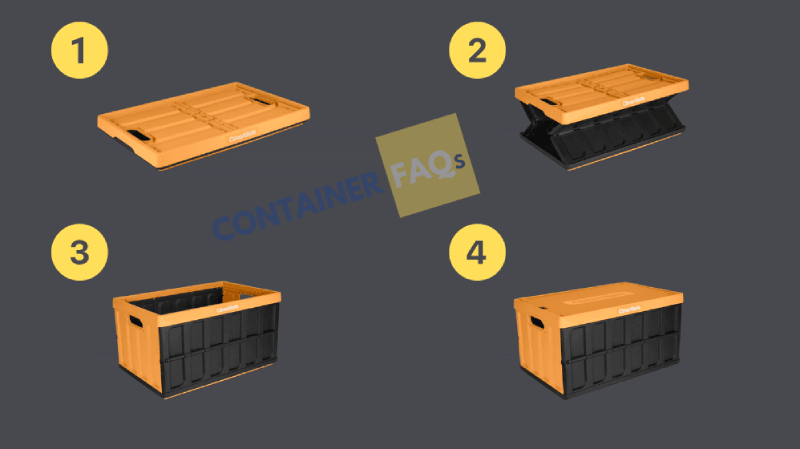 Sandwich and Ziplock Bags
Sandwich and zip lock bags are useful for more than just storing food items. In fact, they can serve as utensils and seasoning containers. These bags are constructed of plastic, which allows them to mold effortlessly into their surroundings without breaking, bulking, or getting in the way.
Ziplock bags, in particular, can help secure liquids or items prone to leaking or creating a mess during travel. Not only are these bags a compact storage solution, but they are also helpful in preventing unnecessary hassle during trips.
You can organize some food into reusable camping storage bags by category. For example, you can put all the kid snack selections or medicinal supplies together.
Camp Kitchen Box
Food storage is key while camping. Instead of bags of food, you may also use a camping storage box or bin so you can place your dry food box on the ground or picnic table without worrying about it dumping or bugs discovering it.
Check out this quick YouTube video on food storage for camping:
While in storage, keep some shelf-stable things in the box. Cooking spray, individual condiment packets, and spices should all be kept in your camp kitchen box. Transfer some of your most often used spices to tiny camping containers or purchase a specialized camping spice container.
Tip! You can save your unused Tic Tac containers and reuse them as pocket-sized spice dispensers that can carry everything from salt to saffron.
Remember to allow the air out of bags of snacks and similar items to conserve space, and attach a bag clip to each bag ahead. While loading up your dry food, remove any additional outer packaging.
Camping Fridge Storage
If you bring a lot of beverages, consider carrying a second cooler only for drinks to save room. This will reduce the quantity of ice you use and help keep your food colder at a more steady temperature.
For storing eggs, you can use protective camping egg cases or even pre-crack your eggs into a container or jar to simply pour them into the pan as needed.
Smaller camping food containers with latching lids are useful for keeping comparable items that don't need to be squashed together. Plus, they may be stacked in the fridge or cooler. You can keep one on top without a cover to hold small odd items like butter or a small sauce bottle.
To avoid over-packing food, plan and prepare meals at home. This can also assist in streamlining your cooking process at camp and reduce the amount of time you spend cooking.
Portable Kitchen
If you are cooking for a large group of people, a portable folding camp kitchen can be a lifesaver. Portable kitchens are often composed of robust and high-quality polymers and metals and are easy to pack away with a few rapid folds. They are a compact way of having access to all the kitchen essentials while saving a tremendous amount of space.
One of the best quality portable kitchens is the SylvanSport Over Easy Camp Kitchen (picture below). However, it is on the pricier side.
For better value, you can also take a look at the GCI Outdoor Master Camp Kitchen (picture below). This model is also available at Amazon.com.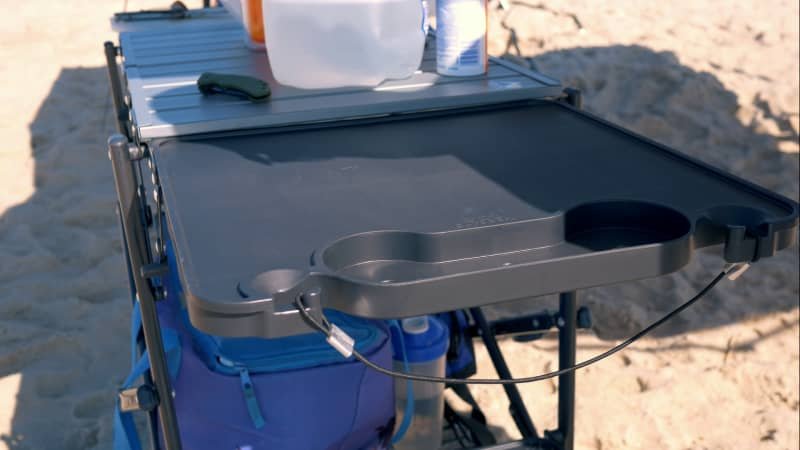 Conclusion
Whilst camping, you're out in the wild with limited capacity to store the barest of necessities. Every item counts! So, it's crucial to make use of available space wisely. Prioritize items in order of need and settle for a storage technique or system that works best for you.
Many factors, such as the number of people camping, location, budget, vehicle, etc., determine the storage solution being used.
I hope that some of the solutions offered in this article were helpful for you and resonated with your needs. Happy camping!