Kudos if you love camping. But if you're like me, enjoying a savory meal in the outdoors is even better. However, for a good cooking experience at camp, your favorite spices are an absolute must. But, is that practical? Yes, if you do it right!
What's the right way to store spices when camping?
You can store spices in 4-in-1 boxes, masala tiffins, spice racks, ziploc bags when camping. While plastic containers aren't ideal for food storage if you're thinking long term, glass isn't particularly safe for campsites too. The ideal solution is airtight, portable, spill-free, and space-saving.
Read on to know how to carry spices, deter bears from herbs, and compare glass vs plastic for camping. I've also added a bonus section with 11 unique solutions to store your spices like a pro.
Let's start exploring!
Different Ways To Store Spices When Camping
Cooking and eating a delicious meal out in the open are both terrific things, especially when you're camping with family. Plus, your salads and meats will not only be bland, but unpalatable too if you skip on the seasonings.
Nevertheless, taking spices while tenting comes with its own pros and cons.
For instance, what if spices spill all over the storage bag and you're left with a bland plate anyhow. Moreover, condiments need the right storage solution to prevent spoilage when you're camped out.
What are the different ways to store spices when camping? You can opt for makeshift solutions like pillboxes, straws, or even mason jars when you're pressed for time. But if you're a camp cooking aficionado, it's essential to store your seasonings in compatible containers that don't spill or spoil.
Here's my list of essential spices to take for camping:
Garlic salt for taste
Paprika for the color
Cumin powder for flavor
Chili powder for the heat
Coriander powder for the smokiness
Turmeric powder for its antiseptic properties
I'll tell you all about failproof spice storage boxes designed exclusively for campers in the coming sections.
What Is the Best Packaging For Spices?
The best packaging for storing spices is one that keeps your seasonings mint fresh while preventing them from damage. Plus, lightweight storage boxes are even more portable. Now you know why plastic is an excellent compromise.
Whether you're cooking for the first time or the umpteenth time, you might already know spices prefer dark and cool temperatures.
To be precise, keep your herbs and condiments always below 70°F. As a rule of thumb, drastic temperature changes can speed up spoilage.
Moreover, you should always store spices in airtight spice containers. Why? Because of its spill-proof and easy to use when you're working with limited amenities in the outdoors.
Apart from that, red condiments like chili powder, cinnamon, paprika, and red pepper should be stored in the cooler too. Ultimately, you should stick to this when you're tenting in hot and humid climates!
Is it better to store spices in plastic or glass?
When it comes to storing spices, choosing between glass and plastic containers can be a complex decision. This section aims to guide you through the advantages and drawbacks of both materials, with a focus on the best containers for spice storage.
The Problem with Plastic Containers
While they might seem convenient, plastic boxes are not always the best option for storing your spices. The porous nature of plastic can lead to the gradual loss of spice potency over time. More than that, specific chemicals present in plastic containers have the potential to leach into your spices, especially under extreme temperature conditions like direct sunlight.
Benefits of Glass Containers for Storing Spices
Contrarily, glass containers offer several advantages over their plastic counterparts. They are non-porous, preserving the quality and flavor of your spices longer. However, a major drawback is their susceptibility to breakage, making them less ideal in situations where durability is paramount, like camping trips.
Can you store spices in ziploc bags?
Yes, you can store spices in food-grade ziploc bags.
Moreover, the uses of plastic containers aren't limited to spice storage alone. It's a convenient and portable solution for campers. Although you must keep it away from direct sunlight and heat.
Keep in mind that ziploc bags aren't 100% airtight. Hence, it can end up tainting your cabinets or cooler with the smell of seasonings unless you place the ziploc bags in an airtight container too.
11 Best Ways To Store Spices When Camping
One of the main things that prevent people from camping is the idea of sacrificing comfort, especially the comfort of a good meal. However, you don't have to live off canned beans and freeze-dried meals when camping.
With the right products, you can bring the best parts of your kitchen outdoors without sacrificing the taste of good food.
1. Coghlan's Multi-Spice
Coghlan's Multi-Spice container from Amazon.com is an excellent choice if you want to take your spices with you while camping.
This container offers six individual compartments for different spices, with each compartment accompanied by its own lid. This is great because the spices won't rattle during bumpy travels involved with camping.
Another great thing about this container is that it already comes with spices as shown below.
Paprika
Curry powder
Cayenne pepper
Garlic salt
Black pepper
In addition to being a convenient product, it's also reusable, meaning that it's good for your wallet and the environment as well. This container is definitely an intelligent choice if you want to bring your spices with you on your camping trips.
2. Samson Travel Spice Kit
This handy pocket spice kit is the perfect choice for your outdoor cooking endeavors.
It comes with six different 3-dram-sized (7.4 ml) glass vials, secured by corks and neatly stored in a conveniently-sized portable tin. The small size of this container makes it excellent for camping as well as backpacking.
In addition to being very convenient and adorable, this container also includes the spices themselves. Enjoy coarse ground black pepper, rosemary, cayenne pepper, cinnamon, garlic powder, and sea salt with this excellent travel spice kit.
3. Wealers Portable Stainless Steel Spice Shakers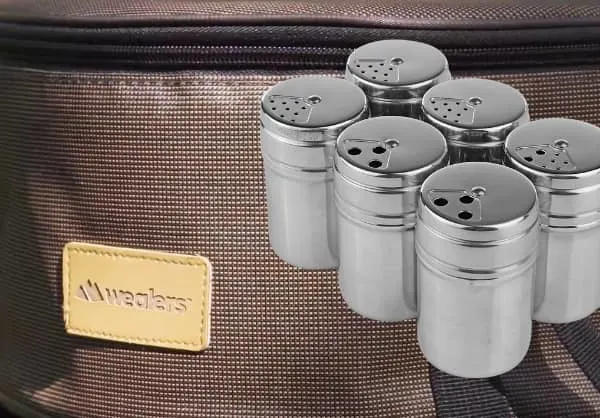 These portable stainless steel spice shakers found on Amazon.com are great camping accessories.
This set comes with a small fabric travel container and six individual stainless steel spice shakers. The design is sleek, convenient, and practical, which makes it perfect for bringing the kitchen outdoors next time you go camping.
Spices are not included in this one, meaning that you can fill it with whatever seasonings you desire.
4. Evo GSI Outdoors Spice Rack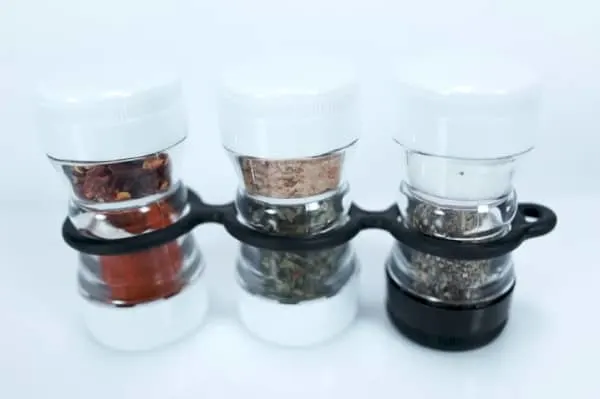 This GSI Outdoors Spice Rack from Evo is a set of lightweight copolyester containers explicitly designed for the outdoors.
Lightweight products are so essential for backpacking, hiking, and camping because you often have to carry all of your supplies with you on one trip. It's crucial to make sure that you're using products that aren't too heavy or bulky, and these containers make that very easy.
This product also comes with 18 removable labels, so you can easily track which spice is which.
5. Masala Dabba Spice Tin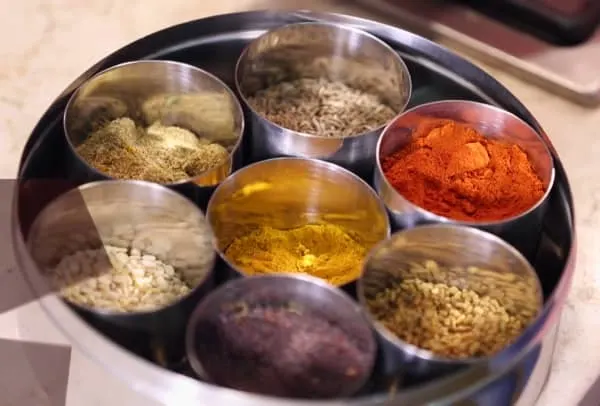 This spice tin is another excellent selection for storing spice to-go.
The round, stainless container, fitted with a tight lid, securely holds 7 individual storage pots. Pop the dabba's lid and each is readily accessible—no futzing with the screw-on lids and shaker tops of most spice containers."
This tin ensures a clean experience by enclosing the individual containers in one larger container. This means that in case one isn't secured all the way, the spices won't spill and get all over your other camping essentials.
Spices are not included with this one.
6. Tightvac Vacuum Sealed Container
This vacuum-sealed container by Tightvac available in 1/2 oz (15 ml) to 3 oz (90 ml) sizes on Amazon.com is an excellent option for traveling with spices.
The container itself is clear, topped with a highly functional black lid that will keep your spices secure. Having a clear container means that you can quickly tell which spice is which, ensuring maximum convenience while you're camping.
The container is made from food-grade BPA-free plastic, and it's also air-tight, reusable, smell-proof, and durable.
7. Humangear GoTubb 2 Oz (60 ml) Containers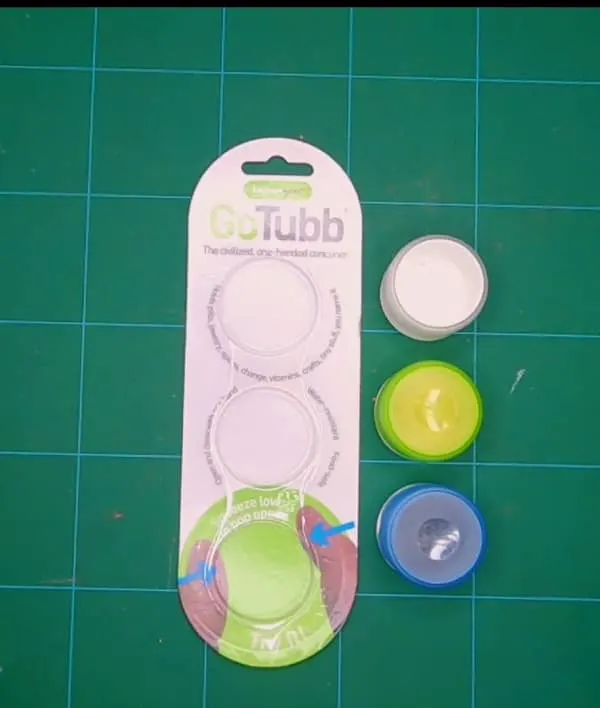 This pack of Humangear GoTubb containers on Amazon.com is another great option for bringing your spices with you on your camping trips.
These little containers are very convenient and crafted from FDA food-safe, BPA-free, PC-free #5 plastic. Their design is proudly patented and functional with snapping technology and clear lids, so you can see exactly what's inside.
Though these containers are fantastic options for storing spices for transportation, they're also perfect for things like sauces, medications, and other small necessities that you'd like to have on you while camping.
8. LiLiy Travel Spice Kit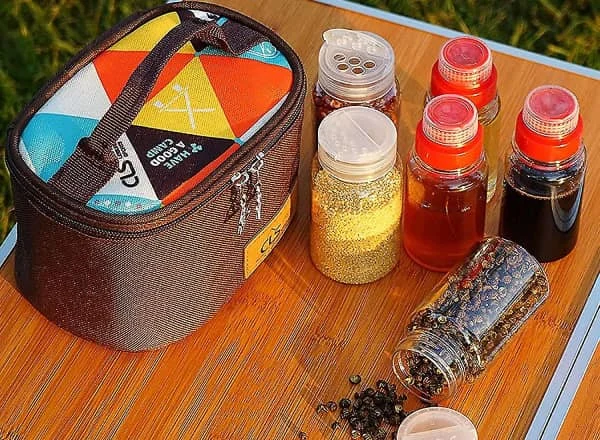 The LiLiy Travel Spice Kit on Amazon.com is aesthetically pleasing and highly functional.
This kit features a beautiful Oxford cloth travel bag that fits all six containers inside. It comes with three spice shakers as well as three condiment bottles, so you can bring both seasonings and sauces with you on your camping trips.
Due to the design of the containers themselves, you won't have to worry about leaks and spills.
They're also very lightweight and convenient to carry because you can hold all of the items in one small bag.
9. Signora Ware Salt and Pepper Shakers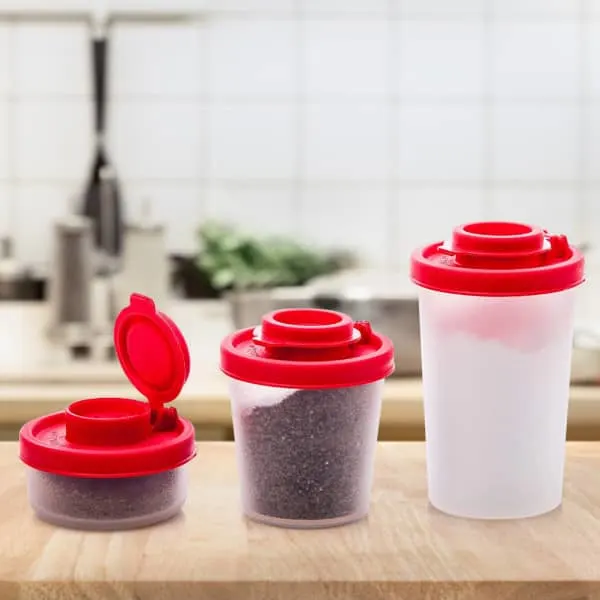 These salt and pepper shakers from Signora Ware on Amazon are perfect camping companions.
Made with clear BPA-free plastic and secured with air-tight lids, these shakers will surely make an excellent addition to your collection of camping necessities. This set of containers was designed specifically with travel and the outdoors in mind, so you don't have to worry about heavy materials or inconvenience.
In addition to being highly functional, they're also durable and crafted to last. Why not bring these with you next time you go camping?
10. 4-in-1 Plastic Salt and Pepper Shaker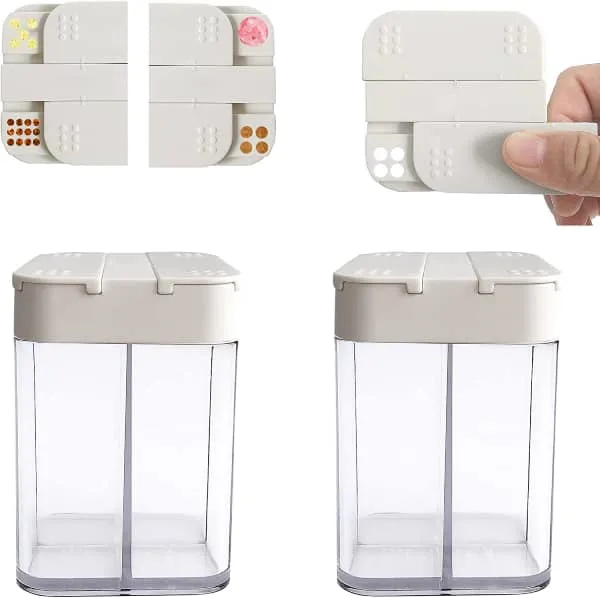 If you're looking for one container that holds everything you need, look no further than this 4-in-1 spice container on Amazon.com.
This container is sleek, aesthetic, and designed for maximum convenience. With transparent food-grade plastic, you don't have to worry about mix-ups and the cooking mishaps that can take place when you mistake one spice for another.
This shaker is so convenient because it stores four spices in one container, making it an excellent accessory for your travels.
11. Zipper Jar Reusable Bags
Want a mason jar lookalike without the risks of broken glass on your campsite? Get this 40-piece set of plastic Zipper Jar Reusable Bags that are perfectly portable for camping on Amazon U.S.A.
The best thing about this spice storage solution is that it's lightweight, airtight, and reusable! Moreover, these are made from non-toxic and odorless PE material that's safe for the environment.
What I personally love about this solution is it comes in 4 different sizes appropriate (for all your food packaging needs when going camping.
Size
Dimensions
(Height/Width)
S
(100 ml)
5.9 x 4.3 inches
M
(200 ml)
7.9 x 5.4 inches
L
(500 ml)
9.7 x 6.9 inches
XL
(1 L)
12.5 x 4.2 inches
Do Spices Attract Bears?
Yes, spices attract bears. In fact, any new smell in their surrounding ultimately lets animals around know that there's someone new.
Whether you store your herbs in Glasslock containers or plastic boxes, bears can smell salt, pepper, hot sauce, garlic, and mustard. They also love fruity smells like peppermint, orange, citrus that are usually present in toothpaste and skincare items.
So how do you get around it while camping? Just as bears love the smell of spices and sweets, they despise scents like pine and neem. So, make sure to secure attractants while keeping deterrents like pine essential oil in the open.
Final Thoughts: Essential Spice Storage Solutions for Your Camping Adventures
Are you planning to embrace the culinary arts for the first time amidst the great outdoors? Camping is an adventure that is even more enjoyable with good food. But let's face it; nobody enjoys the aftermath of a cooking spree—cleaning up the chaos that ensues in a wilderness campsite.
In my personal experience, when it comes to carrying spices on a camping trip, prioritizing lightweight, airtight, spill-proof, and compact storage solutions is the way to go. This makes packing efficient and helps avoid any messy mishaps.
Among various options, I have a particular fondness for the all-in-one Indian Tiffin Masala Dabba. With its separate compartments for different spices, it eliminates the need to fumble through a myriad of containers, saving precious time that's better spent enjoying the tranquillity of nature.
However, if you're concerned about the durability of your spice storage and want an alternative that can brave the elements, look no further than the Wealers Portable Stainless Steel Spice Shakers. These containers are robust, easy to pack, and are excellent for withstanding the rigors of outdoor adventures. They've become an indispensable part of my camping gear, especially when I want to add a dash of my favorite spices to the campfire cooking pot.
And here's a little bonus tip for fellow campers: Spraying a pine-based Lysol around your trash and spices is a surprisingly effective way to deter curious bears from venturing into your campsite. So, remember to pack a can to keep your camping experience as sweet as your well-seasoned meals!
I hope these insights aid your camping journey and elevate your outdoor culinary endeavors. Safe travels and happy cooking!
Sources
As the founder of Container FAQs, my goal is to provide readers with in-depth information on the containers used in daily life and related subjects. Don't hesitate to reach out to me if you have any suggestions for articles you would like to see on my blog.