Smart Pill Box: How to Choose the Right One for You
Whether you're chewing on vitamins or taking frequent doses, smart pill boxes have automated pill-taking.
Thanks to their high efficacy rate, you'll likely find several options in the market. Choosing the right one for you involves prioritizing certain factors more than others.
For instance, if you're taking medication post-surgery, then you may want to look for an option that focuses on alerts and reminders. Otherwise, vitamin intakers could benefit more from compact smart pill boxes.
Stick around to learn how to choose the right smart pill box for you.
8 Key Factors to Consider Before Buying a Smart Pill Box
Factors like ease of use, security, and portability, are crucial to your pill box buying decision.
That being so, here are eight key factors to consider before buying a smart pill box.
#1 Ease of Use
The first critical factor worth observing when buying a smart pill box is the ease of use. Luckily, most designs are user-friendly and integrate mobile applications for reminders and alerts.
Opening and closing the pill box also involves a simple process. Rather than fidgeting with your medication, the device helps you by dispensing it.
#2 Portability
Unlike chunky weekly pill box organizers, a smart pill box is compact and portable. Some options are detachable. In this case, they come in seven separate containers filled with each day's pills.
Those kinds of pill boxes are ideal for those taking large doses daily. Meanwhile, if you're only taking a few vitamin supplements per day, then you can opt for a pocket-sized box.
Aside from that, not all smart pill box options come compact. Others tend to be large and not as easy to carry around. For this reason, be sure to find a well-suited size for your lifestyle.
#3 Compatibility
Before buying the box, you'll want to make sure it's compatible with your device. Luckily, most boxes are smartphone-compatible and use an application. You can also find choices of smartwatch-compatible pill boxes.
#4 Alerts and Reminders
One of the unique selling points of smart pill boxes is the reminder you get to take your pills. They help avoid medical mixups, especially for elderly patients.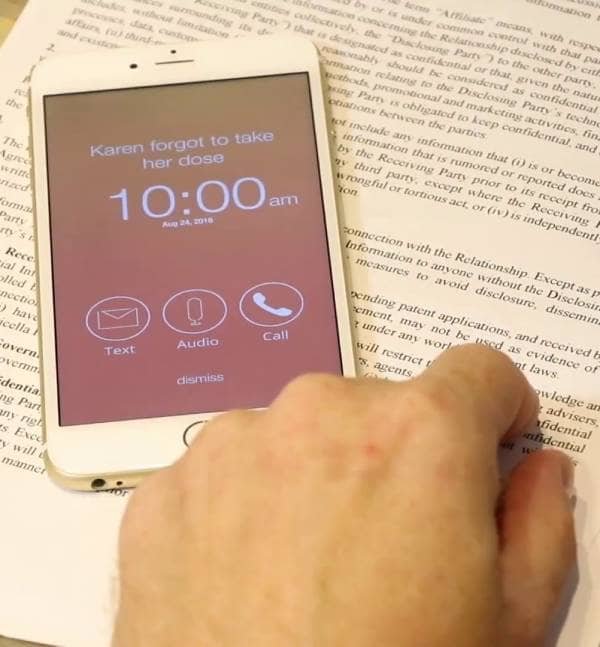 The pill box with an alarm for seniors can make a caretaker or guardian's life much easier. It'll help track the medications taken and alert you when to replenish the containers.
These alerts and reminders could come from the smart pill box's application or the device itself. Either way, the chances of missing a pill will be significantly reduced.
#5 Capacity
Smart pill boxes come in a variety of shapes and sizes. Before you decide which one to pick, make sure your choice will accommodate the number of pills you'll take.
Compact designs are more well-suited for smaller dosages like vitamin supplement intakes. Meanwhile, if you're taking more than five pills daily, then consider a larger-sized pill box.
That said, studies have shown that over 39% of the elderly population takes five or more pills per day.
#6 Durability
Placing your medication out of its original container and exposing it to too much humidity or moisture can affect its efficacy.
For this reason, you want to be sure that the pillbox is durable enough to protect your medication from excess moisture. Additionally, try searching for a sturdy box that can handle daily use.
On the other hand, if your medication has storage requirements, you're better off keeping it in its original container.
#7 Security
When it comes to security, various pillboxes offer a lock mechanism. Their main purpose is to stop patients from taking the wrong medication.
The compartment unlocks when an alarm sets off. While this helps to avoid taking the wrong medication, it also improves your pills' security.
#8 Price
Smart pill boxes come in a variety of prices. Some prices can range between $150 to $200. Meanwhile, other, more affordable options can be anywhere between $15 to $75.
That said, high-priced options come with extra features such as light indicators and application alerts. I'd suggest investing in a high-quality option if you take a lot of medications at a time. Otherwise, stick to the budget-friendly pill boxes.
Comparing the Top Smart Pill Boxes Currently Available on the Market
Three of the top smart pill boxes in the market are Memo Box, Tricella, and Elliegrid. Let's find out what makes each product stand out.
Memo Box
Memo Box features various versions. A couple of which include the Mini and Vibrant models. Besides that, the product offers options like double dose alerts and sound and visual reminders. Plus, it also has a ping location for added security.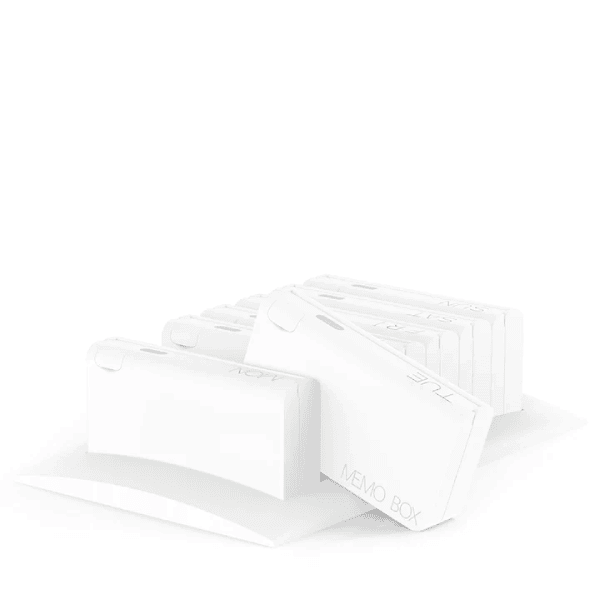 Tricella: The Pillbox Just Got Smarter
Tricella's smart pill box sets itself apart with its minimalist drawer design that offers a wide capacity. It can fit up to 30 10mm x 10 mm pills per drawer.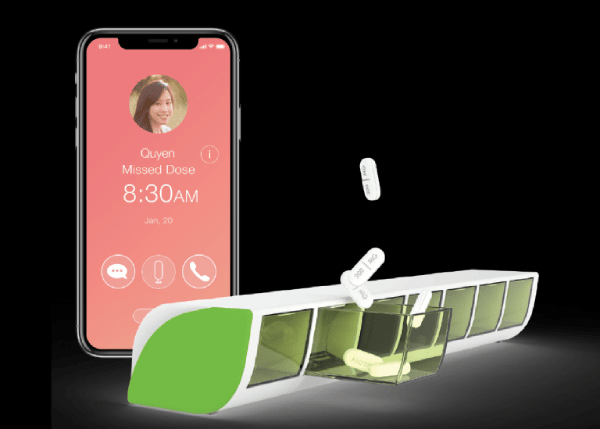 In addition, Tricella provides users with family alerts through its application. Plus, it has advanced sensors that detect missed doses.
Elliegrid, Smart Pill Box
Elliegrid smart pill boxes offer users an aesthetic design with light indicators that instruct you which and how many pills to take.
Apart from that, Elliegrid wins by far when it comes to capacity. The compartments can hold up to 30 days' worth of medication.
| Smart Pill Box | Portable | Capacity | Alerts and Reminders |
| --- | --- | --- | --- |
| Memo Box | Yes | Medium | Yes |
| Tricella | Yes | Medium | Yes |
| Elliegrid | No | Large | Yes |
Conclusion
Choosing the right smart pill box involves checking factors like price and capacity.
Your pill-taking routine can help you determine the right brand to choose. For example, if you're caring for a senior, then investing in a high-capacity smart pill box with an integrated application would be your best bet.
If keeping your belongings in a set of organized containers sparks your interest, check out my article, "Are Cadence Travel Containers Worth It: 8 Things You Should Know Before Buying Them." Aside from that, let me know your smart pill box recommendations in the comments below.
Sources