Are Cadence Travel Containers Worth It : 8 Things You Should Know Before Buying Them
Gearing up to travel can be daunting, but Cadence Capsules give you one less thing to worry about. I've found that when packing to fly or driving to a new destination, Cadence Capsules provide a neat and organized way to do so.
Keep reading to discover why I trust these multi-purpose travel containers with my products and why they're worth the investment.
Cadence Travel Containers: 8 Things To Know About These Great Capsules
Here are 8 reasons why I use them for most of my travels.
This is NOT a sponsored post – Just capsules that I use and love!
#1 Leak Proof Structure: Say Goodbye to Baggage Spills
If you've ever traveled with liquids, you've probably experienced the dread of opening your baggage to discover messy leaks.
Cadence Capsules eliminate this threat. The container lids are twist-on and threaded, necessitating two-and-a-half rotations to lock into place; this design is airtight and has protected my baggage from leaks.
#2 Magnetic Functionality for Optimal Organization
The body, top, and tile-shaped lid are all designed with internal magnets. The magnetic design allows you to easily organize, stack, and sort your containers both within your baggage and when you arrive at your destination.
The magnetic feature has made it easy for me to neatly organize my capsules on countertops and beyond.
#3 Refillable and Reusable Design
These travel-sized capsules are designed to be used over and over again. Their wide-mouth design allows for easy filling and refilling.
Conveniently, they are dishwasher-safe. Best of all, they're constructed of recycled, BPA-free materials that will stand the test of time.
Mine have withstood airport travel for several trips so far.
#4 Peace of Mind During Travel with TSA-Approved Containers
Cadence Capsules are TSA-approved for travel. Gone are the days of stocking up on travel-sized consumables before your next flight. TSA does not require products to be in their original containers, so Capsules are a great option for traveling with your favorite products from home.
I love being able to travel with all of my favorite products from home.
#5 Customizable Labels to Identify Your Products
The Cadence Capsules use a labeling system that's entirely customizable. You can choose from a list of prescribed labels such as "shampoo" and "hand cream" or cute icons that feature images such as lips and aloe leaves.
When I couldn't find an existing label for my favorite serum, I simply customized one.
#6 Versatile and Multi-Purpose Usage
The Cadence Capsules are suitable for almost any consumables. From serums and lotions to soaps and pastes, they can safely store all your beauty, hygiene, and medicinal products.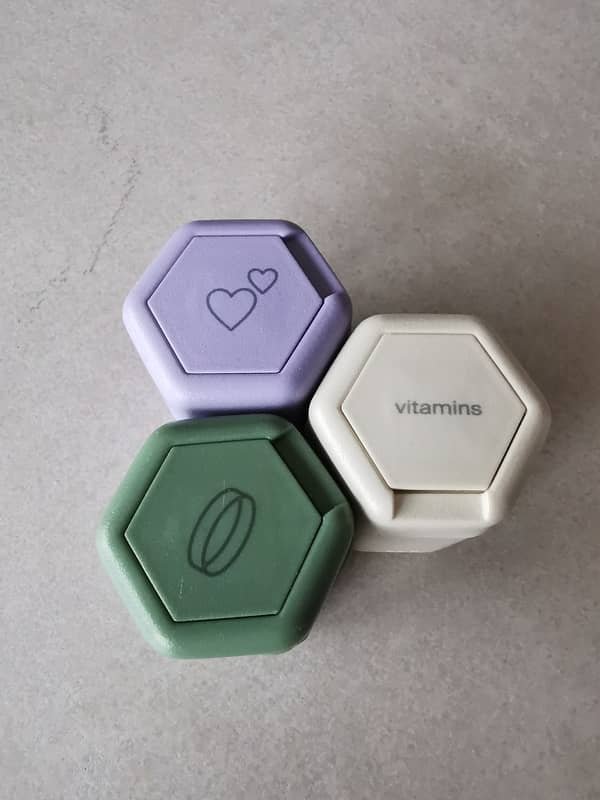 Besides liquids, Cadence Capsules are great for storing pills, powders, jewelry, supplements, and beyond.
#7 Capsules Abide by the TSA's 3-1-1 Rule
The TSA has very strict rules about how liquids must be packed, especially concerning carry-on baggage.
According to the TSA, a passenger is permitted to carry on up to 3.4 ounces of approved liquids. However, those liquids must fit into a single quart-size bag.
I've found it to be incredibly convenient that my 8 Cadence Capsules fit well in a sealed, quart-sized bag. We can even go up to 15 capsules if necessary.
Capsule Dimensions
Cadence Capsules each hold .56 ounces of product.
Depending on the product type that might mean 9-10 uses as is the case with serums and oils or 2-3 uses of products like shampoo and conditioner.
I love that the concave, bowl-like interior of each Capsule, makes it easy to scoop the product out.
#8 Made From Environmentally-Friendly Materials
Cadence Capsules are made of BPA-free and non-leaching materials; the former means you don't have to worry about container materials seeping into your products, and the latter means the Capsules won't bond to or be stained by your products.
Furthermore, the Capsules are made from 20% ocean-bound plastics and 30% manufacturing waste.
If, like me, you care about using sustainable products, you can feel good about using Cadence Capsules.
Pros & Cons of Cadence Capsules
While Cadence Capsules have many great qualities, I've also found a few drawbacks to these containers.
Pros of Using Cadence Capsules
Cadence Capsules allow you to pack your everyday products without having to sacrifice the quality you sometimes lose when purchasing travel-size items.
I love that Capsules free up room in my cosmetic case because they can be packed freely in my checked luggage.
The capsules are stylish, available in a vast array of beautiful colors, and the labeling is customizable.
The Capsules' magnetic frames make them easy to sort, stack and organize, and the airtight closures prevent leaks.
Me and my husband love love the sleek aesthetic that holds much more product than meets the eye.
Cons of Using Cadence Capsules
Although the design concept for Cadence Capsules is genius, it would be nice if they were available in more than one size.
For instance, the .56-ounce capacity is plenty for lotions and serums, but depending on your hair length, you may only get two or three washes out of shampoo stored in a Capsule.
I have long hair, so I'm obliged to travel with two Capsules of each shampoo and conditioner. However, because the quality of the Capsules is so good, I can overlook this.
Where to Shop for Cadence Capsules
Cadence Capsules can be purchased directly from the manufacturer through their website.
Cadence Capsules can be bought individually, in sets of six or 12, in carefully curated sets, and in bulk for corporate gifting.
They make really great gifts; I received this set as a gift (thank you ❤️ sweetheart ❤️ ) and I recommend them to all my friends!
Cadence Travel Container Deals & Promo/Coupon Codes
If you're a first-time Cadence Capsule buyer, you can subscribe to the website for 10% off your first purchase.
Capsules can be purchased individually or in sets of six and 12.
There are also add-on options such as individually sold and customized tile lids that are interchangeable, so your labels stay current with your routine. When I recently switched to a new hair product, I didn't have to buy a whole new capsule; I could just replace the lid.
Lastly, Cadence offers free domestic shipping within the U.S. for all orders over $40.
Are There Any Travel Containers Similar to the Cadence Capsules
Although there are travel containers on the market that serve the same purpose, none meet the quality of Cadence Capsules.
There is a product (much cheaper) made by Cosywell that's similar in shape and size, but the quality is just not up to snuff; they aren't customizable, they don't have the same magnetic construct, and they aren't made of the same sustainable materials.
Lastly, there are pouch-like and squeeze-bottle-type toiletry containers (available at Amazon.com) on the market, but like the Cosywell brand, they're not made with the same integrity as the Cadence Capsules. I can't say enough about the outstanding quality of Cadence Containers!
Conclusion: Why Cadence Travel Containers are Worth the Money
So, are cadence travel containers worth it? Simply, YES!
Cadence Capsules are well-made, convenient, stylish, TSA-approved, and leakproof. Best of all, Cadence Capsules are versatile and allow you safely pack all of your favorite products without having to make the sacrifice of using store-bought, travel-size toiletries.
Finally, Cadence Capsules are an investment worth making; they're well-made and will last you many years. I look forward to using my Capsules with each new trip I plan.
Source