You might know how crucial double-bagging oils and sauces are on a trip if you're a backpacker. Similarly, the TSA also has specific restrictions in place for you. So, take care when you pack liquids in checked-in and carry-on luggage.
Today, we'll be discussing the specifics you need to remember to pack liquids in checked luggage. I'll simplify the 3-1-1 rule, how to pack toiletries, deodorants, or cosmetics as per the rules.
Ready? Let's fly right in!
Tips for packing liquids in checked luggage
When it comes to checked luggage on flights, liquids have strict norms.
Before jumping into the FAQ on packing liquids for air travel, TSA defines liquids as "free-flowing or viscous" substances.
What is the 3-1-1 liquid rule?
Do you know the TSA rule for packing liquids in carry-on luggage? I love the 3-1-1 rule because you can extrapolate the same for checked luggage.
| 3 | 1 | 1 |
| --- | --- | --- |
| Containers with 3 ounces or lesser. | A ziploc bag of 1 Quart size to hold the liquid containers. | Each traveler is allowed 1 bag. |
| Security measure | Anti-spill | Isolation of liquids for better screening. |
But, liquids for unrestricted amounts are allowed in checked-in luggage. However, it's good to use a one-quart bag to seal up no matter where you go. Hence, you can forget about spills forever!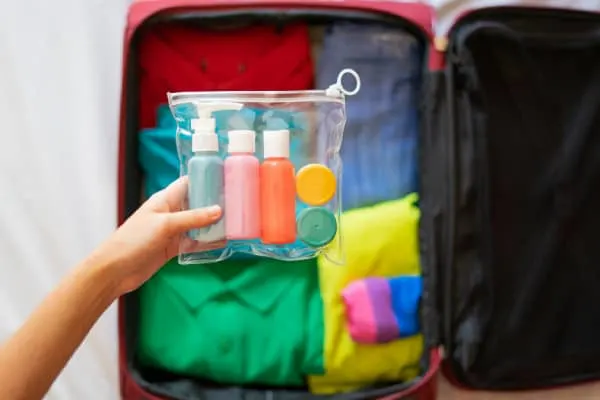 How to pack toiletries in checked luggage?
You can pack different liquids in separate zip-top bags when checking them in. Moreover, this is convenient and safer.
How do you pack oil for travel?
The best way to pack oils in carry-on luggage is in small travel-size containers. Moreover, it's best to seal using leakproof caps. In addition, wrap it up in a zip lock bag. Furthermore, this is great for oils over three ounces in the checked luggage.
How to stop pump bottles from leaking?
After you've locked your pump bottle, it can leak if leftover products from afore remain in the hose connecting the product.
But, you can also clean it by taking out the hose. On top of it, make sure to flush out the product or soak the hose in warm water.
What to remember when packing liquids in checked luggage?
Liquids can build up pressure or move and result in spillage, leak, or even small blasts during air travel. Frankly, the packing liquids was tricky first time I traveled. That was many years ago!
So, here are a few FAQS to help you:
Will liquids explode in checked luggage?
No, liquids won't explode in checked-in luggage.
Moreover, TSA allows all liquids in checked luggage and alcohols up to 70% ABV or 140 proof. Why? In fact, checked-in luggage is stored in a pressurized chamber. Hence, it's completely risk-free.
Does deodorant or antiperspirant count as liquid TSA?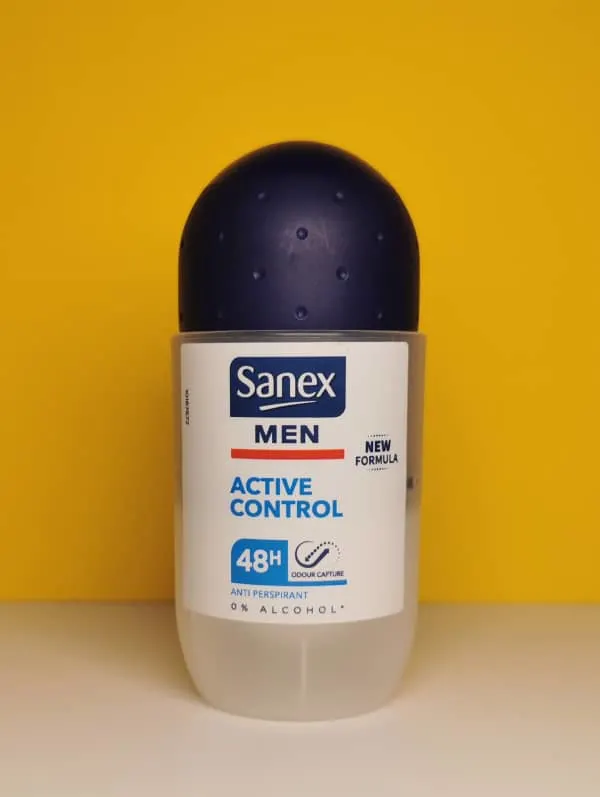 Yes, deodorants or antiperspirants of up to 3.4 ounces follow the same liquid restrictions in carry-on luggage.
However, you can carry more than 3.4oz of deodorants in checked-in luggage. Read more about flying with deodorants here.
Is mascara a liquid TSA?
Yes, TSA says mascara is a liquid.
Moreover, TSA says anything easy to spread, spray, squirt, and smear is a liquid. As a result, this includes moisturizers, aerosols, foundation, nail polish, eyeliner, and mascara!
Do wet wipes count as liquid TSA?
No, sanitizing wipes, baby wipes, and wet wipes don't fall under liquid restrictions by TSA. Hence "wet wipes, in any quantity, can be carried on." Additionally, they aren't restricted in checked luggage too.
Final thoughts
In short, there are many challenges to packing liquids when flying. Moreover, TSA restrictions are the same for lotions, creams, gels, mascara, pastes, beverages, oils, or sauces.
Frankly, liquids may leak, squirt, or rip to mess up the bag. Hence, I love squeezable silicone containers.
Explore if liquids have to be in original containers next.
Sources
As the founder of Container FAQs, my goal is to provide readers with in-depth information on the containers used in daily life and related subjects. Don't hesitate to reach out to me if you have any suggestions for articles you would like to see on my blog.