And when it comes to picnics, the law of the land is- more the merrier. So, you don't have to give in to smaller or cheaper baskets. But, how to choose the best picnic basket for 6 persons?
I'll tell you how to pick the best picnic basket, things you absolutely need, arrange contents like a pro, what makes the best hamper, and the three best hampers in the whole wide world.
Ready? Let's get exploring!
5 Essential Tips for Choosing the Perfect Picnic Basket for 6 Persons
Picnic is the best excuse for the social distancing schedule we were on at present.
However, planning a hangout for 6 persons instead of 2 or 4 is a pretty big deal.
But rest assured, I've got your back. Just scroll away to discover five crucial tips to pick the best hamper.
#1 Pick based on the type of picnic basket
| Type | What is it? |
| --- | --- |
| Traditional | This is the oldest type that's empty inside. Moreover, it comes without any additional accessories or features. |
| Specialty | This type of basket comes with individual compartments for foods and beverages. They may be insulated or with coolers inside. |
| Tote | Simple, easy, and versatile. Moreover, this is a one-bag concept with few or no compartments. Take a look at our post on stainless steel containers to store food in! |
| Backpack | A sassy and modern concept, picnic backpacks are easy to carry. However, they fight shy of the picnic basket aesthetic. |
#2 Pick based on your picnic menu
Next, you can choose the right basket based on what you're planning to eat on the day out.
If most of what you're packing includes perishable foods that must be hot or cold, go for an insulated picnic hamper. However, any basket or tote with a few ice packs will do for menus, mostly with non-perishable dishes like fruits or junk food.
Also, go for a hamper with a cooler if enjoying a chilled wine or beer is the image of the best picnic for you. Similarly, you can add an insulated flask if you're a fan of hot coffee at picnics!
#3 Pick based on the picnic basket material
Here are the top materials to ensure durability of your picnic hamper:
| Material | Pros and Cons |
| --- | --- |
| Rattan | Rattan wicker baskets are standard as they can stand the test of time. |
| Willow | Most people think of willow baskets when I say "picnic baskets" because they're pliable, durable, and iconic. |
| Bamboo | This is another modern, robust, and sustainable wicker bag material for picnic baskets. |
| Fabric | Typically made from polyester canvas, they are easy to clean, stylish, and flexible, unlike their wooden counterparts. |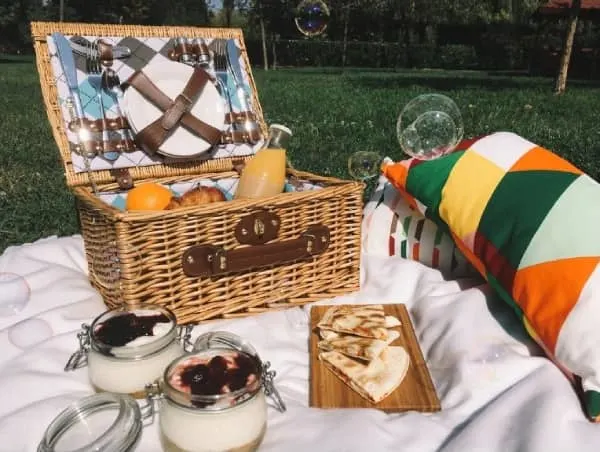 #4 Pick based on the accessories you need
Whether your menu demands plates, spoons, forks, knives, or spice containers, you should pick a bag that conveniently fits everything for six people.
#5 Pick based on the carrying option of the picnic basket
Take a look at different types of handles of picnic basket to pick one that fits your needs.
| Type | Examples |
| --- | --- |
| Strap | Backpacks and Totes for long/short distances. |
| Sling | Insulated hampers for long/short distances. |
| Handle | Wicker baskets for short distances. |
What is a picnic basket used for?
The word picnic comes from the French word "pique-nique." Frankly, it refers to a leisurely manner of eating. Hence, a picnic basket was used for holding food, beverages, and tableware.
Fun Fact: Do you know picnics came into use by the mid-18th century?
The best picnic basket in 2023: Insulated cooler bag
An insulated cooler bag is an excellent choice for keeping your food fresh until the first bite.
Moreover, it's especially good if you need to travel to your picnic spot a tad bit.
What should you put in a picnic basket for 6 persons?
While it's common to forget things, not packing some things can ruin your entire picnic in a flash. So, go through my all-inclusive checklist below!
Food and Beverages
Before finalizing the menu, ask your guests about their preferences so that no one is left out. Also, keep in mind that people have different favorite drinks. For instance, I love red wine. But, my wife prefers white wine.
Picnic basket utensils
Firstly, you should pack plates, spoons, forks, knives, and other accessories that are compatible with your spread. Nevertheless, you can go for disposable plates and cutlery to save room in the basket. Also, it's good for health and the planet if you skip plastic altogether.
Glasses designed for the picnic basket
Whether you're drinking water, wine, vodka, or cocktail, getting the right glass such as Delmonico, Snifter, or Highball is an absolute essential for picnic baskets. Alternatively, just get a cocktail shaker and some spirits!
Spices
Besides packing up salt, pepper, and your favorite spices, make sure to arrange them properly in the basket. In this way, you'll avoid messing up your hamper if something leaks.
I urge you to read my article on How To Store Spices When Camping for better ideas on storage.
Picnic basket tray and blanket
Next, get a wooden board, tray, or folding table with a waterproof blanket. This way, you can set up your spread in style.
Towels and wipes
Lastly, don't forget about paper towels, wet wipes, napkins, and disposable bags. Also, pack a bug spray if you don't want the unsolicited to join your picnic party.
Wicker picnic basket with wine holder: What's good about them?
A modern invention for wine connoisseurs everywhere, wicker picnic hampers with wine holders are my absolute favorite. Honestly, they're great for short hangouts!
Moreover, they look classy to the letter. Besides, you can keep your spirits chilled, safe, and at arm's length this way.
Which wicker picnic basket to get?
The best type of wicker picnic hamper for wines is insulated. Nevertheless, it's better to get a hamper with an in-built cooler to keep your wines sip-ready!
What makes a good picnic basket for 6 people?
Unlike choosing a date night picnic hamper, getting one for six people takes more elbow grease.
So, check my three shortcuts to pick the best hamper for serving six persons:
Size of the picnic basket
Firstly, you need a hamper with ample space to accommodate food, beverages, plates, spoons, knives, towels, glass, tray, etcetera for 6 persons.
For instance, most wicker picnic baskets for 2 are 15 to 20 inches long. Hence, you should aim for baskets around 40 inches to serve 6 people (but extremely rare…).
Quality of the picnic basket
Secondly, a picnic hamper for six people demands heavy durability that comes with a six-person crowd.
So, go for willow, polyester canvas, and wicker materials. However, waterproof baskets with polyester canvas are excellent for beach picnics.
Accessories that come with the picnic basket
Lastly, picnic hampers for six persons usually come with essential items for picnicking. Typically, these include plates, glasses, spoons, forks, towels, etcetera for each person. Moreover, sometimes even the blanket is included.
3 Best picnic basket for 6 persons
The picnic season is almost gone.
So, round up your loved ones, and make the best of spring with a cozy and unforgettable picnic before the season is over.
Take a look at my favorite three below: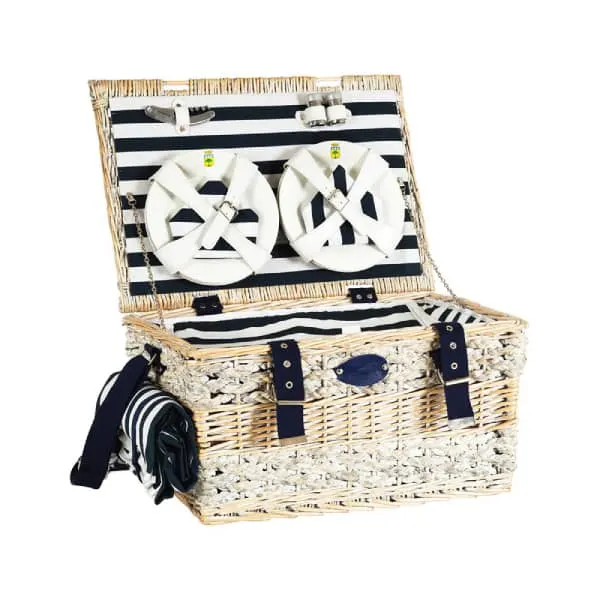 Classy, versatile, and 19" long, Les Jardins De La Comtesse is an elegant black and white wicker to treasure. Nonetheless, it comes with an insulated compartment. Moreover, it's all-inclusive with six goblets, 18-piece flatware, napkins, table cloth, and even spice pots!
Available at Amara
Cost: $259
About 24" and luxurious, this designer hamper has two extra baskets for glasses and cups inside. Besides, it comes with 7" porcelain plates, stainless steel cutlery, Polar Fleece Blanket, and an insulating duffel for wines.
Also, this fitted picnic hamper has a large cooler compartment perfect for big parties!
Available at Regency Hampers
Cost: £146.80
3. Alfresco
Complete with a cooler bag and elegant interiors featuring fastening wraps, this wicker sensation is navy blue inside and made from the willow material.
So, go ahead and get it on SouthernXLimits or Panorama!
However, you may find different prices based on where you look, thanks to shipping charges from Australia.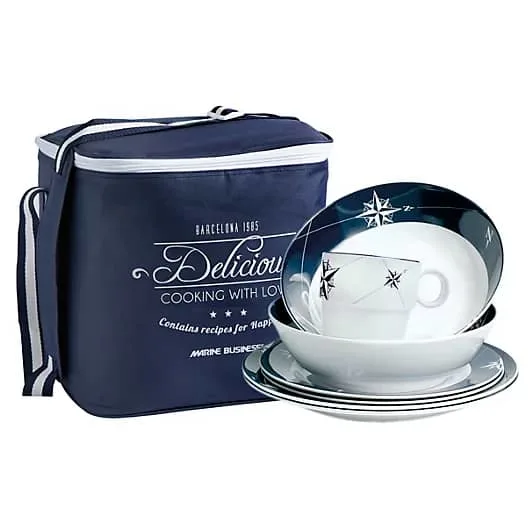 Do you have a lot of loved ones? So, don't compromise with a smaller picnic bag when partying.
Instead, get the Marine Business Northwind that's minimalistic, cost-effective, and downright sassy. Additionally, its nautical theme is perfect for beach picnics!
Available at Bed Bath & Beyond
Cost: $294.99
Conclusion
Hey there, picnic lovers!
We all know there's nothing like a good old picnic with your favorite people, right? There's something magical about those picture-perfect outings that we love so much.
Now, I've done a deep dive into the online world of picnic baskets – I'm talking Amazon, Wayfair, Sears, you name it! And here's the thing: it's a bit tricky to find many six-person picnic baskets within the U.S. It seems most baskets are made for two or four folks.
However, our friends across the pond in the U.K and down under in Australia seem to be ahead of the game with six-person baskets being quite popular there.
But hey, no worries! If you're an eagle-eyed shopper and come across any other six-person options that didn't make my list, contact me! I'd love to hear from you and I'm always up for discovering new finds.
So, what are you waiting for? Gather your pals, grab your basket, and let's go picnicking! Life's too short not to enjoy a great outdoor feast with the ones you love. Get out there and make some memories, folks!
As the founder of Container FAQs, my goal is to provide readers with in-depth information on the containers used in daily life and related subjects. Don't hesitate to reach out to me if you have any suggestions for articles you would like to see on my blog.