Are you someone who travels often but doesn't want to go a day without your protein powder? If so, you're in luck. Packing protein powder for air travel is actually pretty simple as long as you follow a few key tips.
In this article, I'll show you how to pack your protein powder so that it makes it through security and arrives at your destination safely.
Packing Protein Powder For Air Travel
Protein powder is a great way to ensure you're getting enough protein in your diet, especially if you're on the go. But when it comes to packing protein powder for travel, there are a few things you need to keep in mind.
The Kind of Containers to Use For Your Protein Powder While Traveling
First of all, it's important to make sure your protein powder is packed in a leak-proof container. You don't want your powder spilling all over your luggage (or worse, all over the inside of the airplane!).
A good tip is to put your protein powder in a zip-top bag (around 9 bucks or less for a pack of 100) before packing it in your suitcase or carry-on. And if you have a lot of powder, consider dividing it up into several zip-top bags. This will allow you to more easily transport a larger quantity of powder.
Protein Powder Containers
My selection.
Dirose Clear ZipTop Bags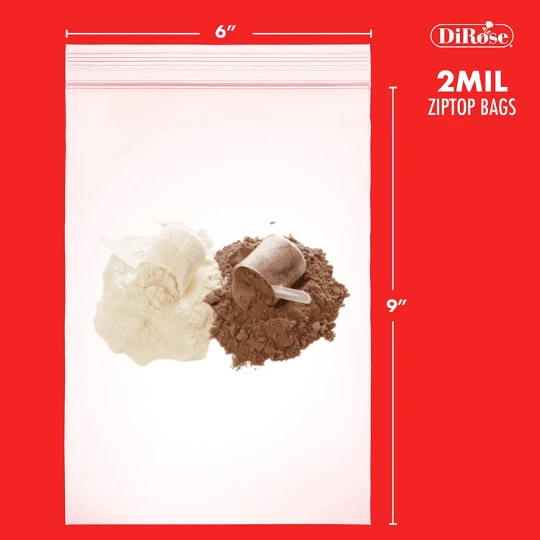 I use these bags (6×9 inches) to put my "Whey" protein powder and food while travelling. Resealable/Dustproof/Leakproof.
👉 Available Here (Amazon): $0.89/bag. Pack of 100. 2 mil thickness (0.0018 inches).
ShakeSphere Stackable Containers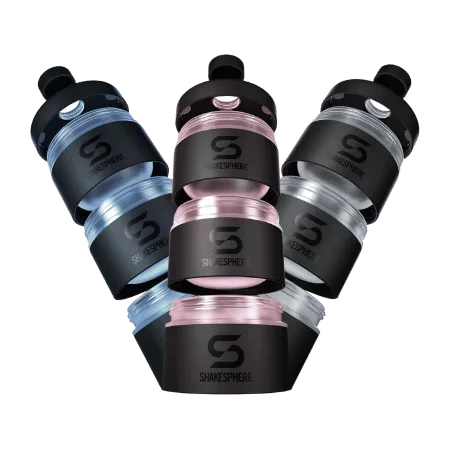 These containers are the ultimate solution for traveling and storing protein powder, guaranteeing you a leak-proof experience. Each container holds 3oz / 85G and are also BPA Free.
Unfortunately, they are no longer available on Amazon.com. However, you can still find them 👉 on the manufacturer's official website.
Price point: approximately $20 for a 3-stack set.
GoStak Containers for Protein Powder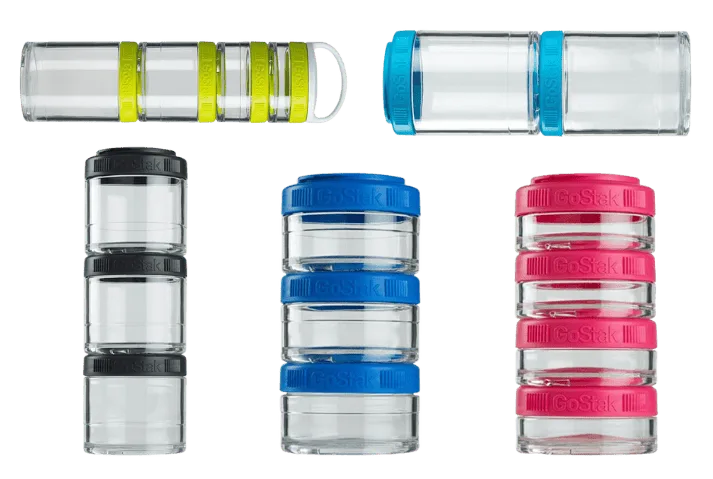 Available colors:
black
white
teal
plum
cyan
pink
2, 3 or 4Pak jars.
👉 Available Here (Amazon).
The TSA Requirements for Protein Powders and Supplements
Another thing to keep in mind is that you may need to declare your protein powder at security. This is because protein powder can sometimes look like powdered drugs on the x-ray machine.
So it's always a good idea to have your powder in its original container and to declare it to the security officer when you go through the checkpoint.
If you're flying with a large container of protein powder, you may want to consider checking it in with your luggage. This is because there's a limit on the amount of powder you can bring in your carry-on and checked baggage.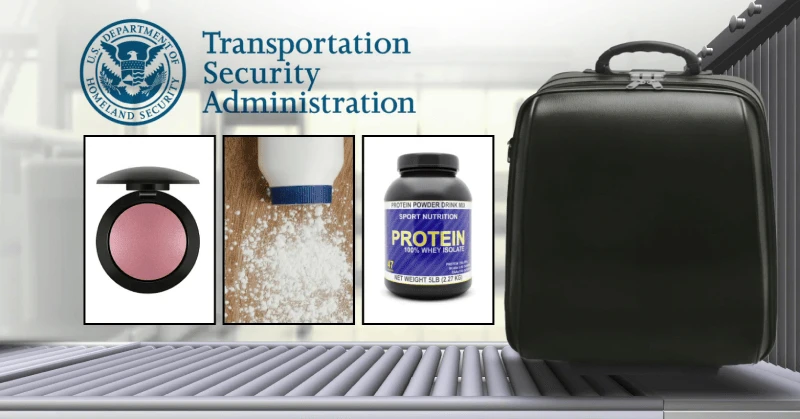 Indeed, TSA Officers are allowed to ask you to take larger containers of powder out of your bags things above 350 milliliters (that's about equivalent to a can of coke).
In most of the checks, they want to give that secondary screening so they can look closer at those items.
TSA are also allowed to check a range of items like:
Powder cosmetics
Baby powders
Drink mixes
Following TSA Rules
The TSA has a 3-1-1 rule for liquids, gels, and aerosols in containers that hold 3.4 ounces (100 milliliters) or less per item. But for powders, the limit is typically 12 ounces (340 grams).
That means you can bring up to 12 ounces of protein powder in your carry-on bag, but it must be in a container that holds 12 ounces or less.
So if you're carrying a large container of protein powder, you'll need to check it in with your luggage.
Now that you know how to pack your protein powder for air travel, you can hit the road (or the sky!) with confidence.
Just remember to pack it in a leak-proof container, declare it at security, and check it in if you're bringing a large, airtight container. And most importantly, enjoy your protein-packed adventure!
Best Way To Carry Whey Protein While Traveling
As a fitness enthusiast, you know the importance of protein in your diet. But what about when you're traveling? It can be tough to find time to hit the gym while you're on the road, let alone cook up a healthy meal.
That's where whey protein comes in. Whey protein is a fast and easy way to get the protein your body needs without all the fuss.
But how do you pack whey protein for travel? The best way to carry whey protein while traveling is in powder form. This is because whey protein powder is easy to pack and doesn't require refrigeration.
There are many different containers available designed specifically for carrying protein powder. These containers are airtight and feature screw-on lids that prevent spillage.
However, many people like to pack their whey protein powder with their checked luggage. The best way to do this is to simply keep it in its original container and seal it inside a zip-top bag. This makes air travel hassle-free and keeps your protein powder fresh.
No matter how you choose to pack it, whey protein is a great way to make sure you're getting the nutrients your body needs while traveling.
Can You Take Meal Replacement Shakes on a Plane?
Yes. But unlike whey protein powder where it's a bit more flexible, you have to pack your meal replacement shake mix with your checked luggage.
This is because security may require that you open your carry-on bag for inspection, and powder can be a pain to clean up if it spills.
Packing protein powder or meal replacement shakes in your checked luggage also helps to prevent any accidental spillage en route to your destination.
And while most brands of protein powder are well-sealed and unlikely to leak, it's always better to be safe than sorry—especially when you're dealing with a powder that can be difficult to clean up.
When packing protein powder or meal replacement shakes for travel, be sure to:
Check the TSA guidelines for packing powders in your checked luggage.
Use a leak-proof container.
Pack the powder in a zip-top bag to prevent spills.
Consider double-bagging the container to be extra safe.
Packing your protein powder or meal replacement shake mix in your checked luggage is the best way to ensure that it arrives at your destination safely and without any spills.
These helpful tips will ensure that your powder will stay put and be ready for you to enjoy when you arrive at your destination.
Additional Tips for Flying with Protein Powder
It's helpful to have as many resources at your disposal as possible when you're packing protein powder for travel. Here are a few more tips to keep in mind:
If you have the option, choose a protein powder that comes in a single-serve packet or container. This will make it easier to measure out the right amount and will also be less likely to leak or spill in your bag.
If you're traveling by car, you can bring along a shaker cup or mixing bottle and make your protein shake at your destination. This can be a good way to save space in your luggage.
Invest in a good quality travel container for your protein powder. A sturdy, leak-proof container will make it much easier to transport your powder without any accidents.
Check out this video for a quick overview of how to pack protein powder for travel:
Final Thoughts
With a little bit of planning, it's easy to make sure you have all the protein you need while you're on the go.
By following these tips above, you can pack your powder with confidence and enjoy your trip worry-free.
Do you have any tips for air travel that you'd like to share? Let me know in the comments!
Sources
As the founder of Container FAQs, my goal is to provide readers with in-depth information on the containers used in daily life and related subjects. Don't hesitate to reach out to me if you have any suggestions for articles you would like to see on my blog.