Many homeowners love the look and durability of ceramic food storage containers but may be wary of ceramic safety. If you're worried about keeping your food in ceramic or are wondering if ceramic is even worth the trouble and expense, here's everything you need to know:
Ceramic is good for storing food as most modern ceramic products are made with lead-free glaze and are baked at a temperature that minimizes the risk of lead poisoning. Furthermore, ceramic keeps food fresher for longer than other food storage containers.
The rest of this article details how to tell if ceramic is chemically safe for food and drink storage, the pros and cons of using ceramic food storage containers, and the best foods to keep in ceramic containers.
How To Tell if Ceramic Is Chemically Safe for Food Storage
Most ceramic containers are completely safe for food storage. However, the U.S. Food and Drug Administration (FDA) regularly tests ceramic food containers at random to check the presence of lead in items such as crockpots. This testing is due to the positive findings of lead and cadmium from glaze used in making some ceramic ware.
Ceramics are usually glazed before they enter a kiln to bake, and sometimes these glazes contain lead. If the item is baked long enough and at a hot enough temperature, it's likely safe for food storage. However, if there are still traces of lead in the glaze, it can leach into food and cause lead poisoning.
The probability of your ceramic food container having enough lead to cause health problems is extremely low. According to a study conducted all the way back in 1979, most ceramic items were below the FDA standard of 7 mg/liter in the extractant, and 60% of homemade domestic items exceeded FDA standards.
Since then, the standards for ceramic foodware have only become more strict, so ceramic has gotten safer for food use, and most glazes are now lead-free.
You should be more attentive to antique or handmade ceramics, as they may have been crafted using old glaze or baked in an old kiln containing traces of lead.
Always make sure to check the label on any earthenware you buy, as some are not made for food storage and come with labels warning consumers that they're not safe for food or drink.
Safe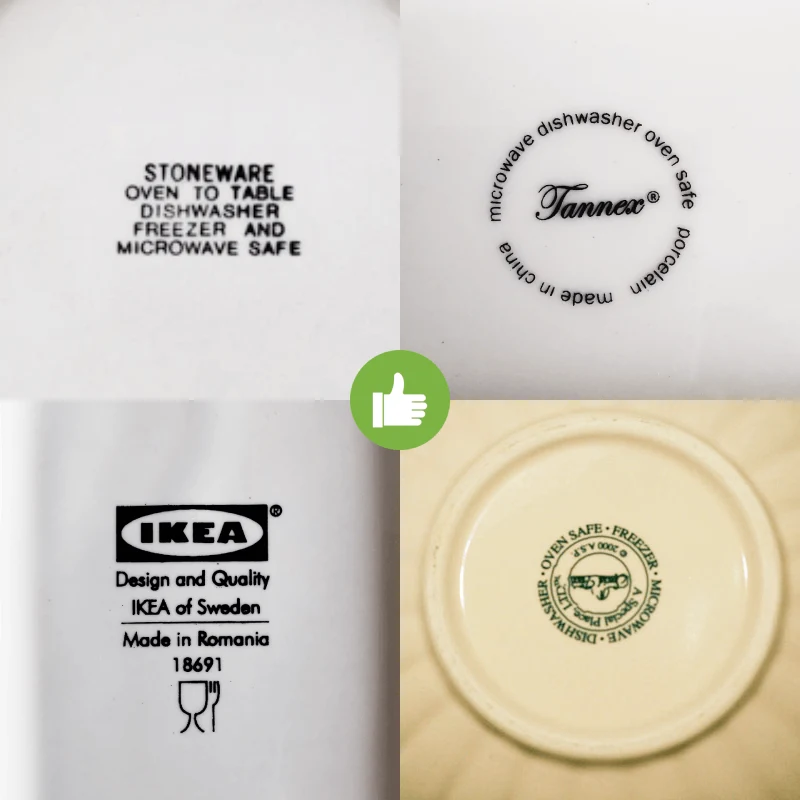 Not safe
If you want to make sure your ceramicware is safe for food storage, you can pick up a home lead testing kit to evaluate the risk posed by any product. You can buy a lead testing kit at most hardware stores or online, such as the Webetop Lead Paint Test Kit.
With this product, you get results in 30 seconds, and it's designed for use on ceramics.
Pros and Cons of Ceramic for Storing Food
Let's go over all the benefits and drawbacks of storing your food in ceramic compared to other materials like plastic.
The Pros of Ceramic Food Containers
If you're considering investing in some ceramic containers, here are some benefits you'll enjoy:
Ceramic Containers Can Last a Lifetime
Unless you drop it, your ceramic container can outlast you.
Other food storage materials, such as plastic or rubber, go brittle with time or warp with washings. But not ceramic!
You can use your ceramic containers over and over again and wash them consistently without any discoloration and without them losing their shape.
Ceramic Keeps Food Fresher
This is a great benefit, especially for foods that we keep for a longer amount of time, like dry goods.
Airtight lids keep out air and pantry moths or other pests, and the ceramic prevents light from reaching the food inside. Moisture, heat, and light can all change the flavor of food, especially that of coffee. So, if you want to preserve the taste of your coffee beans, ceramic is the way to go .
Ceramic Is Good for the Environment
Ceramic is much better for the environment than some other food storage options. Plastic is bad for the environment as many types of plastic food containers are single-use only.
Even plastic containers designed to be kept longer, like Tupperware, don't last as long as ceramic containers and need to be replaced.
Ceramic Containers Are Pretty
Ceramic containers look prettier than other storage containers. Ceramic is not only useful, but it's also beautiful! Ceramic containers often come with cute floral designs, but solid-colored ones are also gorgeous.
Ceramic often looks better than other storage containers, so ceramic is likely your best bet if you need to use counter space for storage.
Ceramic Is Microwave, Oven, Refrigerator, Freezer, and Dishwasher-Safe
Ceramic is durable, so it can survive in nearly every environment, even in the oven at hot temperatures or in the freezer in the frigid cold. You can also throw it into the dishwasher for easier cleaning.
Whatever food you need to store, a ceramic food container is most likely to survive any condition you need to keep it in!
Ceramic Doesn't Absorb Food Tastes, Colors, and Smells
If you've ever stored pasta with sauce in a plastic container, you know the annoyance that accompanies seeing that orange tinge in the plastic, no matter how many times you wash it.
Plastic is prone to staining and can even absorb taste and smells, which is not the case with ceramic.
Ceramic Is Easy To Clean
Thanks to its stain resistance, it's easy to keep ceramic food containers clean, even if you store the messiest of foods in them.
A simple rinse using dishwasher detergent and a sponge is all it takes to clean ceramic. As mentioned earlier, you can even throw it into the dishwasher and not worry about it getting damaged.
The Cons of Ceramic Food Containers
No product is perfect, and ceramic food storage containers are no exception. Here are some cons of storing food in ceramic for you to consider:
Ceramic is more expensive initially. You can find relatively inexpensive ceramic containers, but ceramic will be the more expensive option if you compare ceramic to cheap plastic Tupperware.
It's heavy! If you move around a lot or rearrange your kitchen often, the weight of some ceramic food storage containers might bother you.
It's fragile. Ceramic requires safe handling, so it may not be best for you if you move around a lot or live with children who are prone to dropping things.
Most ceramic containers are safe for food storage, but not all ceramics are. You should be extra careful with homemade or old ceramic containers.
I hope you keep these pros and cons in mind as you decide what kind of food storage containers work best for you.
Best Foods To Store in Ceramic Containers
Some foods work better than others in ceramic storage containers. Ceramic containers are perfect for storing dry goods because they lock in and preserve the flavor and aroma. These are the best foods to keep in ceramic food storage:
Coffee
Nuts
Oats
Sugar
Flour
Loose leaf tea
Rice
Spices, including salt and pepper
Ceramic containers with airtight lids are ideal for foods you want to keep fresh for longer or items that can dry out or become stale, such as biscuits and crackers.
You can also store other foods in ceramic containers, but these items work best.
Conclusion
In general, most ceramic containers are chemically safe for food storage. Ceramic food storage containers can keep your goods fresher and make your kitchen neater.
But you may decide that the fragility of ceramic, or the small risk of the ceramic item not being lead-free, isn't worth the trouble.
Sources
As the founder of Container FAQs, my goal is to provide readers with in-depth information on the containers used in daily life and related subjects. Don't hesitate to reach out to me if you have any suggestions for articles you would like to see on my blog.