Nespresso Capsules Becoming Available in Paper: Six Questions You May Have!
Nearly 30 years after its creation, the wildly popular Nespresso coffee capsule is about to become available in a new format: a paper capsule. Contrary to what you may think, this won't replace (for the moment) the aluminum capsule.
Let's discover Switzerland's latest technological innovation.
Nespresso capsules switch to paper for greater sustainability
Monday, November 21, 2022 will go down in history as a revolution for Nespresso's coffee capsules.
Indeed, the world leader of coffee capsules, Nestlé, has just announced the upcoming launch in Switzerland and France of its first compostable capsule (TÜV Austria Certified).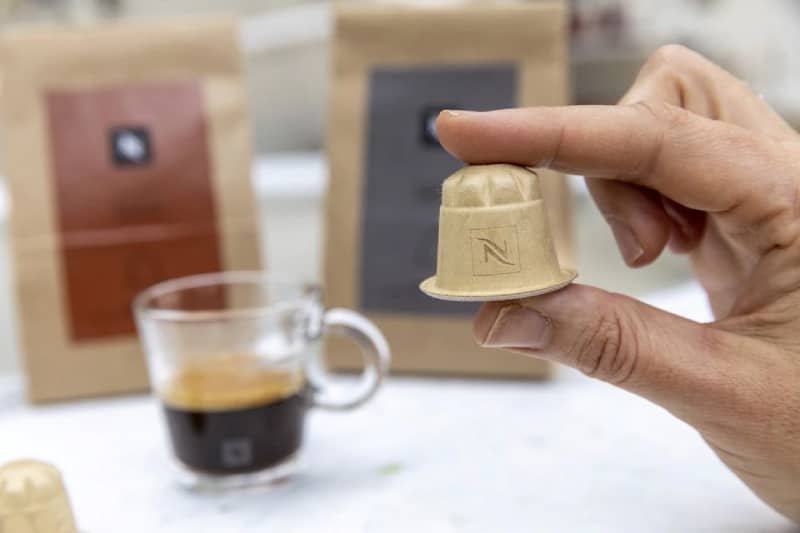 This new capsule's packaging is made from compressed paper pulp.
The new Nespresso coffee capsule can therefore be composted at home rather than recycled or thrown away in an ordinary garbage can. This is what often happens because people do not know how or do not want to recycle it.
We must also recognize that for Nespresso, this is a small revolution. Until today, the Swiss manufacturer has always used aluminum for its coffee capsules as this offers the advantage of preserving the freshness and taste of the different flavors the brand offers.
Without further ado, here are six questions (with answers) that I had and that you probably also have about this novelty for coffee lovers.
Feel free to consult the sources of this article to learn more.
1 – What's the Make-up of the New Nespresso Paper Capsules?
Paper pulp has very different properties than aluminum. This is the reason why Nestlé (owner of Nespresso) has spent three years in research and development to develop its new capsule.
Basically, a layer of biopolymer lines the paper envelope. Nespresso's desire to preserve the taste of the different varieties of coffee and their respective recognized quality is also an obligation.
2 – Which Coffee Varieties Will Be Offered in Paper Capsules?
According to Guillaume Le Cunff (CEO of Nestlé Nespresso SA.), four new varieties will be available with these paper capsules, including one organic coffee.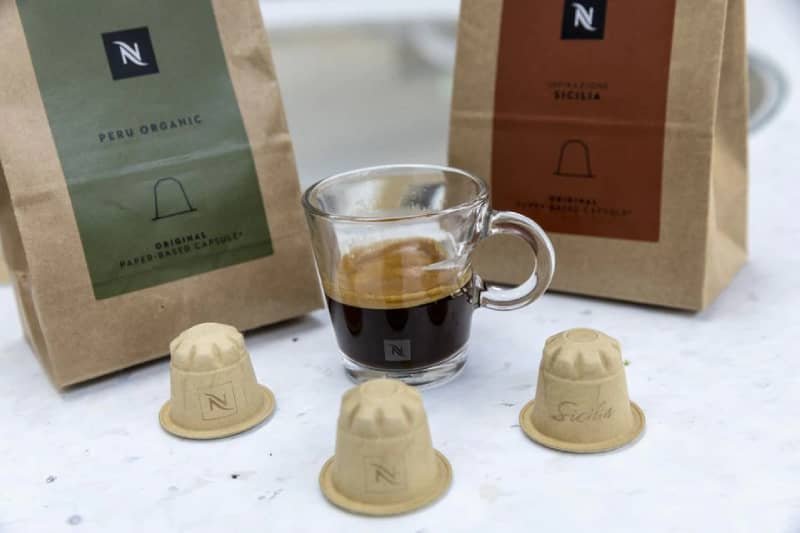 3 – What's the Launch Date of the Nespresso Paper Capsules?
The official launch of Nespresso's eco-friendly capsules is scheduled for spring 2023. They will be manufactured in the same factories that produce the aluminum capsules (factories based in Switzerland).
4 – Where Can I Buy Them?
If you want to be among the first buyers of these eco-friendly capsules, you'll have to buy them either in Switzerland or in France. So far, these are the only two countries that have been chosen.
However, other countries are on the way.
5 – Which Machines Will Be Compatible with This New Paper-based Coffee Capsule?
At first, only the original Nespresso systems will be able to receive this type of capsules.
Machines That Are Compatible and Incompatible with the New Nespresso Paper Capsules
| Nespresso Coffee Machines | Paper Capsules Compatibility |
| --- | --- |
| Citiz | ✅ |
| Essenza | ✅ |
| Inissia | ✅ |
| Pixie | ✅ |
| Lattissima | ✅ |
| Nespresso Atelier | ✅ |
| Gran Lattissima | ✅ |
| Creatista | ✅ |
| Vertuo | ❌ |
| Professional | ❌ |
Closer to 2025, it'll be possible to use the same capsules for the Vertuo and Professional systems.
6 – Will Nespresso Aluminum Capsules Be Replaced by Paper Capsules?
No. These are only new capsules put on the market in addition to the existing aluminum ones.
However, you will always be able to decide what type of coffee capsules you wish to buy and use.
If you are a consumer of Nespresso capsules, you'll have two choices:
Recycle your aluminum capsules: the best way to do this is to bring them to a Nespresso boutique to make sure they are properly recycled.
Compost your paper capsules in your kitchen or garden composter.
Nespresso Capsules and Environmental Footprint: a Word From Nespresso CEO
According to the CEO of Nespresso Nestlé SA, aluminum coffee capsules remain a good solution for the environment.
Guillaume Le Cunff states that 70% of the carbon footprint of coffee consumption corresponds to its cultivation and final use (including water consumption).
The aluminum capsule represents only 14% of this carbon footprint. This footprint is even reduced to 5% if it is recycled correctly.
Did you know?
Contrary to popular belief, a cup of Nespresso coffee has a 24% smaller carbon footprint than a cup of coffee beans.
In fact, most of the environmental impact of a cup of coffee comes from the coffee itself, not from the machine or the packaging.
Other interesting info revealed:
Thanks to the precise amount of coffee in an aluminum capsule, far less water and coffee are wasted. (I don't doubt these two major advantages for even a second!)
The aluminum capsules present on the world market of the coffee pods are composed of 80% of recycled aluminum: another big advantage.
The carbon footprint of a coffee cup from an automatic coffee machine is 30% higher than that of a Nespresso machine.
This information is quite well documented on the Nespresso website, but unfortunately, not known well enough by the general public, according to Guillaume Le Cunff.
Conclusion
In my opinion, the appearance of paper-based coffee capsules is good news. It offers consumers the possibility to have an additional choice in the way we consume our daily coffee—whether at home, the office, or elsewhere.
Obviously, Nespresso has every interest in not withdrawing the aluminum capsules even if their manufacture and use have caught some flack.
For my part, I find that this type of capsule, which first appeared in 1994, is very practical and avoids a lot of waste—both in terms of the water used and the coffee itself.
Of course, purchase of these capsules (and their machine) is not within everyone's reach. But it's not by chance that they are so successful. That's right! It's clear that the use of the capsules and their machines is extremely simple and allows a significant saving of time (including cleaning).
But to come back to this innovation of the Nespresso paper capsule, what's your take on it?
Is this good news? Would you consider buying one? Don't hesitate to share your opinion in comments!
Sources