Cocktails are versatile no matter what season it is. A cocktail shaker fuses several heterogeneous flavors into a homogenous drink bound molecule-by-molecule. So, what are the types of cocktail shakers?
There are three types of cocktail shakers. Boston and Parisian shakers consist of two parts, while Cobbler shaker has three parts. While Boston shaker is an excellent option for pros, Cobbler and Parisian shakers work like magic in the hands of newbies.
I'll tell you all about the differences between these three shakers and their individual pros and cons. You'll also learn all about accessories you need, and making a shaker on your own.
Ready? Let's groove right in.
Basics: The 3 types of cocktail shakers
Cocktail shakers are inevitable to bars these days. But, do you know they are as old as pottery? They go back to 7,000 B.C South America!
Interestingly, the first cocktail shakers were made from the vegetable gourd.
While they became popular in the 19th century, stardom was gained only by the '20s. By this time, shakers in the shapes of penguins and lighthouses were found in nooks and crannies of America.
Here are the most famous three types of cocktail shakers:
1 – Boston Shaker
A truly American shaker for making cocktails, the Boston shaker is a two-piece model. Typically, one part consists of a stainless steel high timbale tin in a conical shape and a large glass. Moreover, the metallic part may be weighted to make it strong and quiet while using.
Pros of Boston Shaker
The Boston shaker seals and breaks apart easily as there are just two parts.
They're great for cleaning and reusing in busy bars. Hence, you can make scores of drinks posthaste.
Go for this shaker if you're an experienced bartender or pro.
The flawless sealing ability owes it to the shrinking metal tin. Moreover, it works like a charm when you add ice and shake the mix.
Cons of Boston Shaker
Firstly, this isn't a good option for beginners. Why? Because the sealing technique takes a bit of elbow grease.
Boston shaker doesn't come with strainers or additional tools. So, you might have to spend extra on those.
If you get the glass type of shaker, there's a chance it may break while you're making the cocktail.
2 – Cobbler Shaker
Famous as the three-piece cocktail shaker, the Cobbler shaker is different from the other two types due to the extra strainer.
Instead of two-glass-construction as in the Boston version, the Cobbler Shaker has one metal tin, a built-in filter, and a metal cap. Besides, you can find this cocktail shaker in various sizes and shapes!
Pros of Cobbler Shaker
Due to its multifaceted construction, this is the most convenient cocktail shaker for home and personal use.
You don't need any additional filter, thanks to its built-in strainer.
This is excellent for bartenders and beginners to save time and hassle.
The stylish look of the cobbler shaker owes to its attractive hourglass shape that looks good on the kitchen and bar counters.
Cons of Cobbler Shaker
As this shaker can freeze quickly when the drink seeps in between the cup and cap, it can freeze shut. Hence, it can get hard to open.
The in-built strainer has large holes. Hence, your drink needs to be strained again to remove ice shards and fruit pulp at the end.
There are high chances of your cocktail leaking owing to its faulty sealing capacity, unlike the Boston Shaker.
The 3-in-1 construction makes the shaker hard to clean. Hence, it's not great for serving several drinks quickly.
3 – Parisian Shaker (French Shaker)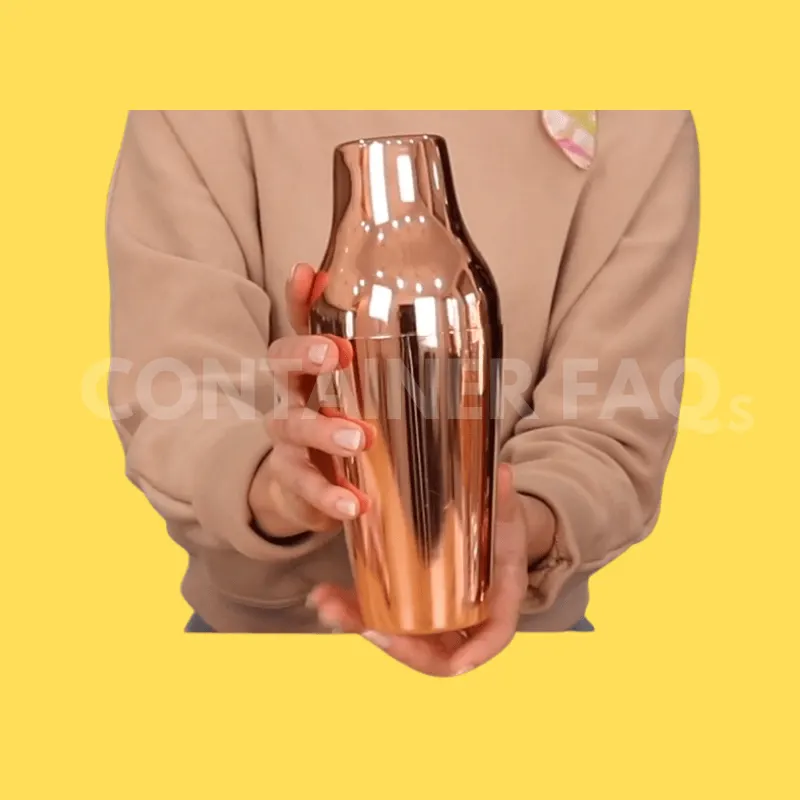 The French or Parisian Shaker is halfway between Boston and Cobbler shakers with a two-piece system. Additionally, the continental shaker comes with a metallic timbale and a lid instead of a strainer or another glass.
Pros Of Parisian Shaker
The French Cocktail Shaker looks classy, stylish, and elegant out of all the shakers.
The Parisian shaker has a simple and straightforward construction that makes it easy to use for beginners.
This type of shaker is easy to clean as it opens up quickly.
The sealing ability of the French shaker is better than the three-piece shaker.
The French shaker doesn't freeze-shut like the Cobbler type because the cap sits inside the metallic tin. Hence, this prevents any chance of the lid freezing shut.
Cons Of Parisian Shaker
Unlike the other two types, Parisian cocktail shakers are rare and hard to find in convenience stores.
Comparatively, the French version is more expensive.
It's not as easy as the Cobbler shaker to use, as it takes a bit of practice to use it properly.
Which type of cocktail shaker is the best for beginners or professionals?
Thanks to its all-in-one construction, the best cocktail shaker for beginners is the Cobbler shaker. The extra strainer cuts down on the mess when you're making a cocktail on your own.
However, pros and mixologists prefer the Boston Shaker because it can make several drinks at a lightning-fast speed.
If you're an experienced bartender, Boston Shaker improves your skills in making cocktails. Moreover, it helps to put on a great show in busy bars!
What accessories do I need to make cocktails?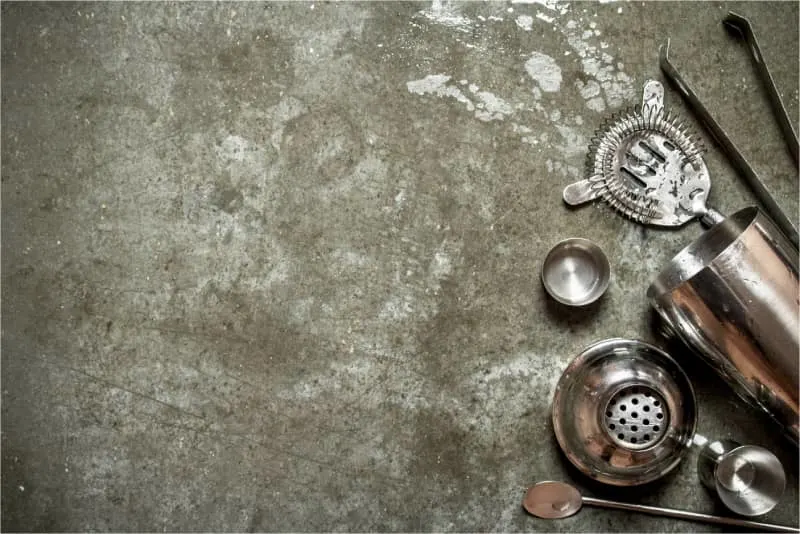 The cocktail demands the art of mixing several things to make a single drink that blends all the different elements uniformly. Hence, you need different accessories to actually make a cocktail.
So, let's look at the cocktail gear you need to stock up to do this.
What should a cocktail set have?
While there are several cocktail sets you can buy on the market, not every set comes with all the necessary accessories.
Here's a checklist of what you need to look for:
Jigger: This is an hourglass-shaped tool for measuring alcohol for cocktails and drinks accurately.
Muddler: The mashing and crushing tool in a cocktail set for adding fruits and herbs.
Shaker: Mostly made of metallic tins, these containers are the main component of a cocktail shaker.
Channel Knife: The blade used for cutting fruit rind and herbs for garnishing cocktails is a channel knife. They may be used for expressing or rubbing fruits over a cocktail or rim apart from garnishing.
Bar spoon: Akin a teaspoon, a bar spoon is a long-handled spoon with a hoop at the end. It's used for stirring and measuring ingredients in cocktails.
Citrus Juicer: A popular kitchen tool used to extract juice by mashing the flesh of the citrus fruits and veggies is a citrus juicer.
Glasses: In the world of cocktails, there are four types of glasses for serving rum, vodka, whiskey, and gin. So, get them to be a real pro!
Strainer: Unlike kitchen accessories, there are three types of bar strainers, as you see below.

Hawthorne: This type of strainer traps ice and fruit pulp with its unique metal coil.
Julep: Much like a soup spoon in shape, the julep is used for straining liquids through its small holes. However, it takes longer to strain drinks through a julep than a Hawthorne.
Fine Mesh: Also called the double strain, fine mesh is used adjacent to the Hawthorne or julep strainer for clarifying cocktails.
What do you need to make cocktails?
Apart from the accessories mentioned above, you also need tools like sugars, fruits, herbs, ice, fruit juices, and alcohol or spirits to make cocktails.
Additionally, one or more of the above ingredients may come in handy based on the cocktail recipe. If you're a prepper, learn how to store foods in your garage so that you're always ready to make exotic cocktails.
Cocktail Shaker Capacity
When it comes to cocktails, there are personal and party sizes. A personal cocktail shaker size is 12 oz 350 ml, and the party size is 27 oz or 800 ml.
Take a look at the tables below to identify shakers' different sizes and capacities in the market.
Boston Shaker Capacity
| Container 1 Capacity | Container 2 Capacity |
| --- | --- |
| 800 ml/ 28 Oz | 450 ml/16 Oz |
Cobbler Shaker Capacity
| Small Size | Large Size |
| --- | --- |
| 350 ml / 11.8 Oz | 500 ml / 16.9 Oz | 800 ml/ 27 Oz | 1000 ml/ 33 Oz |
Parisian Shaker Capacity
| Small Size | Large Size |
| --- | --- |
| 600 ml/ 20.3 Oz | 800 ml / 27 Oz |
What can I use if I don't have a cocktail shaker?
If you don't have a cocktail shaker but want to make cocktails like a pro, you can try a few options.
Firstly, you need a few household items to make a great cocktail with style. For instance, get some tins, jars, and strainers. This is especially good if you're crafty or don't feel like spending extra on fancy cocktail shakers.
So, scroll away to discover the easiest way to make your own cocktail shaker in three steps.
DIY Shaker Cocktail: the solution!
First, collect your raw materials to make the cocktail shaker. These include a mason jar, two canning lids, a drill, and corrugated cardboard (for protecting your counter from drill marks).
Once you're ready, just follow the below steps to get started!
Take your corrugated boards and set them on the counter.
Next, pick your drill and make several holes in one of the canning lids.
Toggle between straining lid and unpunctured lid to make amazing cocktails!
Here's a video to help you throughout the process:
Where to look for the best cocktail shaker recipes? 3 Sites I SWEAR by!
You're all set to make cocktails with what you learned above.
So, what do you make first? What are the easiest, most complicated, and stylish cocktails to try right away? Instead of sharing attractive recipes, I'll help you get right to the source so that you can pick and choose the best based on your preferences.
Tom Macy
All you need to find relevant recipes to use with a shaker on Tomy Macy is to head over to their Recipes Index. Besides, they feature over 100 cocktail recipes.
Craft & Cocktails
Want to check cocktail recipes by the spirit you add to them? Try the recipes index of Crafts and Cocktails categorized by Gin, Rum, Bourbon, Rye, Whiskey, Agave, Champagne, Amaro, Brandy, Vodka, Wine, and other liqueurs.
Difford's Guide
Your one stop shop for the world's famous recipes that pros and mixologists refer to, Difford's Guide Cocktail recipes showcase hundreds of recipes worth trying. Try them all here!
Start using cocktail shakers like a pro
A cocktail shaker is good for a couple of things, like chilling your drink and mixing them sassily in a flash.
Basically, there are three types, as we learned- Boston, Cobbler, and Parisian. However, do you know there are other shakers such as Penguin, Baron, Calabrese, Tom Dixon Plum, and Twist?
Well, that's for another day.
Right now, all you got to remember is to get some mixers and friends so that you can show off the newly acquired cocktail skills you gained.
Ready? Get shaking!
Sources
As the founder of Container FAQs, my goal is to provide readers with in-depth information on the containers used in daily life and related subjects. Don't hesitate to reach out to me if you have any suggestions for articles you would like to see on my blog.