Are Stanley Fatmax Tools Good? (The Surprising Truth)
For professionals and crafty people into high-level DIY renovations, Stanley Black & Decker have come up with interesting new products. So, are Stanley Fatmax tools good? Besides, what's so good about them?
Yes, Stanley Fatmax tools are excellent because they're trustworthy, durable, safe, and forged in high-quality. Also, there's a wide range of innovative tools to pick from Fatmax.
I'll tell you why Stanley Fatmax tools are a must-have if you have a garage or just a toolbox based on my experience. Hence, get ready to discover my top three multifaceted Stanley Fatmax products too (deep pro organizer included!).
So, read on to find answers to all your toolbox problems NOW!
Why should you trust Stanley Fatmax tools?
Firstly, Fatmax is a genius line from the Stanley Black & Decker family. Besides, they're quite different from the regular Stanley products.
So, here's why I love them:
Wide range of options: Basically, Stanley Fatmax is a one-stop-shop for DIY heavy-construction needs. For instance, you can find power tools, organizers, hammers, tapes, screwdrivers, pliers, levels, hammers, etcetera in one place.
Reliable: Generally, the Stanley Fatmax line offers a limited lifetime and lifetime warranty on different products. Hence, keep a lookout when buying.
High-quality: Mainly, the Fatmax line boasts pro-quality tools designed to withstand rough and tough work. So, they're a few notches above typically Stanley tools.
Durable: Firstly, these tools can stand the test of time, tide, and tedious work. Secondly, they guarantee high-performance and no less.
Safe: Moreover, Fatmax products are built with a focus on the user's safety with hand guards and protectors. Hence, you remain safe no matter what!
3 Top Stanley Fatmax tools I Swear by!
Stanley Fatmax is getting increasingly popular these days. Moreover, they're already a huge hit with home renovation DIYers and professionals.
Hence, I'll tell you all about my top three favorites from personal experience.
So, let's dive in!
#1 Stanley Deep Pro Organizer: One of the best toolbox organizers
Do you hate digging through your toolboxes every time you need a tool for fixing things around the house? Then, the Deep Pro organizer is made for you.
Whether you have a minor job or a massive renovation on the roster, this organizer will save you from wasting time rummaging for your tools.
Besides, it's designed with a waterproof seal to keep things safe no matter where you're working.
If you're obsessed with orderliness, you'll love tweaking the interchangeable cups in this. Moreover, you can fit cable clips, screws, copper end feed, and more in the Deep Pro organizer.
Also, the lid is designed specially to hold cups in place. Hence, expect zero spilling between compartments!
Frankly, its rust-free metal latches are terrific for durability. Additionally, they make sure my heavy-duty knick-knacks always stay in place.
Furthermore, the organizer is sturdy and lightweight enough to carry around without breaking a sweat.
Honestly, I love it so much. Hence, I've got a couple good enough to stack on top of other Fatmax organizers!
How do I remove the Stanley label from the Deep Pro organizer?
Are you looking for a way to keep the center of the organizer see-through?
Then, here's all you need to do:
Remove the tools from the organizer.
Pour some water over the label gently (just enough to moisten it).
Make sure the label is immersed in water for at least an hour. Thus, the label will soften.
Peel out the label as gently as possible in one go.
If there's any leftover glue, get a microfiber cloth.
Moisten the cloth with isopropyl alcohol.
Gently scrub it off.
Finally, make sure not to scratch it.
That's it!
#2 Stanley Fatmax Retractable Utility Knife: The best utility knife cutter on the market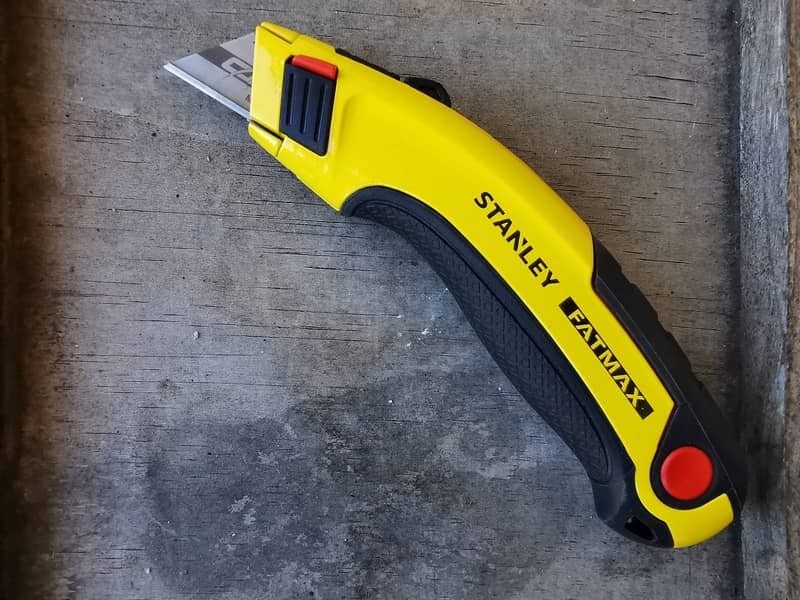 Mainly, I look for two things when I'm working with sharp objects- safety and grip. And, Stanley Fatmax's retractable knife does both and then some.
Apart from the super-duper 5-blade magazine, I adore the solid finish on this. Moreover, it's a great tool for cutting vinyl, construction foam, plastic, rubber gasket, and cardboard, to name a few.
Mainly, I love the blade wiper that removes dirt besides protecting the knife. Also, it's incredibly economical.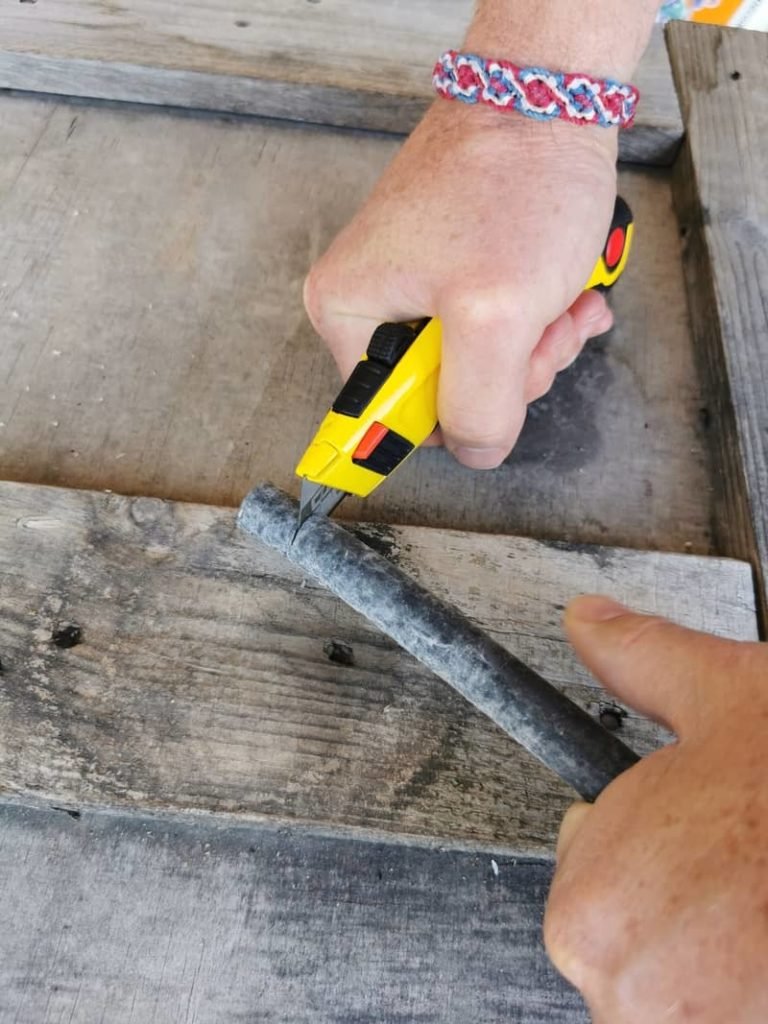 Besides, there's no wobbling. So your grip remains extra-secure. Hence, win-win for heavy-duty cutting, folks! However, you need to fiddle a bit when changing the blade.
#3 Stanley Fatmax Cold Chisel with Guard: Your top choice of metalworking chisels
You know how much difference a sturdy steel chisel can make if you're a metalworking maven. So, look no further because the Stanley Fatmax cold chisel is the top gun.
Firstly, I love how firm and resistant the metal is. Honestly, it won't move whatsoever.
Secondly, you can cut into rivets or split nuts and bolts too stubborn to break away with this. Additionally, they're great for breaking castings and cutting into the toughest sheet metal.
Thirdly, I love its ergonomic handle for its full grip sans slipping.
Furthermore, it's forged in one piece for superior strength. Seriously, this is the most practical tool out there!
Finally, I love the thick bi-material handguard as it offers protection from overstriking and slipping. Moreover, it's especially good if you're a bit clumsy like me. In addition, this chisel is quenched, tempered, and hardened. Hence, it's durable.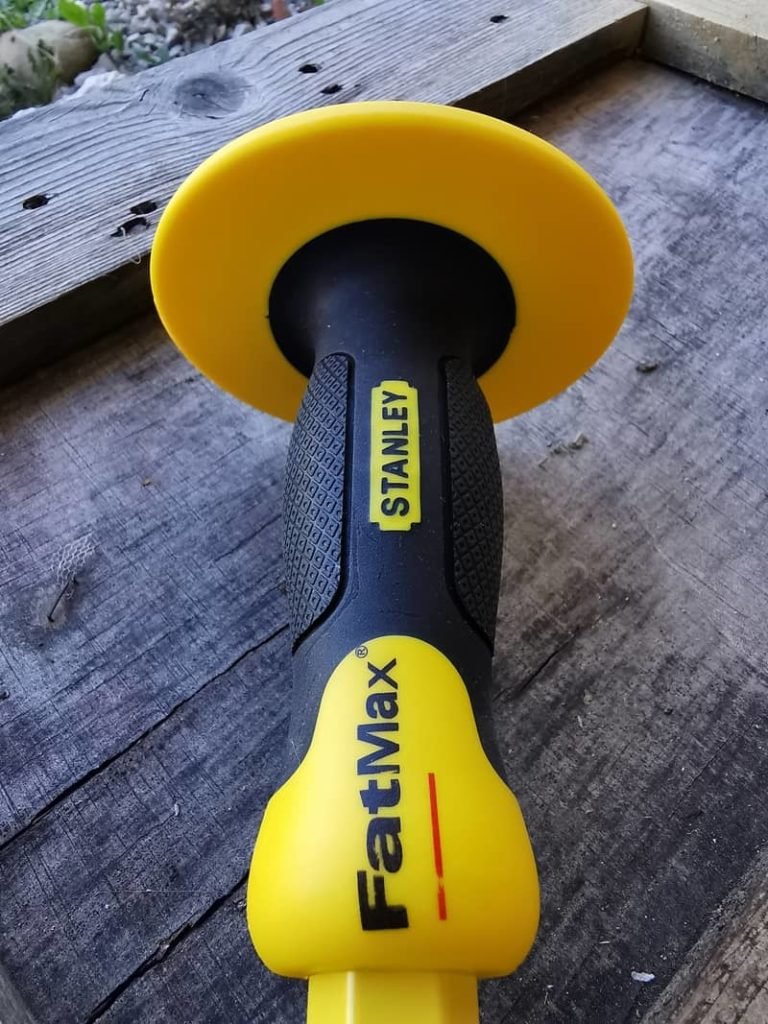 Where to buy Stanley Fatmax tools?
Are you probing around the curb for these tools? Then, check the following.
| Name of the store | Availability | Options |
| --- | --- | --- |
| Home Depot | ✔ | Many |
| Amazon | ✔ | Many |
| Target | ✔ | Few |
| Sears | ✔ | Many |
| IKEA | ✘ | None |
| Bed, Bath, and Beyond | ✔ | Very Few |
| Walmart | ✔ | Many |
| Kohl's | ✘ | None |
| Menards | ✔ | Few |
| Lowe's | ✔ | Few |
| Houzz | ✔ | Many |
| Ace Hardware | ✔ | Many |
| ACME Tools | ✔ | Many |
| Zoro | ✔ | Many |
| Grainger | ✔ | Very few |
Work like a pro with Stanley Fatmax
Firstly, Fatmax is the creme de la creme of tool brands today. Moreover, the American company is a household name for industrial tools.
Besides, every product from the Fatmax line is reliable, durable, and safe. Also, they're the best if you like to save without compromising on quality.
Hence, they're absolutely perfect for heavy-duty craftsmen like you and me.
So, grab the best Stanley Fatmax products I recommend and get the job done like a pro.
What companies does Stanley Black and Decker own?
STANLEY®
DEWALT®
BLACK+DECKER®
CRAFTSMAN®
IRWIN®
PORTER-CABLE®
FACOM®
LENOX®
STANLEY®Engineered Fastening
LISTA®
Mac Tools®
STANLEY® Security
Vidmar®
BOSTITCH®
STANLEY® Healthcare
STANLEY® Infrastructure
Sonitrol®
STANLEY® Access Technologies
PROTO®
Paladin®
Pengo®
CAM®