How Much Does It Cost To Ship a Container Overseas? (Solved!)
If you're planning a big move, it can be stressful and costly figuring out how to get your belongings to your new home, especially if you're moving overseas. But how much does it really cost to ship a container overseas?
The cost to ship a container overseas is between $2,000-$3,000, but this varies greatly. The cost depends on the cargo volume, if you're shipping by air or sea, the distance shipped, the destination port, and the time of year.
The rest of this article explains what factors impact shipping cost and some other related topics in detail, including shipping insurance, shipping companies, and purchasing your own shipping container. Keep reading to learn more about shipping overseas.
How Shipping Costs Are Calculated
Shipping companies typically use five factors to calculate how much they charge. These include:
The volume and weight of the goods.
Whether you're using sea freight or air freight.
The distance of the journey.
The destination port (airport)
The time of year.
The volume and weight of your goods depend on how much you're planning on moving. There are typically two container sizes that dominate the market: 20' (6.10 m) and 40' (12.19 m).
If you're planning a smaller move, it's most cost-effective to try and fit everything into a 20' (6.10 m) container. These containers can generally hold the contents of a three-room property, whereas a 40' (12.19 m) container can hold the contents of a four-bedroom property.
If you're shipping heavier items, something to consider is the weight of the container itself.
A 20' (6.10 m) container can actually hold more weight, approximately 63,500 lbs (28,803.12 kg), than a 40' (12.19 m) container, which can hold approximately 57,600 lbs (26,126.92 kg). This is because the 40' (12.19 m) container is heavier.
How you're shipping your items impacts the cost.
Shipping your container by sea freight is typically five times cheaper than using air freight, but if you're in a rush, air freight is quicker.
The cost also depends on how far you're shipping your items. For example, if you're shipping from Australia to London, the cost for a 20' (6.10 m) container will be approximately $6,000. However, if you're shipping from the U.S. to London, the cost for a 20' (6.10 m) container is approximately $2,000.
The destination port influences the price as different countries have various customs duties and service charges.
Finally, like any other industry, international shipping has peak seasons, such as August through September and January to February. Prices are higher during these times, so if you're looking to lower the cost, you'll want to avoid shipping at this time.
What Is a Less Than Container Load?
A partial load shipment is called a Less Than Container Load (L.C.L.). If you have a smaller amount of cargo, you can share the space of a single container with other customers. If you opt for an L.C.L., you'll only need to pay for the amount of volume your stuff occupies within the container.
If you use this method, your items will usually take longer to arrive. If you're just moving a small number of things, or if you're only going to be abroad for a year or so, this is probably your best option.
However, it's more economical than any shipment over 15 cbm (529.72 cft) that should be sent by Full Container Load.
What Is a Full Container Load?
A Full Container Load (F.C.L.) is a sole-use shipment in which one customer uses the entire container. It's actually a better value in terms of cost per cubic foot, as most shipping companies charge a flat rate for the use of the container rather than charging you for the volume of your cargo.
An F.C.L. is safer and faster, too, as minimal extra handling is involved. Your container will only be opened when it arrives at its final destination, whereas in an L.C.L., belongings will be loaded and unloaded at the destination for each customer.
Sea Freight vs Air Freight
Airfreight is possible, but it's more difficult and far more expensive, but it's faster than sea freight. Sea freight can cover long distances and is cheaper than moving cargo by plane, but it'll take longer for your belongings to arrive.
A cargo plane will typically take 1 to 3 days to arrive, whereas a container ship can take around a month or longer.
If you can wait the extra time, you should opt for sea freight. Not only is it cheaper, but container ships are more eco-friendly than air transport, as the ships release lower amounts of carbon emissions than planes.
Additional Costs You Should Know About
Not only do you need to consider the cost of shipping itself, but there are a variety of additional costs that can add up when you're shipping a container overseas.
Here are some costs you should know about:
Container inspection fees: Electronic scanning machines have made it unlikely that your container will need to be physically inspected. Still, if the scan gives customs staff any reason to be suspicious, your container will be opened. Shipping companies will then ask you to cover the costs associated with this process.
Inland delivery charges: If you're doing port-to-port, you have the responsibility of delivering your cargo to the departure port, and you'll need to transfer your belongings from the destination port to your new home, which can be costly and logistical challenge. A door-to-door service is more expensive but might be worth it.
Quarantine fees: Quarantine fees involve any cost associated with officials inspecting items and looking for unclean items that could disrupt the ecosystem.
Should I Get Container Shipping Insurance?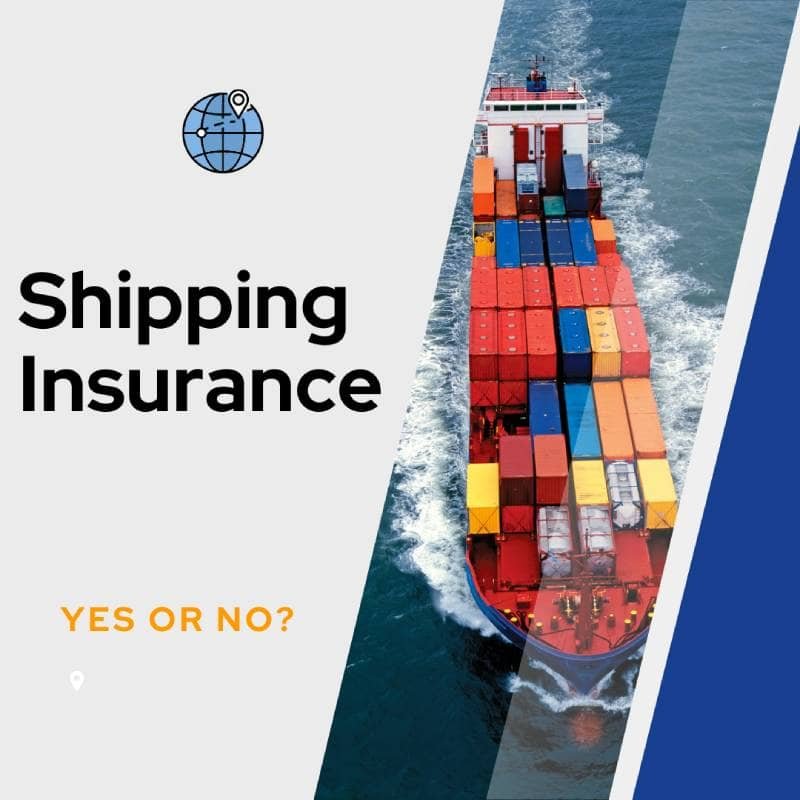 Purchasing container shipping insurance is a requirement because shipping a container overseas is expensive. You may be tempted to cut back on costs by not purchasing shipping insurance, but you should get insurance.
Here are some benefits of purchasing cargo insurance:
All-risk coverage protects against damage or loss due to external factors, including inappropriate packaging, cargo abandonment, and customs rejection.
General average coverage covers the partial loss that occurred to the shipment. It requires other cargo holding owners to pay compensation to the cargo owner whose property was damaged or lost.
Insuring your cargo is based on the monetary value of your belongings, so it'll most likely not be as expensive as you fear.
One good option for shipping insurance is Veconinter. Their policies cover total loss, partial or complete damage, and the coverage of collateral Demurrage and Detention costs.
Another option is Maersk Cargo Insurance. They provide comprehensive coverage from departure to arrival.
Is International Shipping Safe?
International shipping isn't always smooth sailing, but the international shipping industry has made moving abroad safer and more secure in a few ways. The shipping industry now largely uses intermodal transportation.
This involves using steel containers with universal measurements, so cargo is moved between sea transport and land transport without unloading. Most companies provide customers with a character I.D. to track their container electronically, so customers can know exactly where their belongings are at all times.
Finally, the International Maritime Organization regulates all shipping and holds ships to rigorous standards.
Should I Buy My Own Shipping Container?
You don't need to buy your own shipping container, but if you plan on moving overseas multiple times and have an idea of another way to use your container, it may be worth purchasing your own.
The average cost of a new 20' (6.10 m) container is around $2,700, and a new 40' (12.19 m) container will set you back nearly $4,000. A shipping container can last around 30 years, as they're windproof and watertight, but they'll eventually rust.
If you do decide to purchase your own shipping container, here are some ideas of what you can do with it after you've shipped your goods:
Make a pop-up theater, bar, or cafe. A shipping container can be made into an open theater, bar, or cafe to be used in warm weather conditions. The creative space will likely draw a crowd and increase business.
Donate it for use as an emergency center. During the COVID-19 pandemic, shipping containers have been used as testing centers and vaccination sites. You can donate your container to the cause.
Use it as a studio or a personal workspace. If you have space in your yard or on your property, you can set up your shipping container and use it as a studio or a creative workspace. You can even use it as an art gallery to display your creations.
Turn it into a swimming pool. Shipping containers are durable and deep, making excellent swimming pools. As a bonus, you won't need to do any digging or major work in your backyard.
Use it as a shed. If you need extra space to store wood, your mower, gardening supplies, or whatever else, your shipping container can make a strong, weather-proof shed that will protect your items.
The Shipping Company You Should Use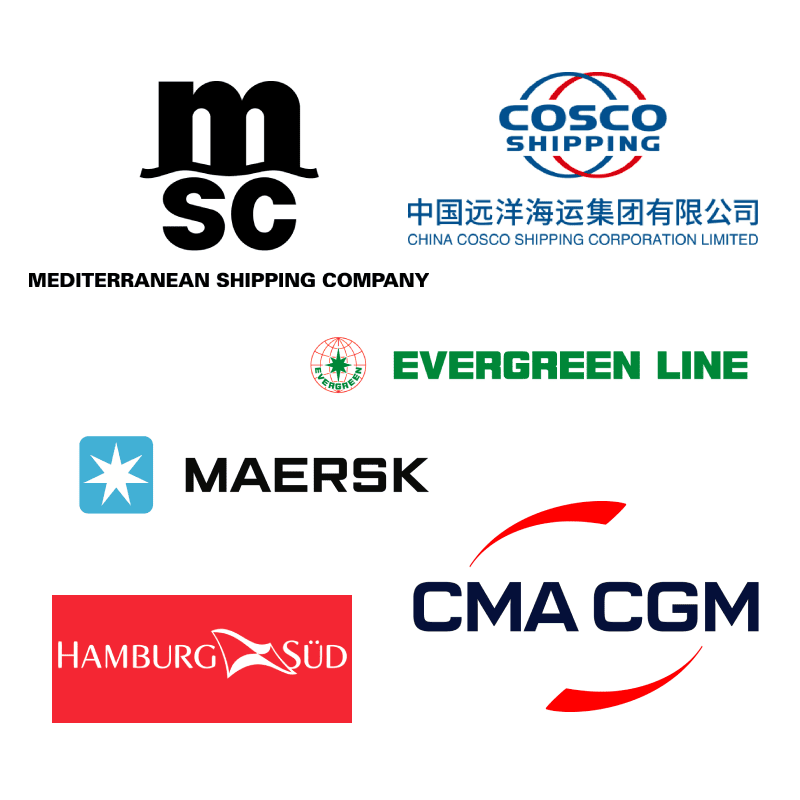 Picking a reputable and reliable international shipping company is extremely important when moving your belongings overseas.
These are some of the best companies you can use:
The A.P. Moller-Maersk Group: This isbased in Copenhagen, and they own Maersk Line, the world's largest overseas cargo carrier. They operate 590 container ships and ship $675 billion in goods every year.
The Mediterranean Shipping Company S.A.S.A.: This company is based in Geneva and owns 480 container vessels, including the four largest container ships globally. Their services include transportation logistics, so you'll have fewer headaches during the moving process.
China Cosco: This company operates out of Beijing and stops at more than a thousand ports in the world, so they'll likely be able to ship your cargo to wherever you need it.
Evergreen Marine: If you're particularly eco-conscious, this companybased out of Taoyuan City, has adapted its ships to reduce fuel consumption and greenhouse gas emissions.
Hamburg Sud Group: With headquarters in Hamburg, it has won many awards and is working on reducing its environmental impact.
CMA CGM Group: This group is based out of Marseille, and they offer a range of international services. They offer freight delivery and logistics on their fleet of 509 vessels.
Why Shipping Is More Expensive in 2022
The cost of shipping internationally is high right now, and it's expected to stay that way through 2023.
Here are some key factors that led to the rise in shipping prices:
The shipping vessel Even Given got stuck in the Suez Canal and blocked the waterway for a week. This blockage caused delays that put pressure on freight rates.
COVID-19 case spikes cause lockdowns, which affect shipping, waiting times, and costs.
There is a global shipping container shortage, as Coronavirus-related shutdowns disrupted freight movement and led to a scarcity of workers to load and unload at ports.
How To Decrease the Cost
Shipping a container overseas will always be costly, but there are a few things you can do to decrease the cost.
Here are some ideas:
Don't ship during peak shipping seasons.
Declutter your home and lower the number of items you need to move.
Book your shipment early.
Make sure your items are clean to avoid quarantine costs.
Pack your container effectively and make sure you're using the space to the best of your ability.
Conclusion
The cost of shipping a container overseas varies widely based on a variety of factors, and you'll also need to consider the additional costs that accompany this kind of shipment, as well as shipping insurance and possibly buying your own container.
However, there are some things you can do to minimize the cost of moving your belongings overseas.
Sources