How To Easily Store Shampoo Bottles In The Shower (Helpful Guide)
The shower is a place to relax your muscles and clear your tensions. But if your bathroom shelf is cluttered, you'll be bumping into lotions and fallen empties day after day.
So, is there a better way out there? How to easily store shampoo bottles in the shower?
You can store cosmetic bottles on shelves with vertical bars, mounted shelves, mesh caddies, dispensers, or tilted bottle-holder. On the flip side, go for a recessed shelf whenever you renovate! Moreover, a well-organized shower is critical for carrying out the shower regimen with your hands down.
Want to find the perfect bathroom storage of your dreams? Read on to discover the cleverest shower storage ideas sans drilling no matter how tiny or congested your bathroom is.
Let's dive in!
7 Easy ways to store shampoo bottles in the shower
Nothing is more annoying than organizing your bathroom every time you step in to wash your face, hair, or body.
Is this you? Rest assured; I've listed seven failproof plans below to save all your bottles from hitting the ground. Scroll away …
1. Make use of shelves with vertical bars
One of the popular best storage options available today, I personally prefer these shelves with vertical bars.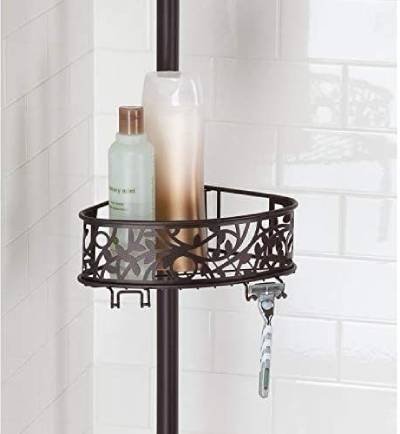 Why? You don't have to worry about these shelves falling down due to exposure to steam and moisture! Moreover, make sure to check the load-bearing capacity of the unit before you buy to be on the safe side.
2. Use a mounted shelf
If you want a sturdy and space-saving bathroom shelving, I'd say, go for a mounted shelf with rounded edges. The thing is you can fix it even in the corners to save space.
Want to make it super-strong? Mount the shelf instead of using adhesive tapes!
3. Switch to a hanging mesh shower caddy
If you've already seen hanging plants, pans, and books, brace to see clever new hanging mesh organizers next.
As I see it, they're see-through, waterproof, and better off than their conventional counterparts. My favorite thing about hanging mesh caddies is they work well for both towels and bottles!
4. Turn to a shampoo dispenser holder
Bathroom organization isn't rocket scient. But it can look even more sophisticated if you try modern options.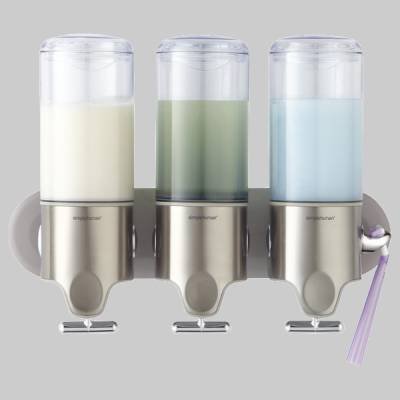 One such product is the mounted shampoo dispenser you can find in all shapes, sizes, and colors. After using the Simplehuman shampoo dispensers for over a year, I can vouch shampoo dispensers are easy-to-setup and even better for the planet.
What's more, they look gorgeous too!
5. Bring a shower stool for extra bottles
If you're pressed for time, the smartest shower storage prop is a shower stool. Bring it in the shower when you're trying new products without having to ruin the shelf arrangements.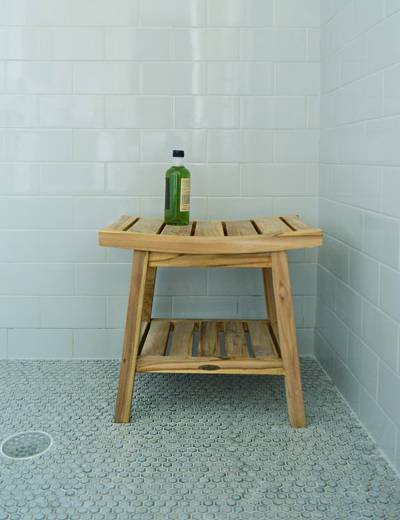 And when you're done, you can shove it into a nook and call it a day without sacrificing your bathroom decor too. Win-win, right?
6. Add a recessed bathroom shelf
While recessed bathroom shelves require exhaustive planning, they're ultramodern enough to keep your shampoos and conditioners out of plain sight. Moreover, recessed shelving tiny bathrooms add extra space with a flair.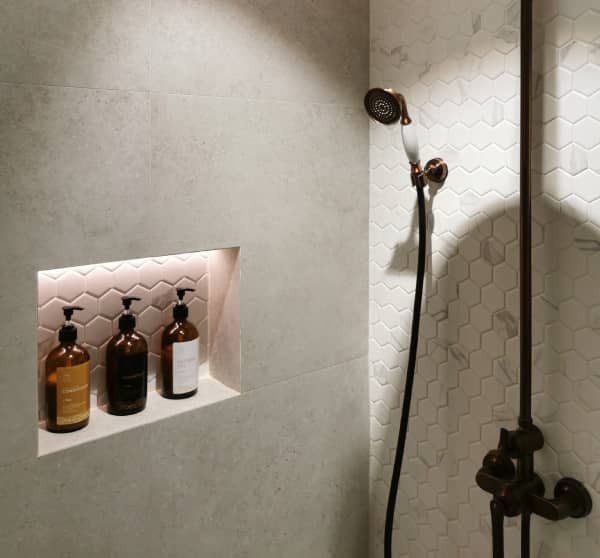 7. Get a tilted side-by-side bottles holder
Looking for a shampoo bottle holder that's too good to be true? We've got your back!
This super-smart bottle-holder is so perfect, you can place containers with their neck down or up based on convenience. Apart from that, the holder comes with sturdy locking that prevents its sides from dipping when you remove a bottle or two from the shelf.
Better yet, no drilling is required!
Where do you put shampoo bottles in the shower? Do you put them on the ground or the wall?
An organized bathroom is not only critical for hygiene but mental wellness too. So, what's a better place for keeping your shampoo bottles- ground or wall?
Firstly, I'm not a fan of using the floor for bottles because I hate ramming into them every day.
Most importantly, you should decide what goes exactly where on the shelf. To start with, assign a permanent place for your shampoo, conditioner, razor blade, and pumice stone.
Next, determine a space within arm's reach or one that's comfortable to mount the shelf there. Personally, I recommend eye level for bathroom shelving because it prevents fallen bottles and dusty empties at length.
How do you store shampoo in a walk-in shower?
Unlike a bathroom, a walk-in shower seldom has cabinets or shelves. That's why it's best to use a recessed shelf for aesthetics and practicality in shower enclosures.
Conversely, you can get an over-the-door caddy or a tiered rack to fit over the showerhead too. Alternatively, if you don't want shelves in your walk-in shower, get a stool that matches your tiles.
How can I hide my shower clutter? How to hide shampoo bottles in the shower?
First things first, hiding the clutter only worsens it. Moreover, that's not how you deal with clutter at all!
More often than not, clutter in the bathroom is a result of bad decor and negligence. From my personal experience, I've found the following tips quite useful to manage my shower storage clutter.
Always keep bottles in their designated places.
Set a date per month to remove empties.
Consider using suction-mount dispensers to save time, energy, and space.
When you're trying out new items, take out products you aren't using or use a shower stool.
Don't keep duplicate items such as two types of shampoos or conditioners at a time.
Take your hair care products outside the bathroom to save space.
Buy tiered racks or multi-utility baskets to avoid congesting your bathroom.
Start organizing your bottles in the shower properly
A good bathroom will have space for all your skincare as well as your phone, speakers, candles, and other amenities. Moreover, keeping your bathroom storage in order is critical if you hate dropping things in the shower like me.
My personal favorite is the tilted side-by-side holder as you can never knock any bottle down once you have it!
Conclusion
Finally, it's time to select the best solution that fits your shower needs. When it comes to shower storage, less is more. The trick is to use a bathroom storage solution that maximizes your chances to accommodate more products in less space!
Sources