The first thing that comes to mind when you think of fire extinguishers is the old, bulky red canister you see in most kitchens and businesses.
However, the fire extinguisher has come a long way since then, and you now have many options of what type to use.
There are so many designs of fire extinguishers today that it's daunting to settle on one. Not only do they get the job done the same as traditional fire extinguishers, but they also do it in style! You can even customize one to fit your home or office decor!
In this article, I'll tell you all about fire extinguisher designs, why they're a great option, and more!
RELATED:
Can You Recycle Fire Extinguishers For Money?
The Benefits of Choosing a Fire Extinguisher With a Stylish Design
Many people don't even realize that they have a choice in selecting a fire extinguisher. They usually just buy the same one they always have bought before.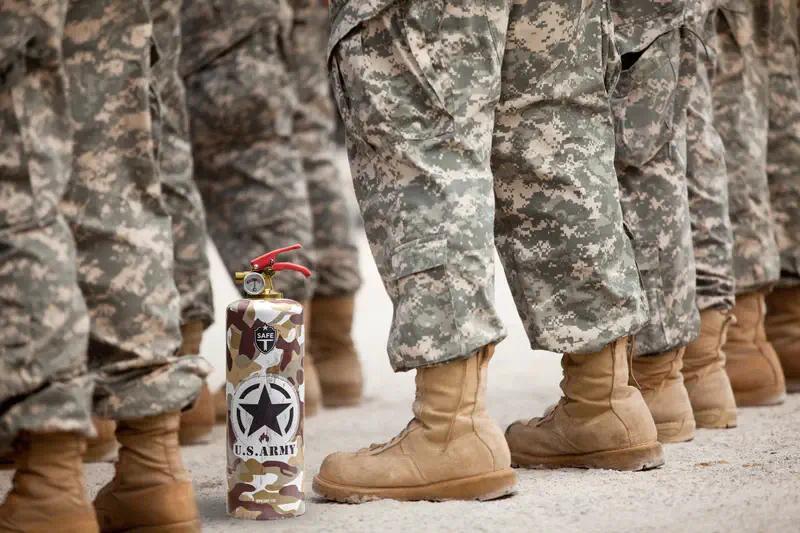 I mean, it'll work just fine in an emergency, won't it? However, some benefits come with choosing a new style of fire extinguisher:
A stylish fire extinguisher can help make your home look more beautiful and inviting by adding a touch of color and interest to areas where you place them.
It can blend in with home or business decor and not be an eyesore. This, in return, can add value to your property!
People are less likely to overlook a sleek-looking fire extinguisher when needed. This is because of its inconspicuous design!
Where to Buy the Best Fire Extinguisher Design for Your Home or Business in 2023?
All that talk about fire extinguisher designs is exciting. But where exactly can you get your hands on one?
To give you a helping hand, here are my favorite three places to buy the best fire extinguisher designs in 2023.
1. Safe-T (USA and Europe)
Safe-T offers a beautifully unique selection of fire extinguisher designs. You can find wine and whisky bottles, vogue inspiration, Louis Vuitton patterns, and floral designs. There's even one with a portrait of Albert Einstein!
My favorite thing about Safe-T is the variety of designs they have. If you're not interested in any of the above and prefer something simple, Safe-T offers several minimalist options.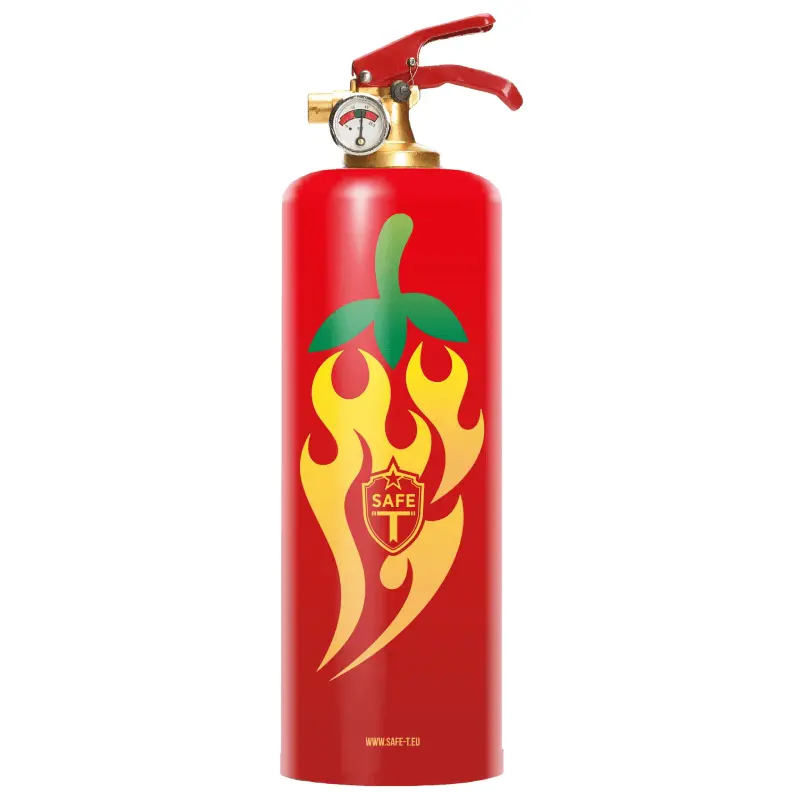 My personal favorites are the copper and raw editions. These traditional, sleek designs complement any home or workplace décor.
Last but not least, the Safe-T fire extinguishers come with a 5-year warranty.
2. St.Florian FireFighter (Europe)
St. Florian provides innovative extinguishers to protect your home and business while looking as stylish as ever! They even accept custom orders for specially branded and personalized products!
The company offers over 150 fire extinguisher designs for kitchens, garages, living rooms, and boiler rooms.
For kitchens, they have Chef, Botanica, and Quotes models with bright colors and unique graphics.
For garages, there are models like Garage, Quotes, and Signs with vibrant designs that make them pop out!
For living rooms, they have Pattern, Art, and Simple models in several colors like red, black, blue, or olive green.
For boiler rooms, their model line consists of Simple, Garage, and Pattern.
3. Fire Design (Europe)
Fire Design is a French company that creates fire extinguishers in plenty of designs. Kitchen, cars, bikes, girly, rock music, you name it!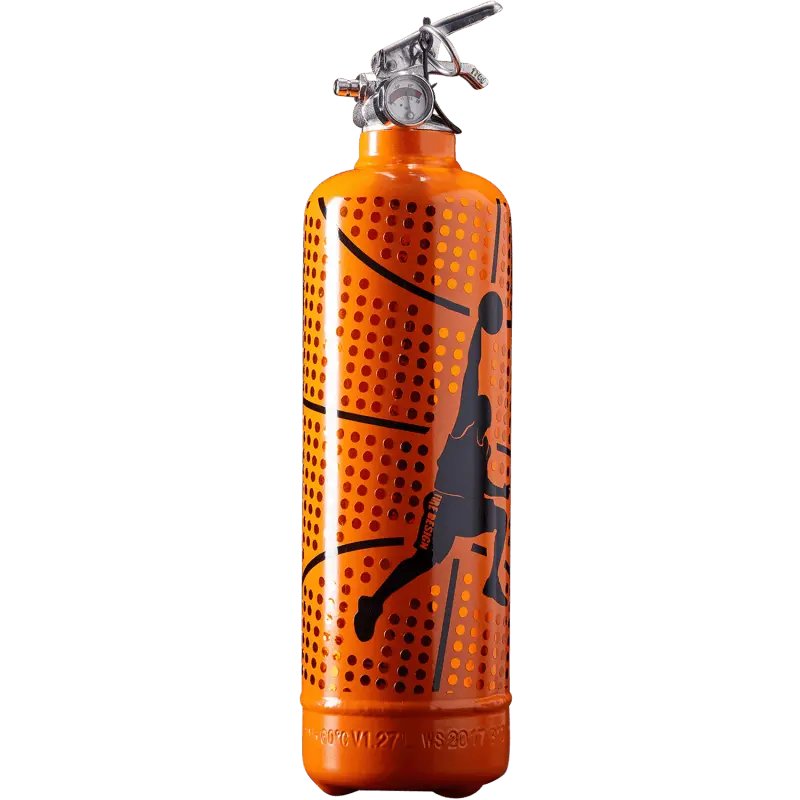 They can also custom-make a fire extinguisher for you. In addition, they sell extinguishers in many types and sizes. For example, they have 6KG, 6L, 2KG, and co2 fire extinguishers.
Not only do they have different models and colors, but all of their fire extinguishers come with a 10-year warranty!
Stylish Fire Safety: The Possibility of Customizing Your Own Unique and Attractive Fire Extinguisher Design
The possibilities are endless in choosing a unique design for your fire extinguisher. You could have a simple design that features your company logo.
Alternatively, you could pick a more detailed and colorful design. Whatever your preference, many companies can assist you in creating the perfect custom fire extinguisher!
You can choose the color, material, and finish that suits your existing furniture style or home decoration.
For example, Safe-T can hook you up with a custom-made extinguisher. These guys even went a step further and requested original artwork from local artists.
Because each work of art is one-of-a-kind, much of the sales earnings go to the artists!
Choose a Practical Cover or Cabinet for Your Fire Extinguisher Instead of a Design Model
What better way to store and protect your fire extinguishers than by purchasing an attractive cover or cabinet? In times like these, I resort to the one and only Designfeu.com.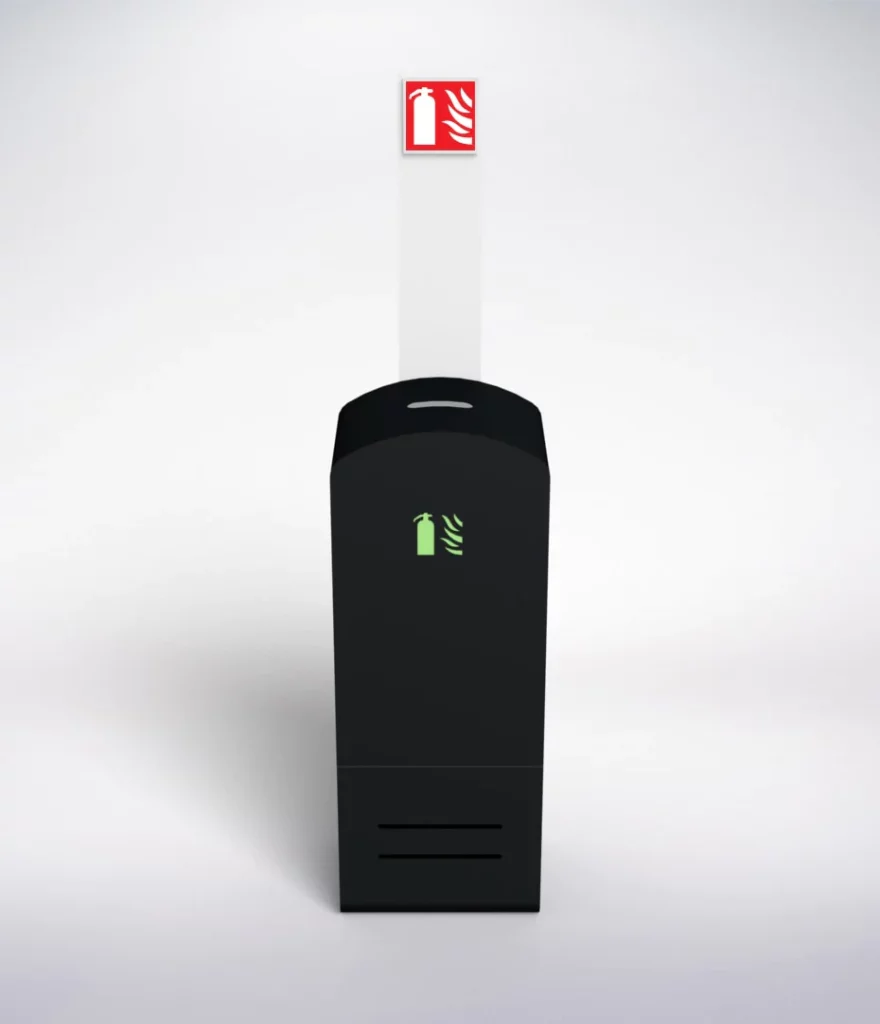 At Designfeu, you can choose from a wide selection of covers, cabinets, stands, and brackets. You may even find something that matches your interior décor!
Let's look at their models in more detail.
#1 Fire Extinguisher Cabinet – Floor
You can choose from single fire extinguisher cabinets and double fire extinguisher cabinets. One thing I like about this product is that it's simple to install with no screws or tools required.
All you have to do is simply place the box on the floor where you want it to be.
Furthermore, the company designed these cabinets to hold CO2, 2kg, 6kg, 6Ltr, 9kg, and 9Ltr fire extinguishers.
#2 Fire Extinguisher Cabinet – Wall
This one is similar to the previous model, except you can mount it on your wall. Speaking from experience, I say go for wall-mounted cabinets.
You never know when accidents may happen, and placing your fire extinguisher on a wall is a safer option.
#3 Fire Extinguisher Stand
Because we all know how wobbly fire extinguishers can be, keeping them unprotected on the floor might cause them damage.
Designfeu kept that in mind and designed decorative stands that come in a variety of colors and materials.
They can also hold single or double fire extinguishers. Lastly, you can use these stands for CO2, foam, water, or dry powder extinguishers.
#4 Fire Extinguisher Bracket
This is another easy method for mounting your fire extinguisher on the wall. Usually, brackets aren't the most reliable option on the market.
However, Designfeu makes theirs with high-quality, durable material that'll surely keep your extinguisher safe.
#5 Fire Extinguisher Cover
These are very simple to use. All you have to do is place them over your fire extinguisher and voila, you're all set.
These covers are an excellent choice for protecting your extinguisher while also adding aesthetic points!
Factors To Consider When Selecting a Fire Extinguisher
It's important to know what you need to choose the best fire extinguisher for you. That said, here are some things to consider before deciding:
1. Type
The first step is knowing the types of fires and what type of extinguisher you can use against them. The most common type of fire extinguisher is the 'A' model.
This type works well against ordinary combustibles like paper, wood, or cloth. However, it won't work on flammable liquids such as gasoline.
If you need an extinguisher for those types of materials, then choose a B model specifically designed for those materials instead!
2. Location and Hazards
The location of the extinguisher is crucial. For example, if you have an office building with many cubicles where people are sitting at computer desks, you would want to place your ABC-rated extinguishers near them.
3. Size and Weight
For these factors, consider the following:
How much weight can you lift? Are you able to carry an extinguisher that weighs 20 pounds comfortably?
If your fire extinguisher is too heavy for you or someone else who might help in an emergency (say a child), then perhaps another type of extinguisher would be better for the job.
4. Ease of Use and Maintenance
You should have a third-party certified fire extinguisher engineer service your fire extinguishers once every year.
You should also do frequent visual checks, at least once a month, to look for any damage.
Store your extinguisher at a temperature between -40 degrees and 120 degrees Fahrenheit. Lastly, fire extinguishers that are over 10 years old should be emptied and recharged.
5. U.S Regulations
Each fire extinguisher must follow U.S regulations before being sold in America. Therefore, check the local laws before purchasing a fire extinguisher.
Fire Extinguisher Placement & Installation: Where Should You Place Your Fire Fighting Equipment?
You should install a fire extinguisher in the following places:
1. In the kitchen. The kitchen is the most likely place for a fire to start. It's also where people usually have flammable liquids on hand, such as cooking oil or grease.
2. In the garage. Garages often contain combustible materials, such as gas cans, that could cause fires. Having an extinguisher handy will allow you to minimize the damage any potential fires may start.
3. In your home office. This also applies to any rooms where papers are kept in file cabinets or boxes. These may catch fire with just one spark from a cigarette butt or match dropped by mistake.
Wrapping Up
Nothing beats combining practicality and aesthetics in one product. This is how I feel about decorative fire extinguishers. They're functional and get the job done, all while looking stunning!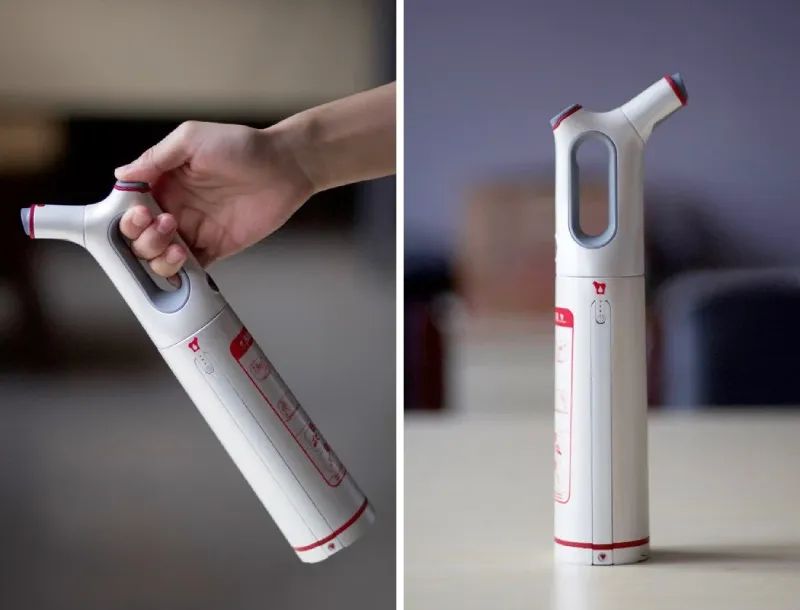 Designs for fire extinguishers range from simple solid colors to intricate patterns! Even futuristic styles and concepts are available! If you're curious to see the futuristic fire extinguishers and other innovative designs, head over to Yanko Design's website!
The best part about them is that you can install as many as you like without worrying they become an eyesore. They may even kick your home or business décor up a notch!
As the founder of Container FAQs, my goal is to provide readers with in-depth information on the containers used in daily life and related subjects. Don't hesitate to reach out to me if you have any suggestions for articles you would like to see on my blog.