Whether you are moving states or your business is sending products, you'll need to consider the cost of shipping your container. Transporting your car, or even commercial goods can cost you a lot of money. If you don't have the shipping cost in your plan, you might be surprised to find out how expensive it can be.
Here are four services that can help you calculate the shipping cost of your container:
Worldfreightrates.com
Freightos.com
iContainers.com
GoComet.com
Shipping a container can cost anywhere from $2,000 to $10,000, or even more. Knowing how much your shipping cost will be essential to budgeting your move or your business strategy. Below, we discuss the pros and cons of each of the above container shipping cost calculators, so let's get started.
1. Worldfreightrates.com
Containers are an innovative solution when moving a large number of items for a long distance.
The World Freight Rates calculator has several bells and whistles that make it user-friendly. It claims to be the number one provider of free, instant freight rates, and I agree that it's one of your best options.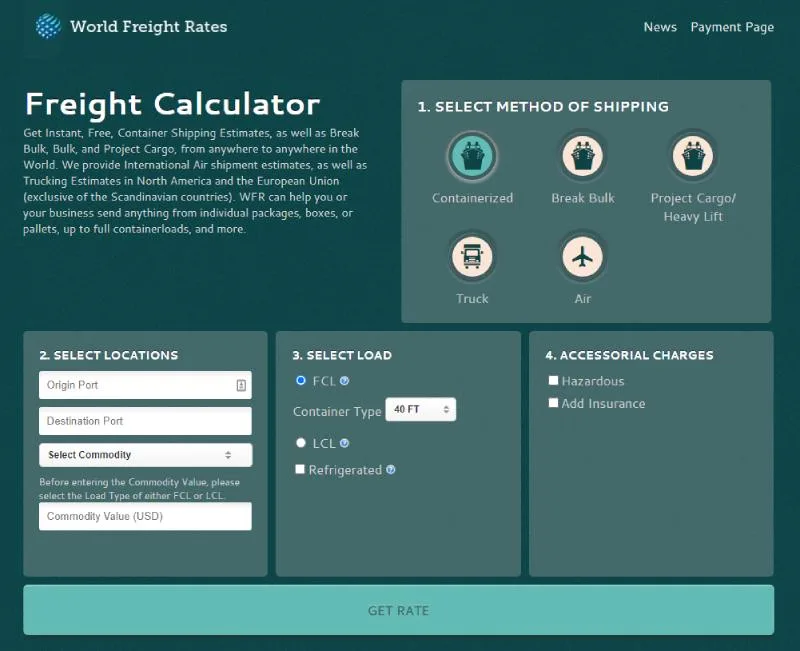 Pros
With this calculator, every factor is considered, including where you want to ship your items. You input the following to get your cost:
What you are shipping with a drop-down full of different options.
The value of what you are shipping.
You can select things like "residential pick-up" as an additional cost.
No email, phone number, or personal information is required, and you can compare prices without making a large commitment.
Cons
If you are using a container for a residential move, this might not be the choice for you. While you can select origin and destination ports, it's difficult to find an exact price if you are going to do a residential pick-up or drop-off.
2. Freightos.com
Freightos pretty much does it all. When you sign-up with this company, you can calculate the costs of your shipment and manage them. This website will help you book, manage, and compare rates on your shipping needs.
To calculate your cost, you can visit the free calculator page. You will add origin and destination info, and then click "calculate." If you want a free calculation, you need to sign up for the service.
Pros
When using Freightos.com, you are at a one-stop shop. You not only get the cost calculation, but you get everything afterward, including compare, book, and track your shipment. They work with some big names in the shipping industry, too.
They are also pretty flexible about what they can calculate, including containers, boxes, or pallets.
Cons
If you are doing residential shipping, Freightos probably won't be very helpful to you. Since you have to sign-up for the service to get any costs calculated, it can be a letdown if you want to do your calculations quickly and without adding any personal info.
3. iContainers.com
iContainers.Com is a superstar when it comes to shipping and freight. They have been featured in the Miami Herald, TechCrunch, and a few other internet publications. Their service can help you with just about anything.
With tabs for LTL freight, ocean freight, and even international moves, this service has all the bases covered. To calculate the cost of your shipping, you just have to visit their homepage. You will input your origin, destination, and then what you are shipping.
Pros
This service has specific information about moves, and while it might be exclusively for international moves, it's a move nonetheless. iContainers is similar to Freightos in that it's a one-stop shop for your shipping needs. You can compare, book, order, and track with their platform.
Cons
Again, this service won't be as helpful if you are going to be moving residential items from one state to the next. You also will have to design up for the service to get all the bells and whistles, though you won't need to enter any personal info for the initial cost estimate.
4. GoComet.com
Last but not least, you might consider GoComet.com. This website offers tons of different tools to clients to help their shipments be successful. GoComet.com offers transportation scheduling, container tracking, and port congestion support for all of your business or residential needs.
Pro's
Though not explicitly stated, GoComet.com may be your best bet if you are looking for support calculating a residential move. Their client-based business software focuses on success, trust, and integrity, so you can rest assured knowing your calculation is the most accurate.
Additionally, they moved nearly $24 billion worth of cargo last year through their software. Their experience is unmatchable.
If GoComet.com is good for your residential move, you can also trust it with your business. With their helpful tools like transportation scheduling and port congestion support, you should have your most efficient shipment yet.
Con's
GoComet.com is software that can help you manage your shipment container move, port congestion, and other various factors during the journey.
However, it's not a place where you can go and buy a shipping container to rent and send out. It works almost like a virtual assistant, supporting you through the steps and keeping track of what's going on. While this is a pro, it may not be what you are looking for if you want something all-inclusive.
Conclusion
The cost calculator you select depends on your needs. If you are shipping a product, or if you need something specific, like a refrigerated truck, you might want to look into something more commercial.
However, if you are moving and want to see how much it might cost to use freight, or if you are moving overseas, a more residential-friendly calculator, such as GoComet.com or a website specializing in residential moves, might be your pick.
Whether you are moving across the state or shipping business supplies, container shipping may be the most effective and inexpensive method for transporting goods.
Sources
As the founder of Container FAQs, my goal is to provide readers with in-depth information on the containers used in daily life and related subjects. Don't hesitate to reach out to me if you have any suggestions for articles you would like to see on my blog.