Storage containers are great for organization, but the look of plastic storage boxes can look cheap or even tacky. This is why wood storage boxes are a great option to boost interior design while decluttering your space at the same time.
Here is where you should buy wood storage boxes:
Target
Home Depot
Amazon
Etsy
The Container Store
The best place to buy storage boxes
1. Target
Target is my go-to store for all my personal organization needs.
I love Target because it offers the perfect blend of affordability, practicality, and style. Their products are not only visually appealing but useful too. As long as you're careful about how much you buy (we've all been the victim of loving Target just a little too much), you won't be spending as much as you would in a place like Pottery Barn.
This "Stackable Wood Storage Bin" from Target's brand Pillowfort is an excellent product if you're looking for something that can adapt to pretty much any space. They're a decent size, but not bulky enough to be too large for standard shelves.
You can also stack them, which is an obvious plus.
However, this isn't the only product that Target offers. They have a wide variety of wood storage boxes that I'm sure will fit your organization needs while simultaneously achieving aesthetic fulfillment.
2. Home Depot
Though Home Depot can sometimes value functionality over looks, this isn't always the case.
If you're looking for a larger wood storage boxes to store toys, shoes, blankets, or other bulkier items, look no further than this 42-gallon (190 L) wooden storage box. It's not only a decent size but also practical and sleek.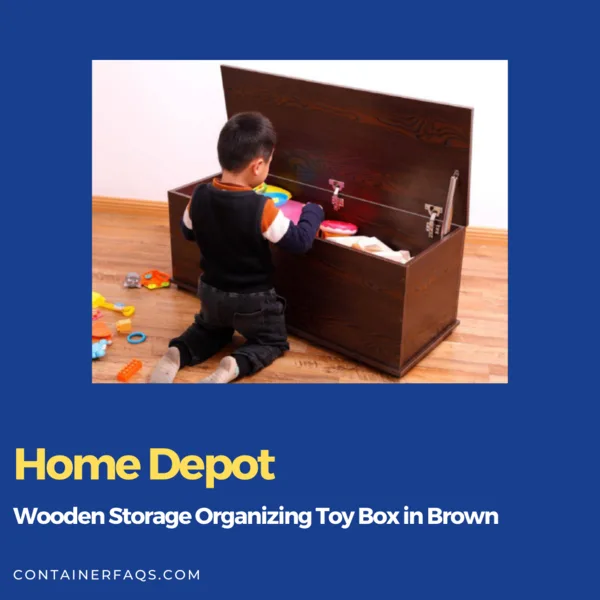 There's a noticeable level of quality that might stretch your budget ever so slightly, but it's not overpriced.
Home Depot is an excellent place to buy wood storage boxes if you're looking for something sturdy and functional without taking too much from your wallet.
3. Amazon
Amazon is a great place to purchase your wood storage boxes because of the convenience it provides. If you're in need of wood storage bins but don't have the time or energy to leave your home, it might be a good idea to order something off of Amazon.
Keep in mind that there are quite a few small businesses that you might want to consider purchasing from before buying your products from Amazon. However, if you can't find what you're looking for, then this is a suitable place to buy from.
One of my favorite products available is the Y&ME YM Wood Storage Cube Basket that Amazon offers. The cube measures 11" (28 cm) on each side and is an excellent container to place on your shelves or in your closet.
Another great product you can find on Amazon is this Blake & Lake Wooden Keepsake Box with a lid. This is great to place on top of dressers or on shelves.
4. Etsy
Etsy is an excellent option if you're on the lookout for wood storage boxes.
If you're not familiar with Etsy, to put it simply, it's a place where small businesses can sell their products online. The majority of products on Etsy are handmade, which is why people love the site.
You're supporting artists and reaping the quality benefits of a product made by hand.
"People love handmade," says an article by Everything Etsy. "You're buying something truly unique that speaks to who you are."
I love this Wood Tote Crate Box on Etsy. It would make an excellent addition to your home and will surely benefit your organizational habits. Another wood storage box on Etsy is this lovely Wood Crate Tote.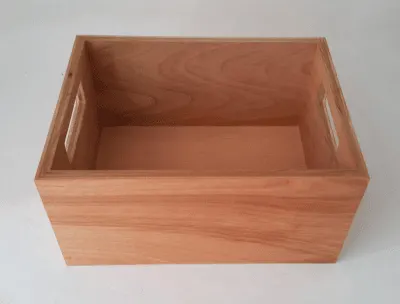 With Etsy, I'm sure you'll find something that is not only unique but practical as well. And even better, every purchase supports a small business.
5. The Container Store
The container store is a great place to buy pretty much any container you can think of, including wood.
This website is an excellent option because you can make purchases online and in person, depending on your personal shopping preferences. Their products are also relatively affordable and they often have some pretty good deals.
I love also these Feathergrain Wooden Storage Bins With Handles. Another great option is these Whitewashed Wooden Storage Bins With Handles.
These small wooden crates are an excellent choice for any shelf in your home. They're functional as well as aesthetically appealing, and will definitely take your decoration level up a notch.
Why Do I Need Wood Storage Boxes?
Now that you've learned where to buy wood storage boxes, let's talk about why you should consider buying them in the first place.
You need wood storage boxes or bins if you want to dress up your home and keep it looking elegant. Storage boxes are an excellent option if you're looking to declutter your space. You can use them to store things like shoes, makeup, beauty supplies, blankets, toys, jewelry, or anything else.
Wood storage boxes are a great way to use your space practically and stylishly. They give you the functionality of plastic storage boxes and the elegant appearance of natural wood without the less appealing look of cheap plastic.
Of course, plastic bins can be stylish if you get the right ones. For example, plastic can be made to look like wood or anything else you want. If you can't afford wood, you might want to consider wood-like plastic alternatives.
"Having recurring wood tones in your room provides continuity and structure to your space," says an article by MyDomaine.com, "so it looks put-together without trying too hard."
So if you're looking to upgrade your organizational habits and the interior design of your home, you should definitely consider purchasing wood storage boxes.
Sources
As the founder of Container FAQs, my goal is to provide readers with in-depth information on the containers used in daily life and related subjects. Don't hesitate to reach out to me if you have any suggestions for articles you would like to see on my blog.