Navigating the world of soft-sided luggage materials can be a daunting task, especially with the broad range of options available. Whether you're a seasoned traveler searching for the perfect blend of durability and elegance, or a casual holidaymaker seeking a cost-effective and reliable solution, I'm here to help you find the ideal luggage material for your needs.
Welcome to 'The Essential Guide to Soft-Sided Luggage Materials.'
In this comprehensive guide, I'll take you through the characteristics and benefits of eight diverse materials commonly used in soft-sided luggage. From the timeless elegance and durability of leather to the military-grade strength of ballistic nylon, I aim to provide you with the knowledge you need to make an informed decision.
I will delve into each material—leather, Kevlar, Oxford cloth, Cordura nylon, canvas, nylon, ballistic nylon, and polyester—highlighting their pros and cons, their unique features, and their usage in luggage. Moreover, I provide a link to a dedicated article for each material for a more in-depth understanding.
What are the 8 Key Materials in Soft-Sided Travel Luggage?
As we embark on this journey through the world of luggage materials together, remember – the right choice is not just about durability or cost. It's about finding a balance that suits your individual travel style and needs.
Let's set off on this adventure together, and I'll help you find the perfect luggage material for you.
#1 Leather
Considering investing in leather luggage but wondering if it's worth the cost? Let me assure you, leather material luggage offers proven durability, a timeless style, and low maintenance, making it a solid investment. It's a perfect companion for your travel adventures, offering long-lasting quality and classic appeal that never goes out of style.
However, there are also some potential drawbacks such as its bulkiness, vulnerability to scratches, and higher costs compared to other materials. But these can be outweighed by the benefits when you choose and care for your leather luggage properly.
Choosing the right leather luggage is vital, and factors such as travel needs, quality of materials and construction, size and weight play key roles. Brands like Louis Vuitton, Globe-Trotter, and Michael Kors offer high-quality leather luggage that has stood the test of time.
Despite these aspects, there's so much more to explore about leather luggage and why it's a fantastic choice for your travel needs. For a deeper understanding, delve into my comprehensive article where we unpack the benefits and drawbacks of leather luggage, and provide guidance on selecting the perfect piece to suit your style and requirements.
#2 Kevlar
Searching for the ultimate soft luggage, I value durability and strength. That's where Kevlar, a heat-resistant synthetic fiber famous for its use in bullet-proof vests, comes in. Kevlar's high strength-to-weight ratio, exceptional resistance to punctures, tears, and abrasions, and its lightweight nature make it an unbeatable choice for frequent travelers like me.
However, Kevlar has its downsides; it's quite expensive and not widely available. But, considering the long-term benefits and quality it offers, I believe the initial investment can be justified. Brands such as Samsonite and Gregory are a few of those that offer Kevlar-reinforced models.
Interested in discovering why Kevlar is often deemed the ultimate choice for soft luggage? Dive into my comprehensive article where we examine the durability, lightweight nature, and superior protection offered by Kevlar luggage.
#3 Oxford cloth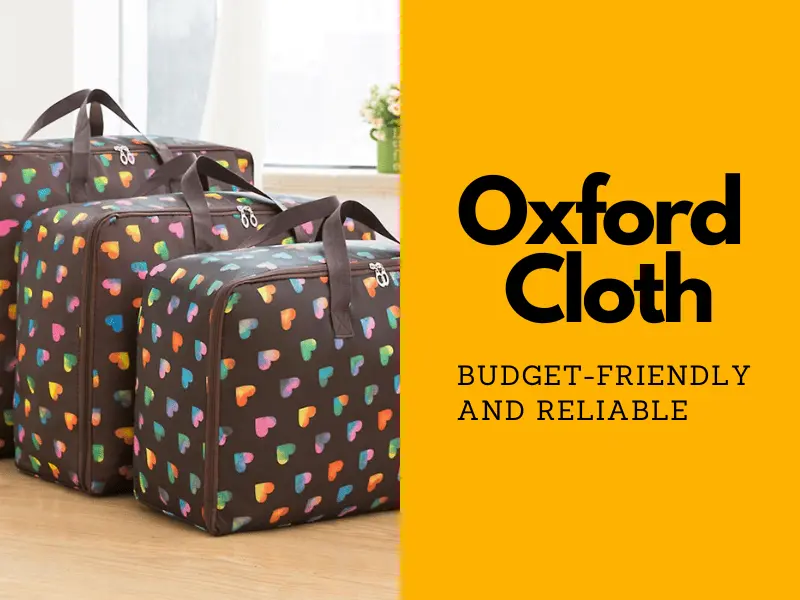 Oxford cloth luggage stands out as a prime choice for budget travelers given its affordability, durability, and varied styles. This luggage is made from Oxford cloth, a tightly woven cotton fabric, known for its breathability and resistance. It comes in a variety of colors and designs to cater to your travel requirements.
However, it's crucial to point out that while Oxford cloth provides reasonable protection, there are more robust materials like ballistic nylon or Cordura nylon. Nonetheless, Oxford cloth isn't fully water-resistant, which may be a drawback for some.
A distinct characteristic of Oxford cloth is its fusion of polyester and cotton fibers. This blend gives the fabric its resilience against tears and wrinkles, while ensuring your belongings can breathe and stay fresh. It's a balance of strength and softness that fits a range of luggage needs.
There are a few caveats with Oxford cloth luggage to consider. It doesn't quite match the wear resistance of nylon, and despite being coated for water resistance, it might not withstand extreme weather conditions.
The burning question then is: Is Oxford cloth luggage a smart choice for budget travelers? The answer is unfolded in a detailed article that delves further into this subject, providing insights to help you make an informed decision.
Step into the world of budget travel with confidence and style – discover more about the durability and functionality of Oxford cloth luggage in the comprehensive article I've prepared for you.
#4 Cordura nylon
Embarking on an adventure requires a reliable travel companion, and what's better than Cordura nylon luggage? Its lightweight nature and outstanding durability make it an ideal choice for such journeys.
Apart from its basic characteristics, Cordura nylon stands out with its water and flame resistance. No matter where your adventures take you, be it near water bodies or through flames, this luggage promises to keep your belongings safe.
Variety is a key strength of Cordura nylon. It's available in a range of weights and styles, catering to diverse travel needs. Whether you're traversing rough terrains or going for a short trip, there's a Cordura style that matches your requirements.
Of course, every choice comes with trade-offs. With Cordura nylon, you may have to deal with potential heaviness and a slightly higher cost. However, considering its impressive durability, flexibility, and eco-friendliness, these minor drawbacks are worth overlooking.
Captivated by the potential of Cordura nylon luggage for adventure travels? Explore more in my detailed article where we delve into this resilient material's durability, seeking the perfect travel companion to endure every adventure. Let's continue this exploration together!
#5 Canvas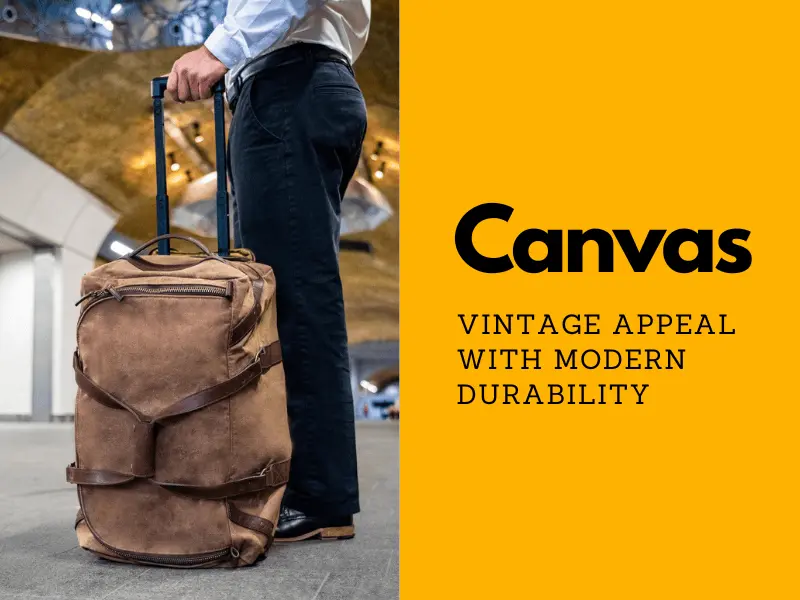 Remember the times when canvas was the go-to material for travel luggage? Those days seem to be waning as other materials like ballistic nylon, Kevlar, and Cordura nylon are stepping into the limelight.
Canvas, while sturdy and affordable, faces challenges due to its weight, difficulty to clean, limited water resistance, and not fitting into contemporary style trends. However, its eco-friendliness and durability still make it a choice worth considering for some.
A mix of evolving travel needs, advancing material technology, and changing fashion trends are pushing alternatives into favor. While ballistic nylon is prized for strength, Kevlar is popular for its lightweight resilience, and Cordura nylon is loved for its enduring performance and water resistance.
This shift doesn't necessarily mean the end for canvas, but it does signify an evolution in luggage material preferences. Curious to learn more about this change? Check out my full article about canvas material luggage and why it's increasingly rare for travel. Let's continue the conversation there!
#6 Nylon
As an avid traveler, I understand the importance of good quality luggage. Among the various materials available, my personal favorite is nylon, for its affordability, versatility, and style.
Nylon stands out due to its inexpensive yet quality offering, being lighter on your pocket compared to options like leather.
One major advantage of nylon is its lightness. This characteristic, thanks to its plastic composition, makes it an excellent travel companion, especially when you're carrying heavy loads.
Furthermore, nylon's flexibility is praiseworthy. Despite its softness, it is robust, foldable, and resistant to wrinkles, making it easy to store when not in use.
Scratch resistance is another notable feature of nylon. It stands up well to rough surfaces, making it a superior choice if scratches on your luggage bother you.
Moreover, nylon's ability to repel water to a certain degree comes in handy during travel. While it's not entirely waterproof, minor water exposure or moisture wouldn't be a problem.
The durability of nylon is undisputed. It is tough, easy to clean, and resistant to wear and tear, chemicals, and heat. You can trust your nylon luggage to last for a good while.
Finally, nylon luggage comes in a multitude of colors, catering to diverse styles and personalities.
Different types of nylon, including Ballistic, Cordura, and Ripstop nylon, serve distinct purposes in luggage production due to their unique properties. Each has its historical roots and specific usage, making them suitable for different types of bags and luggage.
The benefits of nylon as a luggage material are substantial, from its affordability and durability to its resistance to scratches and water. Whether you're facing a lengthy journey or a hot climate, nylon luggage will not disappoint.
Are you curious to delve deeper into the world of nylon luggage? Then I invite you to join me in thoroughly exploring the article about nylon, one of the best materials for soft-sided luggage and let's continue this journey together to understand why nylon could be your best travel partner!
#7 Ballistic nylon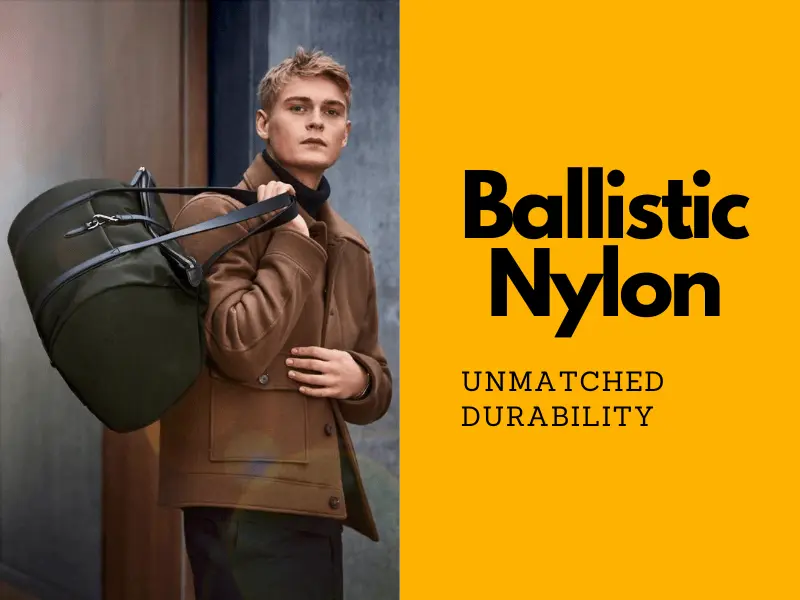 Nylon is a top choice for luggage, with ballistic nylon taking the crown due to its superior strength and flexibility. This military-grade material is highly resilient, with a rich history dating back to World War II. It's known for its resistance to abrasion and its refined, professional look.
Ballistic nylon luggage boasts many advantages, such as durability, flexibility, water repellency, easy cleaning, and resistance to mildew. However, it does have a few drawbacks, such as its weight and cost. Despite its superior strength and durability, it may be heavier and pricier than other options, but it's worth the investment if you're a frequent traveler.
When comparing ballistic nylon to regular nylon, the former stands out for its strength, although it's heavier and less vibrant in color.
So, are you ready to step up your luggage game? Join me as I delve deeper into the world of ballistic nylon luggage in another interesting article and let's explore together why this tough, resilient material is a popular choice among travelers.
#8 Polyester
Setting off on an adventure? Your choice of luggage plays a significant role. Among the myriad options, I've found polyester luggage to be a fantastic pick for budget-conscious travelers. It's affordable, lightweight, and flexible, boasting a perfect blend of features for travel.
Key advantages of polyester luggage are its cost-effectiveness and weight. It's an excellent pick for those long-haul trips, with its inherent flexibility adding to its life span. What's more, it maintains an understated aesthetic, ensuring you travel without attracting unnecessary attention.
There are two primary types of polyester luggage – duffel bags and wheeled luggage. Duffel bags are perfect for toss-in-and-go packing, with a variety of shapes and sizes to cater to your needs. Wheeled luggage, on the other hand, is your best friend when it comes to heavier loads. They make for easy transportation, albeit at a slightly higher cost.
Choosing the right bag involves considering your journey type, the size of the luggage, and its additional features. Based on your travel requirements, you might opt for a larger bag or several smaller carriers. I personally find it handy to have an extra polyester bag for old clothes that I no longer wear.
To sum up, I think polyester luggage is a reliable ally for budget-conscious travelers. Its understated design, flexibility, and lightness make it a top pick. The choice between duffel and wheeled bags depends on your personal preferences and travel needs.
So, if you want to know more about why polyester luggage might be your perfect travel companion, especially if you're a budget traveler, don't hesitate to read my comprehensive article on the benefits of polyester material for your luggage.
Conclusion
We've journeyed through the fascinating world of soft-sided luggage materials together, uncovering the unique characteristics and benefits of each. I hope this guide aids you in choosing a material that not only meets your practical needs but also resonates with your personal style and travel aspirations. Happy traveling, my friends!
But our exploration doesn't stop here! I've already dissected the toughest luggage materials in my article, "The Unbreakable Luggage: The Top 5 Most Durable Materials for Your Next Trip". Make sure to check it out to discover even more about your ideal travel companion. See you there!
As the founder of Container FAQs, my goal is to provide readers with in-depth information on the containers used in daily life and related subjects. Don't hesitate to reach out to me if you have any suggestions for articles you would like to see on my blog.