If you're an avid traveler like me, you might be looking into investing in high-quality bags for your journeys. But what makes titanium luggage the ultimate choice for avid travelers?
Titanium luggage is an ideal investment for avid travelers seeking luxury, style, and durability. With its ability to endure wear and tear while maintaining a sleek metal appearance, it sets itself apart from other types of suitcases as a high-end option. Choosing titanium bags ensures a travel experience that balances fashionable aesthetics with long-lasting performance, providing a touch of luxury for discerning globetrotters.
I'm happy to share why titanium luggage is the go-to for frequent travelers. I'll break down the benefits of titanium bags and give you the best options available. Keep reading to find out more!
Luxury on the Go: Why Titanium Is the Ultimate Travel Companion
Titanium has unique properties, including strength, lightweight properties, and corrosion resistance. It is commonly used in aerospace for aircraft components and medical implants like artificial joints and bone screws.
In recent years, titanium luggage has gained popularity due to its lightweight construction, which allows for more packing. It's also highly durable and resistant to dents and deformation.
Plus, in contrast with other materials, titanium just has that modern and stylish appeal that'll make you stand out.
What is titanium luggage?
Titanium luggage refers to suitcases, bags, and other travel accessories made from titanium or featuring titanium components. Titanium is a lightweight, strong, and corrosion-resistant metal known for its sleek metallic appearance. Luggage made from this material offers travelers a durable and stylish option that can withstand the rigors of frequent travel while maintaining a high level of functionality and luxury.
Its modern appearance also sets it apart as a stylish and practical option for travel.
Few well-known luggage brands offer titanium suitcases with different options depending on your travel needs. You can go for a compact cabin-sized trolley for short trips or a larger check-in suitcase for longer journeys.
Benefits of Titanium Luggage
Titanium is one of the top metals due to its physical properties. If you're on the hunt for a new suitcase, you might want to look into the benefits of titanium bags:
Durability and strength
Titanium is the superstar when it comes to strength and durability.
It's the perfect travel bag that can withstand the wear and tear of travel, which means it's less likely to get damaged during transit.
Lightweight design
Titanium is surprisingly lightweight, making it a popular material for sports equipment, such as golf clubs and tennis rackets.
With that said, it's an excellent choice for heavy packers that don't want to worry about exceeding weight limits.
Resistance to scratches and dents
Thanks to its high tensile strength, titanium can withstand a lot of force without breaking or deforming.
When you travel, your baggage might be handled roughly by airport staff. However, with titanium suitcases, you don't have to worry about your bags getting bent or damaged in the process.
High-quality appearance
Titanium bags have a sleek and modern look, giving them a luxurious and sophisticated touch. They feature a metallic finish and polished design, making them an elegant choice for the trendy traveler.
However, considering that titanium luggage can be quite expensive, ranging from a couple of thousand dollars to even 15 grand, I'd like to know your opinion. Given its benefits, do you believe the high price point is justified?
Rare Availability of True Titanium Luggage
Titanium luggage is rare due to the expensive metal and costly production involved. However, Louis Vuitton, Tumi, and Tecknomonster have dominated the game early on:
A look at Louis Vuitton's horizon 55 titane
Louis Vuitton's Horizon 55 Titane suitcase is the epitome of luxury travel.
Made with titanium and cowhide leather accents, it boasts a TSA-approved lock, reinforced corners, and a roomy interior. The Louis Vuitton Horizon 55 Titane is undoubtedly one of the most luxurious titanium luggage options available.
Exploring tecknomonster's kronos titanium collection
The Kronos luggage line by Tecknomonster is a stunning titanium luggage trolley collection that combines style and function.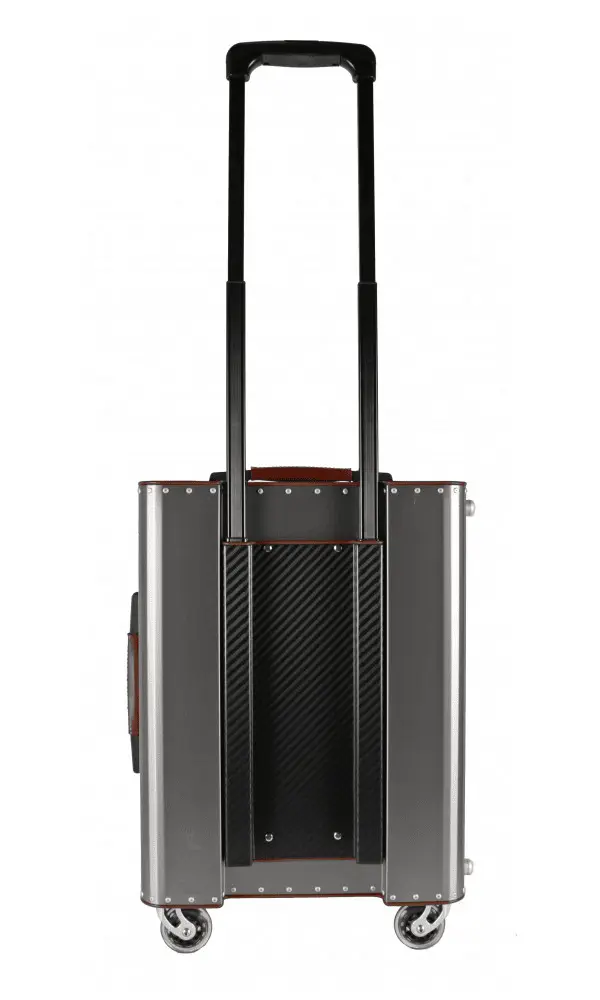 It features an anti-theft closure system and smooth, silent, pivoting wheels; this suitcase makes travel hassle-free. It has several compartments and pockets to help travelers pack efficiently.
19 degree titanium international carry-on by Tumi
If you're looking for a high-end and durable suitcase, consider the 19 Degree Titanium International Carry-On by Tumi. It has two spacious compartments with mesh zip pockets and tie-down straps to secure your belongings.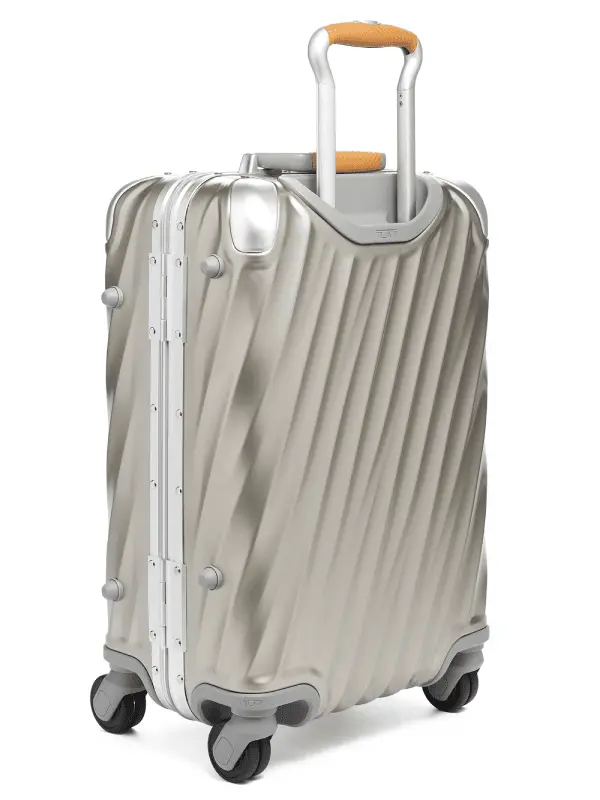 The suitcase's standout feature is the Tumi Tracer, which can locate your baggage if it gets lost or stolen. It also features a telescopic handle, four dual-spinning wheels, and a built-in TSA lock for added security.
MV Agusta Corse titanium suitcase
The MV Agusta Corse Titanium Suitcase was designed with motorcycle enthusiasts in mind. This suitcase is cabin-sized, making it perfect for short trips. It has a four-wheel rolling system and a telescopic handle for added convenience.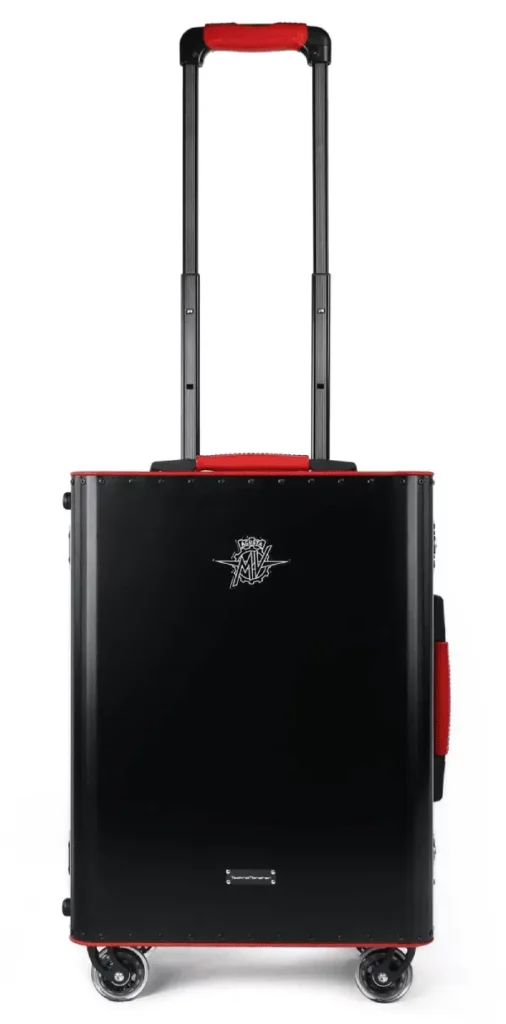 It's a must-have for anyone looking for high-quality and stylish travel gear.
Price comparison
| Brand | Price |
| --- | --- |
| Louis Vuitton Horizon 55 Titane | $14,500 |
| Tecknomonster Kronos Titanium Collection | $2555-$4,600 |
| 19 Degree Titanium International Carry-On by Tumi | $4,550 |
| MV Agusta Corse Titanium Suitcase | $2,664 |
Clarifying the Terminology: Titanium Luggage vs. Titanium-Look Luggage
As someone who's searched far and wide for titanium luggage, let me tell you, it can be confusing. Some popular brands like Delsey and Rimowa use the term "titanium" for certain pieces.
In most cases, it simply means that the bags have a "titanium look" or finish. It's also worth noting that Samsonite doesn't offer any titanium luggage.
If you're in the market for titanium bags, it's crucial to do your research. This way, you don't get swayed by marketing tactics.
Frequently Asked Questions
If you're curious about titanium luggage, here are a couple of frequently asked questions and their answers:
Is there small titanium luggage?
There are cabin-size suitcases like this one from Tecknomonster's Kronos collection. Its small size has dimensions of:
Height: 47 cm/18.5 in
Width: 40 cm/15.74 in
Depth: 21 cm/8.26 in
Does large titanium luggage exist?
If you're going on a long trip and have to pack more stuff, there are large titanium bags like this one from Kronos. It boasts a capacity of 98L.
Conclusion
Titanium luggage is the ultimate investment for the traveler who values durability, style, and convenience. From its top-of-the-line materials to its unparalleled performance, this type of suitcase is built to last.
Such luxury doesn't come cheap. For those who are willing to invest, titanium luggage can offer years of worry-free journeys.
Now, I'd love to hear your thoughts! Share your perspective, leave a comment, or ask a question. I'm always excited to hear from my readers and engage in discussions about all things travel.
Sources
As the founder of Container FAQs, my goal is to provide readers with in-depth information on the containers used in daily life and related subjects. Don't hesitate to reach out to me if you have any suggestions for articles you would like to see on my blog.