Do you remember Euro 2020? That's when Cristiano Ronaldo replaced the two Coke bottles at a press conference with water bottles. No wonder more and more people are drinking plain water more than sodas today. Moreover, oversized water bottles have replaced fancy juice bottles already.
Is the trend here to stay? Which water bottles do celebrities use? What are their favorite water brands?
I'll reveal the top ten reusable water bottles and the three oversized water bottles that celebs swear by. We'll also look at the three top bottled H2O brands that A-listers adore.
Let's dive in!
Top 10 Water Bottles That Celebrities Use Every Day
If Armani and Gucci had the trendiest accessories a while back, today it's overshadowed by a new contender- the humble water bottle. Moreover, these new-age bottles aren't anything like the boring bottles you took to ball practice or gyms way back when.
Check out the chicest and smartest reusable H2O bottles your favorite celebrities use.
#1 Matt Damon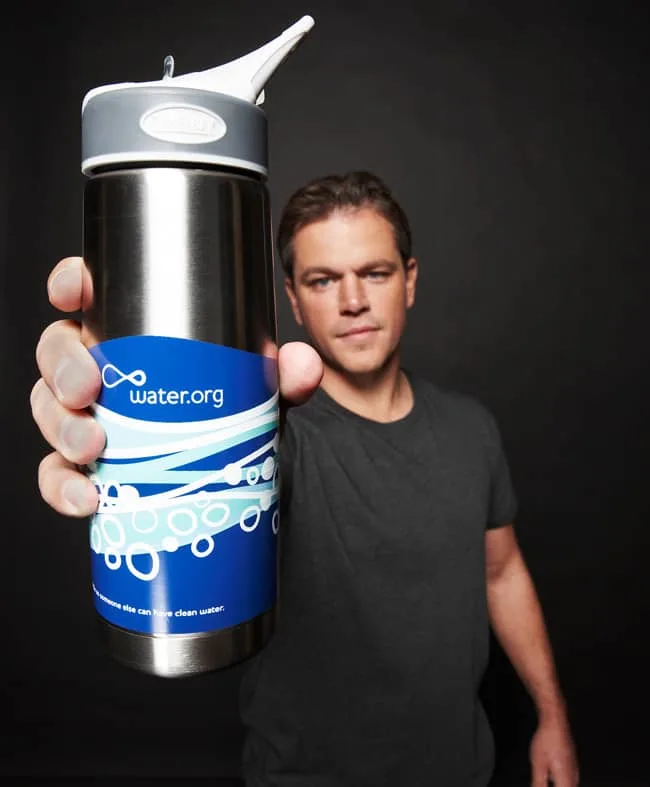 Our first pick is a water bottle that Matt Damon loves- the CamelBak Groove. What sets it apart is its built-in filter. What can it do? For starters, it can convert any tap water into the tastiest and healthiest H2O you'll ever sip on. Moreover, the filter is easy to replace and lasts three months.
The Goodwill Hunting star paired up his non-profit foundation Water.org with CamelBak to launch this unique reusable bottle.
If you can't find the limited edition 21 Oz bottle that Matt loves, go for CamelBak Eddy+ that Emily Blunt is a fan of.
#2 Jennifer Garner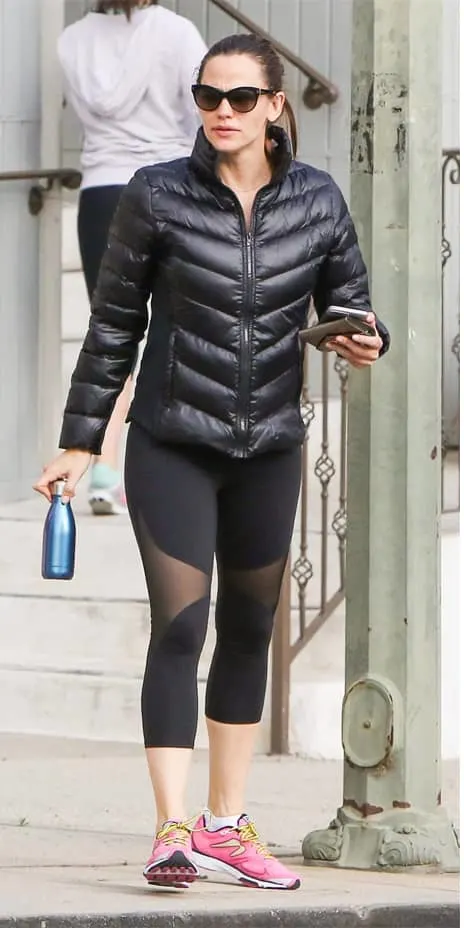 The Golden Globe Award-winning American actress chooses a mix of style and safety when it comes to her water bottle. Besides being aesthetically stunning, Jennifer Garner's vacuum insulated water bottle from S'Well is too perfect.
Why? It works like a dream with hot and cold beverages. S'Well beats the competition by a wide margin mostly because its bottles are shatterproof and BPA/BPS-free. Some of these bottles are so swell they're embedded with Swarovski crystals too.
And, what's Garner's favorite S'well? The blue suede bottle from the Shimmer Collection that's worth drooling over.
#3 Reese Witherspoon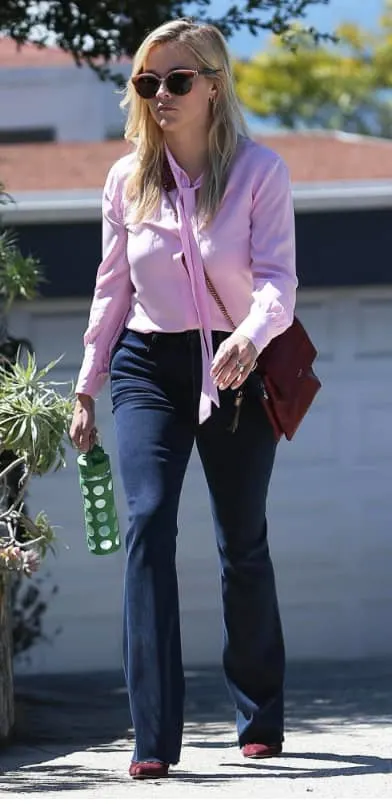 You know Reese is conscious about style, health, and the planet when you realize she uses gorgeous glass bottles. The truth is, it's safer to use glass bottles instead of plastic. By the by, a little sass never hurt anyone.
While Lifefactory debuted as the safest baby bottle, it's also leading the race in the adult category now. The brand has become even more popular since the Oscar-winning actress started flaunting off their silicone-covered bottles.
Plus, Reese Witherspoon's favorite water bottle comes with a silicone sleeve for extra durability. Win-win, right?
#4 Meghan Markle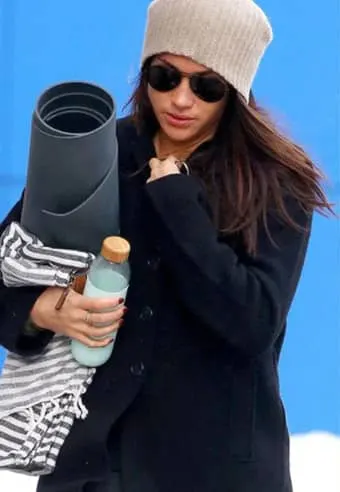 The Duchess of Sussex may not be a royal anymore, but she still has the regal taste in clothes to hydration habits. Meghan's mint glass H2O bottle from SOMA by Evian and Virgil Abloh is actually made of borosilicate glass. So, you can microwave it when the water is too chilly in a matter of seconds, minus the hassles.
Moreover, other headliners like Mandy Moore, Olivia Wilde, and Jennifer Garner are also buffs of SOMA water bottles. Whether you're style-conscious or health-conscious like these celebs, Evian's $30 bottle will keep your H2O snappy and crisp.
#5 Jessica Alba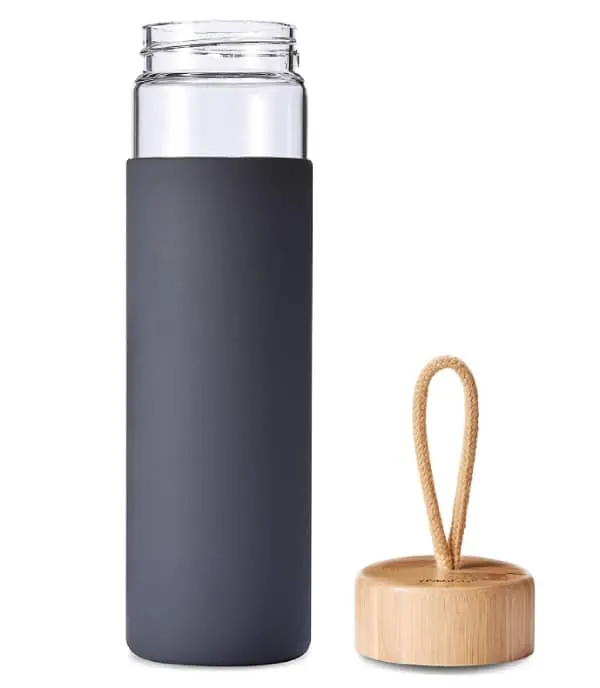 The Hollywood A-lister Jessica Alba loves her Yomious Borosilicate reusable glass water bottle mainly because she's not a fan of single-use plastics. What's more, the striking bamboo cap on the bottle is a great way to express solidarity for the planet too.
While her reusable water bottle isn't ultra-expensive, it's better than most when it comes to safety. Jessica's favorite bottle is free from lead, PVC, cadmium, and BPA. You can get it anywhere in the U.S.
#6 Emily Ratajkowski
A women's health activist and a seasoned actress, Emily's new go-to accessory is a snazzy peach water bottle worth its weight in gold. The bottle from Bobble may seem simple, but it's anything but sophisticated.
Bobble stainless steel bottles can keep your water cold for a grand total of 24 hours and hot for 12 hours. Not only that, Bobble's insulated collection fits into almost every holder and is completely leak-proof.
Although most Bobbles are small, they have numerous color options to pick from. On top of it, Bobble also features bottles with in-built filters nowadays.
#7 Gwyneth Paltrow
Most big stars are either hooked to glass or borosilicate glass, but Gwyneth Paltrow is miles ahead of everyone. The Academy Award-winning actress loves to drink water from her reusable crystal water bottle. It's a Goop product!
Moreover, it's not a recent fad for the actress cum entrepreneur. To tell you the truth, her wellness website Goop has been selling these since 2018 for $82. Besides, other Hollywood stars like Miranda Kerr are also head over heels in love with crystal H2O bottles.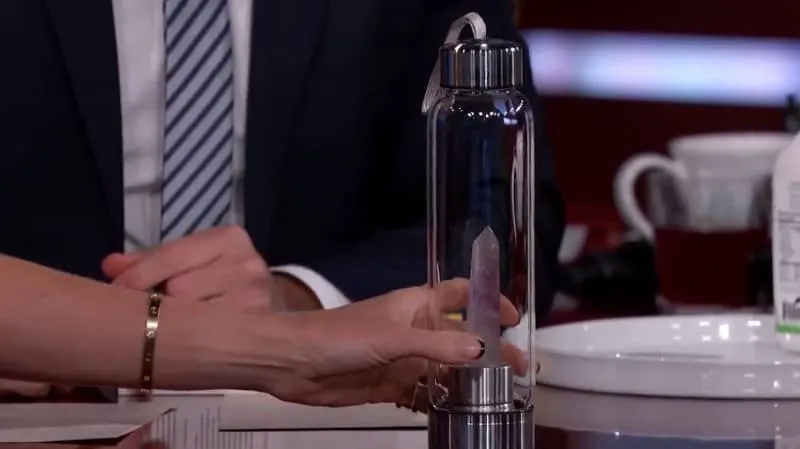 Despite the craze, crystals healing isn't proven by science. But oh boy, they're the fanciest bottle on the block!
#8 Heart Evangelista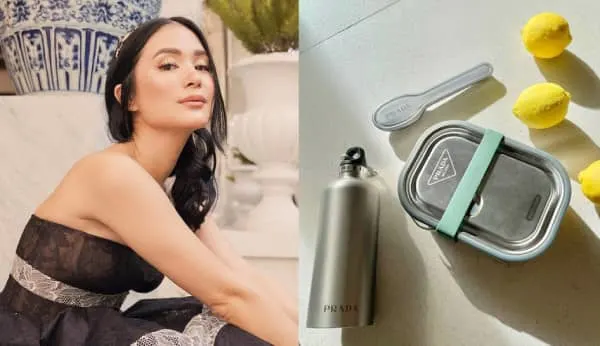 We all know Heart's got a refined taste in fashion to food. And Heart Evangelista has proven yet again her water bottles are also way out of our league. Why? She uses nothing but Prada bottles!
Heart's Prada water bottle is part of the Black + Blum luxury collection of sustainable products. With its high-toned metallic finish and minimalist design, Prada is already dominating the hydration market.
If silver isn't your color, this $105 Prada sustainable bottle also comes in four more shades.
#9 Kendall Jenner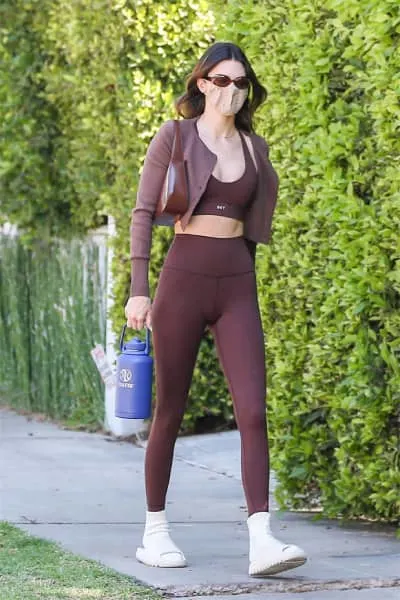 The highest-paid supermodel is known for her style for elevated basics, and her water bottle is no less fancy. Just look at the hinge-lock if you don't believe Jenner knows her accessories well.
With its leak-proof spout and sure-grip texture, it's an accessory you can dress up or down with. And just like Takeya's competitors, their bottles also come with a silicone bumper for extra durability and style quotient.
Moreover, Kendall Jenner's Takeya Actives Spout Water Bottle in Navy Blue features the same hot-and-cold features as Bobble. What's more, Takeya's insulated hydration flatters people with Jenner's trendy style from every angle.
#10 Kim & Khloe Kardashian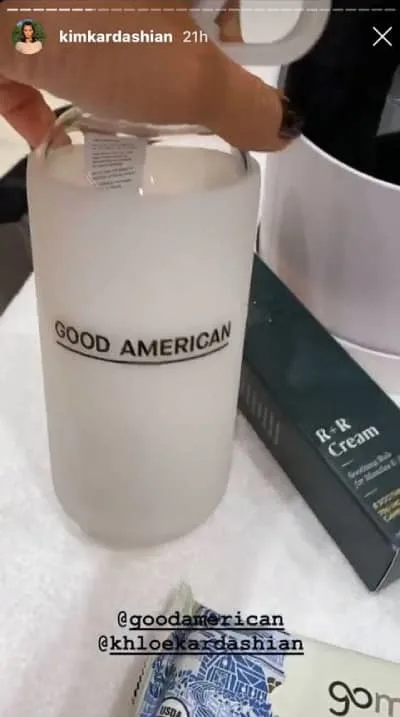 Since the backlash on Khloe Kardashian drinking from a single-use plastic bottle after dissing her sister, celebrities are getting serious about their water bottle choices. That's why Kim Kardashian tossed out her plastic bottled H2O brands from her house.
What's Kim's new favorite bottle? Khloe Kardashian's gift- a 16 Oz Borosilicate glass bottle. Apart from its sustainable packaging, I give full marks for its minimalist appeal!
The exclusive product from Khloe's company comes with a white sleeve silicon. Moreover, it's made just like most borosilicate bottles that retail for $40 on Amazon.
3 High-End Water Brands That Celebrities Love
Indeed, water wasn't in the mainstream a few decades ago. But with the pandemic and health in focus, hydration has taken a whole new meaning at present.
Do you call yourself a 'hydro homie'? Then, let's begin with the best H2O brands that A-listers fawn over.
1. Fiji Water
From Barack Obama to Nicole Kidman, Mandy Moore, and Justin Timberlake, many celebrities have been chugging Fiji Water. Why? Thanks to its extraordinary mineral panel, there's a crisp and soft taste to it.
Nowadays, Fiji Water is synonymous with 'Earth's finest water.' The water brand is so-called owing to its singular origin, bottling, and shipping location.
And, where's that? The artesian aquifer from the untouched Fiji Islands.
Plus, Fiji Water naturally filters out contaminants. Because of its volcanic rocks, tropical rainforest, and isolated geography may be the cleanest H2O too!
2. Svalbarði Polar Iceberg Water
Celebrities who want the 'most exclusive water on the planet' always go for Svalbarði water. And the ornate shape of the bottle may be just one reason why.
Firstly, it might've to do a lot with its light-and-soft taste.
Although, the celebrity status of Svalbarði may have also added to it. Svalbarði graced prominent shows like Down to Earth with Zac Effron, Ellen DeGeneres, and Jimmy Kimmel Live!
Nevertheless, the pros of the Polar H2O brand owe it its origin- the Svalbard archipelago. If you're looking, it's easy to find between the North Pole and Norway.
In layman terms, the polar water is entirely untouched by man or ground. Not only that, Svalbarði comes from the purest icebergs of Kongsfjord.
What's more, the water comes from fallen snow. The best thing is, it's been 100% away from civilization for thousands of years.
3. Evian
Whether you're talking beauty, apparel, or just water, everything from France is premium. Loved by headliners from Hollywood to politics, Serena Williams, Gigi Hadid, and Lizzo are among its fans.
Evian is the earliest health-conscious water brand that became famous in the U.S half a century ago. The spring H2O has a snappy taste due to its 15-year long natural filtration in the French Alps.
Apart from all that, it's one of the earliest government-regulated mineral water brands, including official authorization as early as 1878!
3 Celebrity-approved gigantic water bottles to hydrate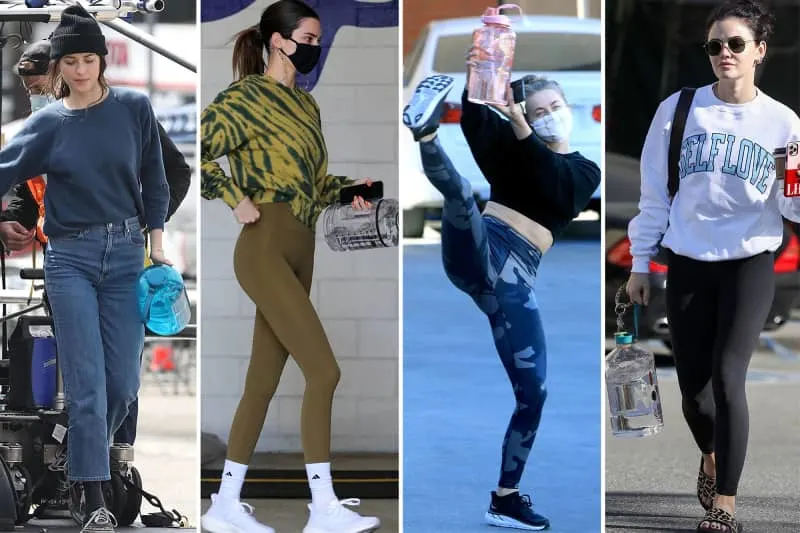 Bulky water bottles may have looked tacky a few decades ago, but it's not anymore. To commit to hydration in style, check out our star-endorsed choice right away!
1. HydroMATE 1-Gallon
I've seen movie stars, bloggers, and legends chugging water out of this one-gallon bottle. Kaley Cuoco to Dakota Johnson, Kendall Jenner, and Lucy Hale are all raving about their love too.
HydroMATE bottles are smell-free, stylish, and available in plastic and glass options. Personally, it's hard not to get smitten by it because the design is so motivational.
And there's nothing not to love anyway. Hydromate's cheery time markers to frisky color options are perfect for hydro homies of all sizes and shapes. Personally, I think it's the best friend you need to stay hydrated!
2. bkr 33 Oz
While they aren't available in gallon-sizes like HydroMATE, bkr is eponymous with oversized bottles. Moreover, they're available in a variety of colors too.
Plus, if you don't like the standard design, there's still more to love. You can go for the spiky design that sets them apart from rivals a mile away!
You must've already seen celebrities like Jessica Alba, Dakota Fanning, Reese Witherspoon, Kate Walsh, and Jennifer Garner sporting this H2O bottle.
But what really makes bkr bottles unique is what they're made from- glass and silicone. Not only is this good for the planet, but also perfect for a wide variety of styles!
3. Hydro Flask 64 Oz
If you adore Jonah Hill's street-style fashion, then it's hard to miss the Hydro Flask bottles tucked under his arms or hanging by his fingers. Lucy Hale and Julianne Hough are other big names smitten by Hydro Flask bottles.
Hydro Flask bottles are available in half gallons and liter sizes. Plus, they're available in several pastel colors. It's a crowd-pleaser mainly due to its vacuum insulation and design options. Combined with the stainless-steel design, it keeps your water tasting like water.
The company manufactures both wide and standard mouth options. So, you can even pick based on your gulp size.
Get your premium bottled waters and water bottles today!
These days, it seems like everyone who's anyone is promoting hydration – and why wouldn't they? Water is the elixir of life, after all. This trend is making something as commonplace as water exciting again and, as a delightful bonus, transforming the humble water bottle into a must-have accessory.
As we've previously shown, not all H2O vessels are created equal. If it's a splash of luxury you're after, then you might like to follow in the footsteps of Heart Evangelista with her Prada water bottle. It's all about adding that touch of class to your daily hydration routine.
However, if safety is your top priority – and let's face it, it should be – then you might want to take a leaf out of Reese Witherspoon's and Jessica Alba's books. They favor the Lifefactory and Yomious Borosilicate bottles respectively, renowned for their safe, reliable design.
Are you on the lookout for a bottle with a built-in filter? You can't go wrong with the CamelBak Groove, it's highly recommended.
But let's say you're a fan of certain branded waters – you know, the ones that you'd see at red carpet events or in the hands of celebrities in between takes. The biggest names here would be Fiji Water, Evian, and Svalbarði. Each has its own unique allure, so it's just a matter of preference.
Now, if you're tired of carrying around those petite 10 Oz bottles, or if you're feeling the pinch from constantly buying high-end branded waters, there's good news. The game-changer for you could be larger capacity bottles like those offered by HydroMATE and Hydro Flask. These aren't just practical, they're stylish too, encouraging you to stay hydrated in a chic and modern way.
The trend of drinking water – and doing it with panache – isn't going anywhere. With so many celebrity-approved bottles to choose from, it's time to ask: which one would you pick?
If you're still on the fence about which water bottle to choose, let me share with you an article I've written that lays out six compelling reasons to consider a wide-mouth insulated water bottle. I've done the deep dive into this top contender so you don't have to.
In the article, I give you all the details that might just convince you that this particular bottle is the hydration partner you've been searching for.
So, ready to find out if this could be the one for you? Dive right in and enjoy the journey with me!
As the founder of Container FAQs, my goal is to provide readers with in-depth information on the containers used in daily life and related subjects. Don't hesitate to reach out to me if you have any suggestions for articles you would like to see on my blog.