In this episode 1 of season 2, Clea and Joanna and the entire team of The Home Edit travel to the Atlanta suburb of Loganville. It's their first project in the area.
Their mission: to completely reorganize the Hamilton family's pantry: Al, Kelly, and their two sons, Al Junior and Zane.
While it's a huge pantry, it's not at all functional. Yikes, once you've watched episode 1 of season 2 on Netflix, you might even say it's a dump inside!
Most food products are mixed on three levels of shelves, and it's simply impossible to identify them in quick, simple fashion.
The good news? The Home Edit team is here to help the Hamilton family get their house in order with a total overhaul!
Problems The Home Edit Team Identified
The professional team's observation is clear:
The shelves are not at all functional
Most of the stored food products are mixed together haphazardly: it's hard to see clearly in the middle of all this mess!
Food products such as sugar, flour, cereals are placed on the shelves with no regard for safety.
Other products (food and non-food alike) are even lying on the floor instead of on proper shelves.
The Hamilton Family's Main Wishes For Their Pantry Reorganization
Kelly wants to see all the food on multiple levels.
Important detail → she prefers clear containers.
As for Al, he wants to give more visibility to his "Healthy Snacks" and "Trail Mix." He also wants his kids to be able to find them more easily.
The couple wants to emphasize healthier options in their pantry as the number-one priority for the entire family is to eat healthier.
Suggested Solutions
Here are Clea and Joanna's solutions for reorganizing the Hamilton family's pantry.
Make the pantry functional: for parents and children alike
Optimize the space by height: presently, a lot of space is lost
Better classify and identify the different food products that the Hamilton family uses on a daily basis
Create a special "healthy foods" zone
Making the room more attractive: a detail that also matters!
The Description of the Different Steps For the Reorganization of the Pantry
Clea & Joanna and their team had to reorganize everything in several distinct steps:
First, they categorized the different products in Al & Kelly's pantry. This was no easy task considering the number of different boxes and brands! Even the chips were separated according to their fat content, salt, etc.
They eliminated most of the packaging that was taking up too much space.
They transferred the packaged and unpackaged products into pretty and practical containers.
They called on Bobby (a handyman) and his team to remove the old shelves and place new storage units. Which option did they choose? Bobby attached new shelves to rails that could be adjusted to the height of the containers.
The Home Edit team also has a wonderful solution to help them work quickly and efficiently on site: a truck that acts as a store on wheels and contains all the bins and containers needed to help them reorganize everything.
The End Result of the Hamilton Family Pantry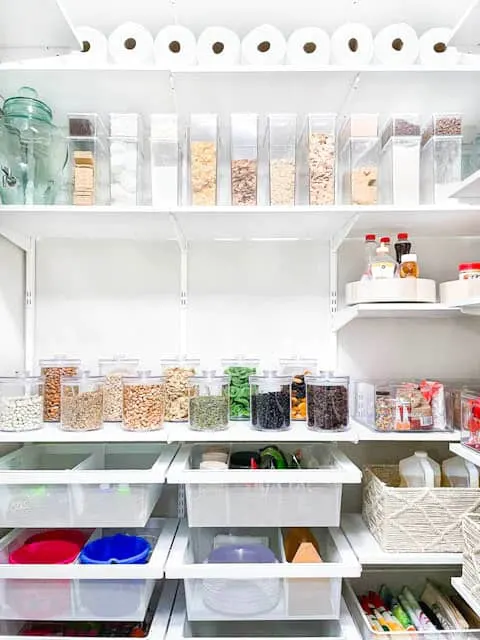 Here's a quick review of what I found most clever with The Home Edit team's pantry redesign:
The overall space is now far more functional: with five levels of shelves, they can now accommodate numerous bins and containers to store all kinds of food and non-food products more easily.
Three sections of wall are used (instead of two before). On one of them, a blackboard, is attached and allows the family to update a list of future errands.
The Home Edit team has gone to great lengths to make the healthiest food products visible and appealing. How? In a very clever way:
→ "Unhealthy" snacks are stored on the lowest level in baskets, so that they're hardly visible.
→ Healthier foods are placed at eye level in open wooden boxes and clear plastic containers for direct identification.
Ingenious, right?

A "trail-mix bar" is now present to the delight of Al.
Drinks are placed in plastic bins on the floor.
Behind the pantry door, wooden crates are customized with transparent panels that indicate what is inside: light bulbs, pharmacy, cleaning products.
What Containers Do The Home Edit Use in Episode 1 of Season 2: the Hamilton Family's Case (Pantry)
If you're thinking about the same configuration as the Hamilton family's pantry, here's the full list of material. Note that most containers are available at The Container Store.
For Fruits and Vegetables
Very nice and practical wooden boxes. The natural effect is guaranteed, and personally, I love it!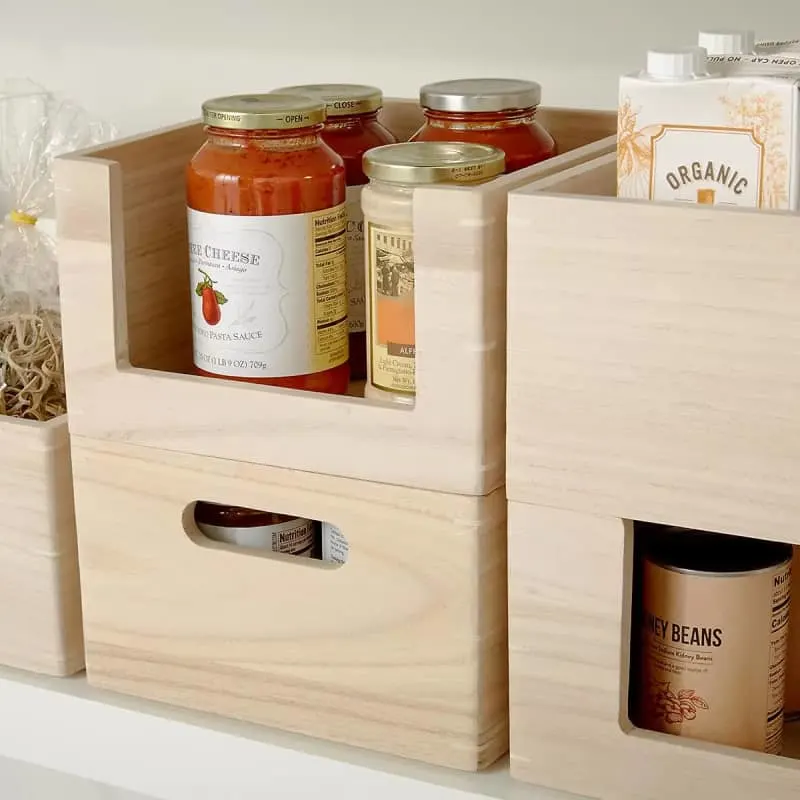 👉 Large Wooden Open Front Bin – The Container Store
Color: Sand.
And, Modular All-Purpose Bin Clear.
For Storing Pasta, Rice, Other Starchy Foods, and All Many Other Foods
Several pantry organizers: they are available in several sizes, and some are even stackable. Choose from the many models available depending on the type of products you want to put inside.
👉 Small/Medium/Large Canisters – The Container Store
The Containers That Make Up the Trail-Mix Bar
These are containers distributed by Huang Acrylic. You can buy them from this store: 👉 The Peppermill.
Nothing prevents you from replacing them by any other container of the same type—even in glass!
Wooden Turntables
They are very practical to make more containers quickly available (oil, vinegar, mustard, etc.). With or without separation.
👉 Wooden Divided Turntable Onyx – The Container Store
Hanging Storage Bins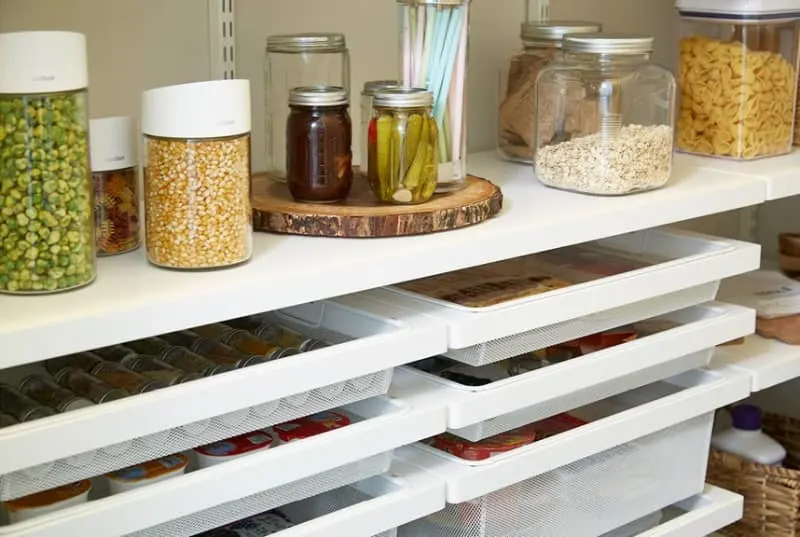 Very practical to store and organize all kinds of food and other products!
👉 Available at The Container Store (through Elfa solutions)
Storage of Cleaning and Maintenance Products
All of these products are neatly stored using the beautiful and different wooden crates that you'll find here.
As for the mop and broom holders, they're available here:
👉 Sweeping and mopping kit from Swiffer – Amazon.com
👉 Command Broom and Mop Gripper – Amazon.com
👉 Casabella Grook Medium Utility Holder – The Container Store
In closing, I hope this article has helped you find your way around the many containers used in episode 1 of The Home Edit season 2.
And if you use other types of containers that are just as pretty and practical, don't hesitate to share them in the comments!
Sources
As the founder of Container FAQs, my goal is to provide readers with in-depth information on the containers used in daily life and related subjects. Don't hesitate to reach out to me if you have any suggestions for articles you would like to see on my blog.