The 7 Best Glass Jar Brands for Your Home and Kitchen in 2023
When it comes to choosing and buying glass jars, it's sometimes difficult to decide with all the many types available on the Internet.
It can also be difficult to identify the most practical type that also offers the highest quality.
It's true: many models look similar, but one thing's certain: not all glass jars are the same!
With this in mind, I've compiled a list of the best brands and models available today.
Whatever food products you want to store or preserve—be they starch, pasta, flour, cereals, sauces, jams, jellies, or vegetables—you're sure to find the jar that best suits your needs in the list below.
The Best Glass Jars For Food Preservation
This list is regularly updated.
#1 Le Parfait – $8 to $50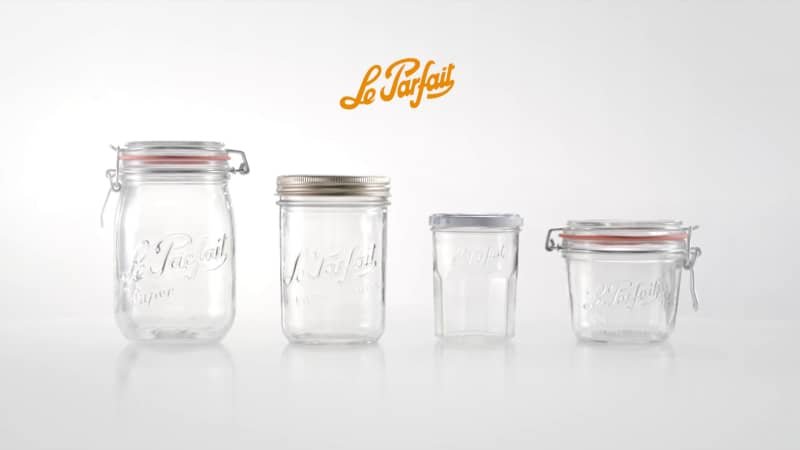 This is one of the most famous brands in terms of quality: with their orange seal rings, pretty Le Parfait jars are instantly recognizable.
Totally hermetic, they're made in France and have been used around the world for generations.
They offer two flagship models, both in very thick glass.
Le Parfait Super
The "Super" is the most famous of their jars. It touts a metal frame and orange seal ring. "Perfect" for all your preserves.
Available Sizes For Le Parfait Super
250ML (8OZ)
500ML (16OZ)
750ML (24OZ)
1L (32OZ)
1.5L (48OZ)
2L (64OZ)
3L (96OZ)
Note: the lid is not removable from the jar. This model is thus not optimal for dishwasher cleaning.
Le Parfait Screw
The "screw top" model with its orange plastic lid is very practical for storing your food or recipes that do not require heat treatment. Ideal for dry products.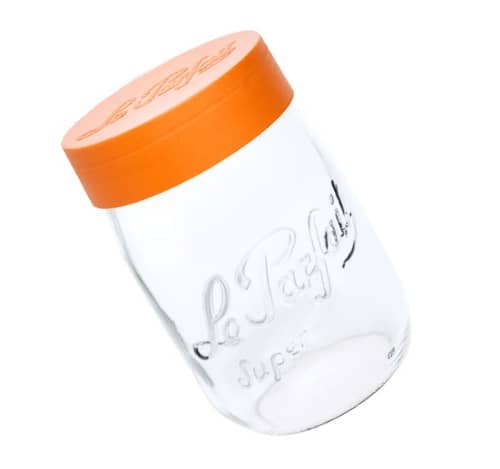 Available Sizes For Le Parfait Screw (Metal or Plastic Lid)
1000ML (32OZ)
2000ML (64OZ)
3000ML (96OZ)
It's also possible to adapt the Le Parfait Familia Wiss lid for preservation with heat treatment.
Where can I buy them ?
👉 On the official store of the brand: www.leparfait.us. I also advise you to check out their other website, www.leparfait.com, which is full of interesting information of every kind: recipes, tips for preserving your preserves—and even a fermentation guide!
👉 In the Amazon boutique.
#2 Kilner – $9 to $80
The Kilner brand is one of the brands I love that offers quality jars.
Most of their jars have an antique style, and that's still a hit! You can even find a series of DIY (do-it-yourself) jars that allow you to make:
sauces
ground coffee
butter
fermentation
mayonnaise
grater (for cheese, fruits, vegetables)
plant-based drinks
a juice fountain
You may also fall in love with their glass baby jars in which you can store your homemade purees.
Here are some pictures by Kilner® to help you decide.
Sauce press jar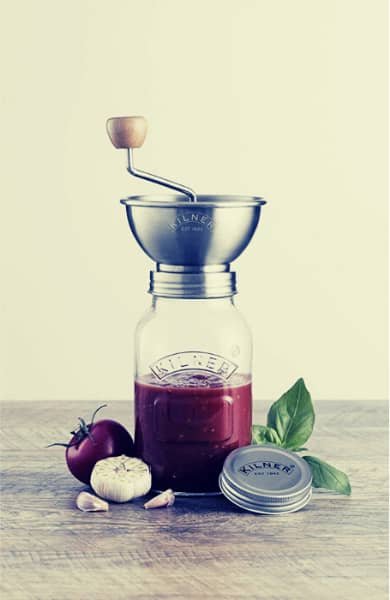 Coffee Grinder
Butter Churner
Fermenting Set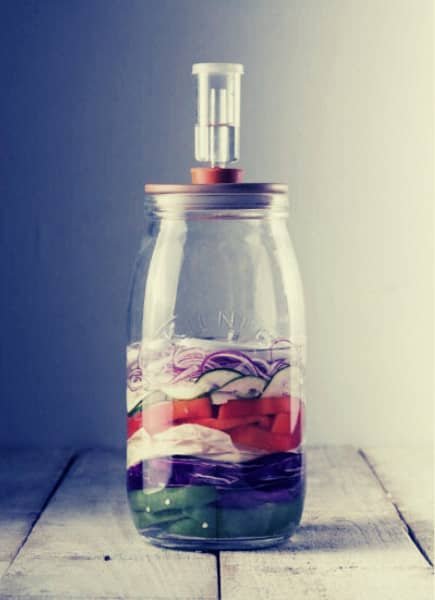 Mayo Maker
Spiralizer, Juicer and Grater Set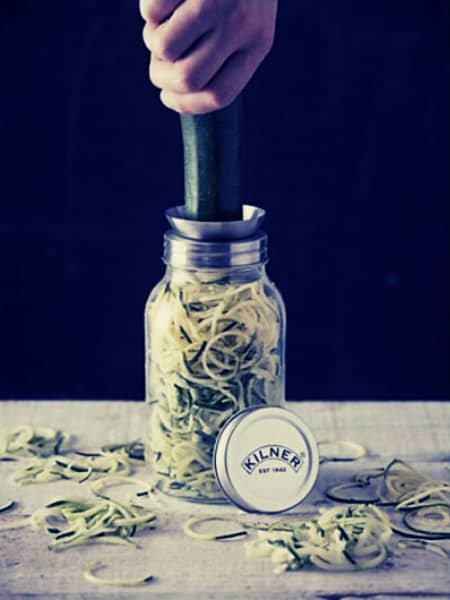 Nut Drink Making Set
Finally, to finish with Kilner glass jars, here's a very nice drink dispenser jar (2 gallon):
Note: these vintage jars are dishwasher safe for easy cleanup after use.
It seems that after long research that the place of manufacture is in China (even if the brand itself did not confirm it with me).
As proof, here is the message I received when I asked them:
Where can I buy them ?
👉 On the official store of the brand: Kilnerjar.com
👉 On the Kilner Store (Amazon.com)
#3 Weck – $5 to $50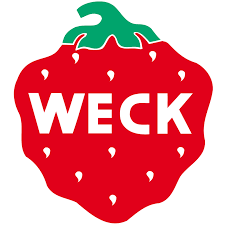 If, like me, you want to sterilize and then preserve your culinary preparations, you won't be disappointed with Weck glass jars.
With their natural rubber seal, these are very good quality jars. They are very practical to close thanks to their simple lid with clip (available with plastic lid also).
Weck jars come in many shapes and sizes, and you can discover these below. You should know that this same brand also offers jars without lid or seal.
Forms and Models of Weck Glass Jars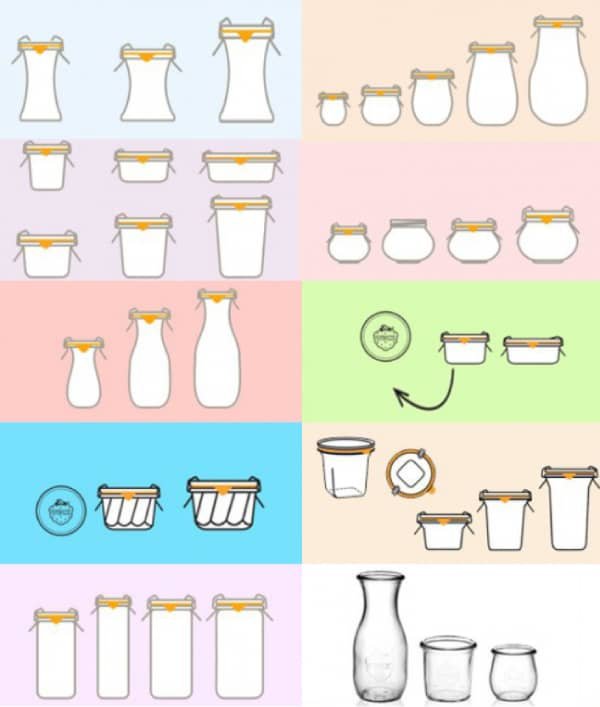 Where can I buy them ?
👉 On the official store of the brand: Weckjars.com
👉 On the WECK Store (Amazon.com)
#4 Ball Mason – $3 to $25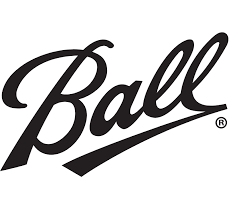 Who in the U.S. has never heard of this brand?
Personally, they are among my favorite jars along with the other Kilner jars I mentioned above—not only because they have a vintage feel to them, but also because they're so simple to use.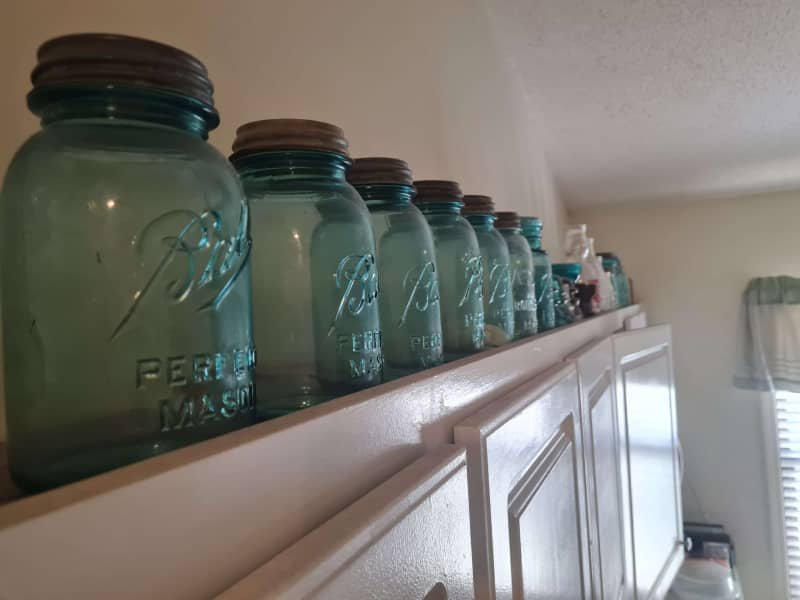 Some Ball Mason Jars are even stackable – a great way to save space in your kitchen cupboards.
You should also know that homemade preparations and traditional preserving is once again gaining popularity in the United States. This is why most American consumers prefer Ball Mason Jars over other brand-name jars.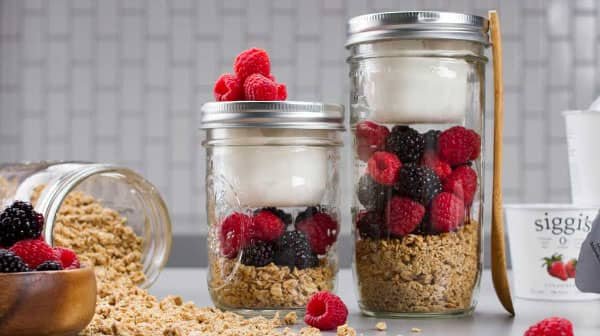 News you can use: Short on ideas? Head to the brand's website. It offers more than 200 homemade recipes ("Ball Recipes" section)!
Each Mason Jars is perfect for homemade preparations such as jams, sauces, and preserves.
The Ball Mason Jars brand also has a big advantage when it comes to price: they're affordable for all.
To top it off, they're made in the USA (jars and lids).
Where can I buy them ?
👉 On Walmart.com and Target.com
👉 On the Ball Store (Amazon.com)
#5 Brabantia – $7 to $35

If the design of your glass jars is important to you, Brabantia is the brand for you.
Its jars have a refined design while remaining very practical: stackable and adjustable according to size.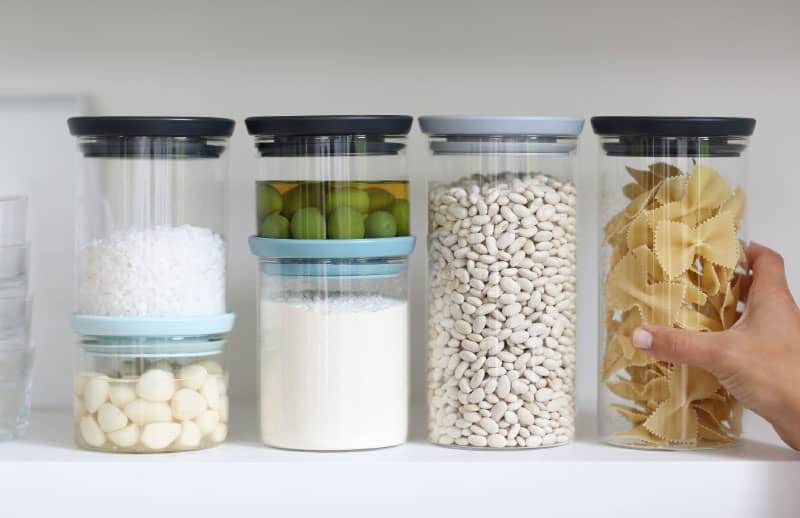 There are even jars with a built-in measuring cup!
Note: since these jars are perfectly microwave safe, they're very easy to clean and offer superior glass quality. However, this glass is thinner and therefore by definition more fragile.
Important detail: Some lids come with a tiny hole to evacuate the air when closing. The jar and lid assembly are therefore not 100% airtight if turned 180°.
Other important details:
Brabantia glass jars are limited to storing your various dry and fresh food products, but don't expect to create preserves with them.
Brabantia glass jars have silicone lids: ideal if you are allergic to rubber.
Where can I buy them ?
👉 On the official store of the brand: Brabantia.com
👉 On the Brabantia Store (Amazon.com)
#6 Bodum – $4 to $45
Other jars with a simple design: Bodum glass jars.
This brand is primarily known for its many coffee making containers, but it also offers very practical glass jars.
They are original because they have a silicone band to protect the glass contour from shocks.
Strangely enough, we'd worked with a designer on identical models (see below) and long before these jars appeared on the market…
Prototypes of Our Glass Jars
A design more than similar to the Bodum jars with a label holder… Our project was called "Bôvrac." But it never saw the light of day—too bad!
Bodum also offers more classic jars such as spaghetti jars with a metal lid.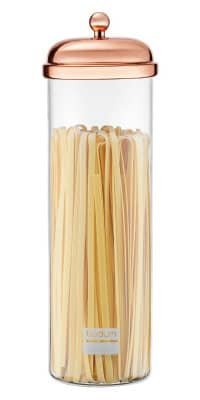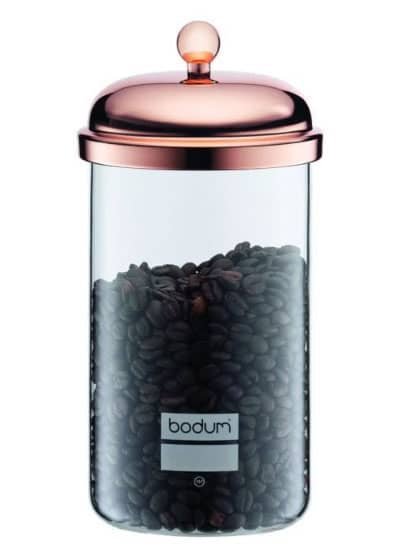 Where can I buy them ?
👉 On the official store of the brand: Bodum.com
👉 On the Bodum Store (Amazon.com)
#7 Sambonet – Around $40
I found it interesting to add this brand to my selection because one of their jars is very interesting.
In fact, Sambonet offers a glass jar "special long pasta"—ideal for measuring spaghetti, linguine, and all other types of long pasta.
Very practical in use, this jar is equipped with a side measuring bar to measure the amount of pasta to be cooked. The bar is on one side for easy measuring.
The brand also offers glass jars that incorporate a small measuring cup attached to the lid or that you can put inside each container.
Sambonet jars are made of high-quality borosilicate glass and have hermetic lids with silicone seal.
Where can I buy it?
👉 On Amazon.com (France) – Unavailable in other countries.
Conclusion
Before buying anything, you should know that most of the glass jars you will find on the Internet come from China. The same is true for the water bottles that we also use on a daily basis.
So don't be surprised to see on some glass jars the words "made in PRC" (People's Republic of China) or "Made in China."
But be careful! Even if some jars made in China are of very good quality, for others, it is the opposite!
Therefore, prefer the known brands (even with an Asian manufacture) because they submit to the Chinese manufacturing factories a very strict specification in terms of quality rendering.
On my side and most of the time, I often try to pay attention to the origin of the containers I buy. I usually opt for jars made in the USA or in Europe even if I sometimes make some exceptions like with the brand Brabantia and Kilner, for example.
However, I must admit that it is sometimes very difficult to decipher the information on the origin of the jar and its quality from the labeling.
That's why I regularly write directly to the website of different brands to get the precise information I want: in this case, the country of manufacture.
Also, in addition to the selection I have just presented, don't hesitate to consult the various consumer reviews to get a more general idea of the glass jars to use according to the different types of use—be they for storage, preservation, or fermentation.
Finally, I invite you to read the other article (unless you already have) if you want to learn more about the glass jars you use at home. You'll discover that glass jars don't just have advantages: they also have three major drawbacks!
Finally, let me know what you think about the glass jars you use on a daily basis. In particular, why you use certain brands rather than others.
And now it's up to you to make the choice that best suits your budget!