After browsing through various sites to look for a case, you've likely stumbled upon the Pelican brand. This company has built its name by providing customers with high-grade cases that can stand several durability tests and certifications.
Subsequently, if you value protection and durability, then you can purchase a Pelican case with your eyes closed.
The case is waterproof, dustproof, crushproof, and more. My Pelican case has had its fair share of kicks and tumbles, yet it still stands strong.
That said, stick around to discover the top 12 benefits of investing in Pelican cases.
12 Great Benefits of Pelican Cases That You Should Consider Before Purchasing
Pelican cases offer multiple benefits that can fit your use. For instance, you may be purchasing a case as vehicle cargo.
In this case, you'll want to look at the durability and crushproof benefits that make this case stand out from its competitors.
On the other hand, if you're purchasing a bag to keep your accessories in, then a dustproof and anti-theft feature might come in handy.
Without further ado, check out the benefits of owning a Pelican case below.
#1 Moderate Weight
One of the first aspects worth considering when purchasing a Pelican case is its moderate weight feature. The reputable company offers multiple weight ranges for their cases, depending on model and use.
For instance, its 1535 Air-Carry On model, when empty, weighs in at about 8.69 lbs. Meanwhile, the Air Travel Case weighs approximately 10.35 lbs.
That being said, these weights are considered moderate or average compared to other luggage suitcases. Luckily, the Pelican cases mentioned come with a handle and quiet-rolling stainless steel bearing wheels.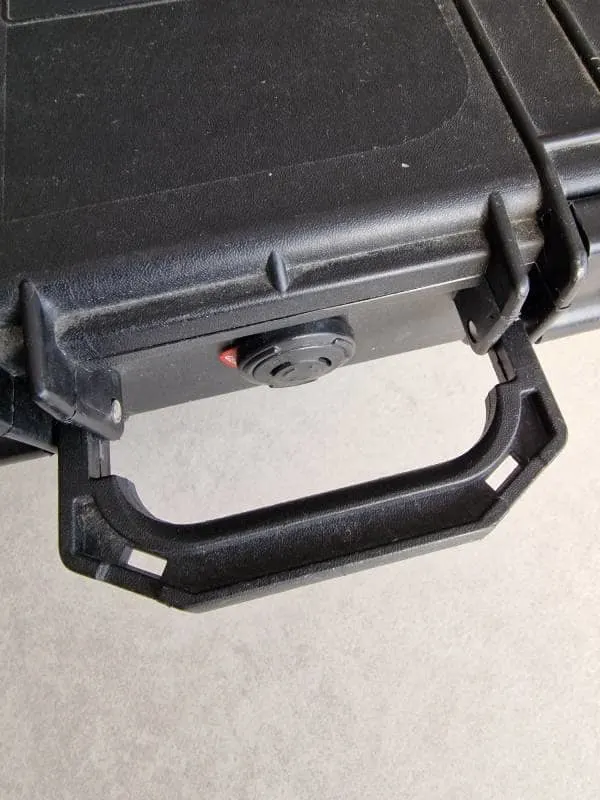 #2 Dustproof
Whether you're carrying your Pelican case through the wilderness on a hunt or the dust-infested floors of an airport, it'll still maintain its shine.
All Pelican cases are manufactured with a dustproof surface to ward off any dirt or debris coming your way. Pelican avoided taking any shortcuts when it came to guaranteeing this feature.
According to the brand's website, the Pelican cases go through a quality control test, namely, the dust IP6X test. Generally, this means that dust can't penetrate this product.
#3 Waterproof
You may use your Pelican case to carry electronic gadgets such as cameras, speakers, or mics. Consequently, no water must penetrate through the case.
Fortunately, Pelican's waterproof feature can protect your precious valuables from any water contact. The case comes with an O-ring seal that keeps liquids out.
Plus, some models like the Air Carry On case come IPX7 test certified. This test involves submerging the Pelican case about three feet below the water's surface.
Once resurfaced after about half an hour, the cases open to reveal no damage in the interior or wetness.
#4 Airtight
An airtight case may seem appealing since it'll efficiently preserve your belongings. Nevertheless, Pelican cases and other manufacturers don't make purely airtight bags and cases.
If that were the case, it would've been especially challenging to pry open a bag when it has gone through flight travel. With that in mind, Pelican cases are as airtight as they come without sacrificing practicality.
Besides that, being airtight comes with an impressive advantage, buoyancy. Let's assume you're on a fishing trip and are carrying some accessories in your Pelican Micro-Case.
If the case accidentally falls overboard, you won't have to worry about it sinking since it's watertight and buoyant.
#5 Crushproof
After going through flights, road trips, and other wild excursions, cases tend to deform under pressure. According to Business Insider, "US airlines have "mishandled" over 1.4 million bags since the beginning of this year."
Pelican cases, on the other hand, can handle that pressure thanks to their durable construction. The cases are composed of copolymer polypropylene and solid-wall and open-cell core construction.
This type of plastic is highly crack resistant compared to other components. Plus, the material is soft and pliable, giving the Pelican cases their moderate weight feature.
#6 Pressure Equalization Valve
As mentioned earlier, Pelican cases are airtight. Nonetheless, to avoid the difficulty of opening an airtight case, the company integrated a pressure equalization valve.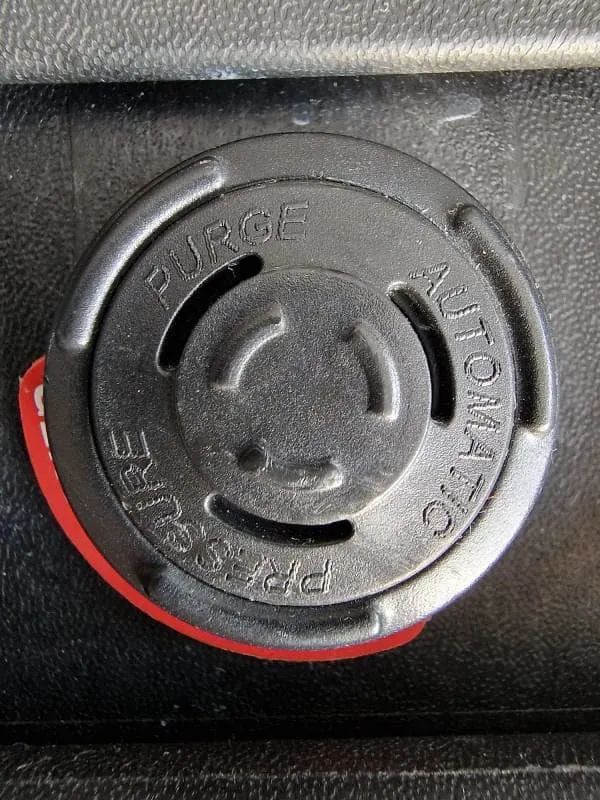 This valve is responsible for balancing out the pressure within the case according to its surrounding atmospheric pressure. With that in mind, you may be wondering, "If air can still get in, then wouldn't water be able to also penetrate through the case?"
To that, I answer no. Pelican cases remain watertight because the housing hole that allows air to enter the case is hydrophobic. The hole is lined with a thin Gore-Tex membrane that makes it water-resistant.
#7 Anti-Theft
With a high price tag, you'll want to ensure maximum safety for your Pelican case. Fortunately, the cases are equipped with stainless steel* padlock protectors, keeping your lock secured.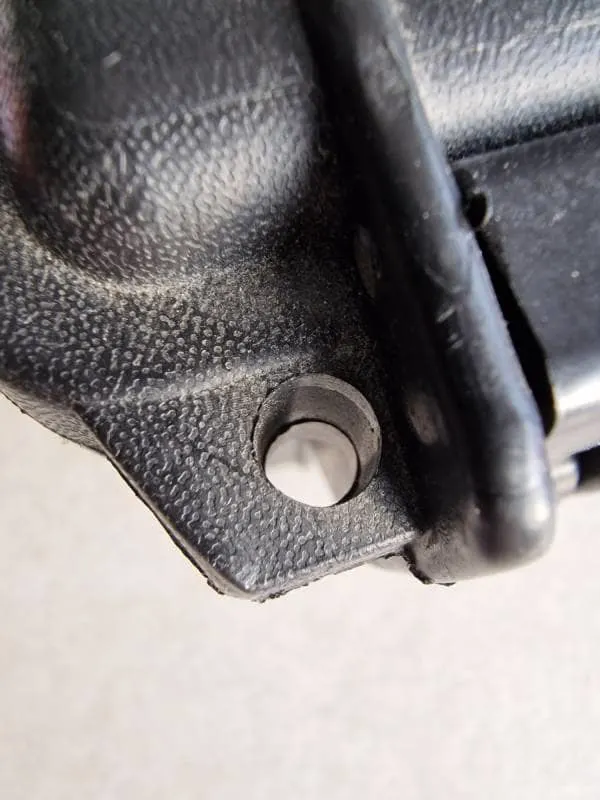 In addition, the cases also have a card holder where you can place a card with your name and phone number. Subsequently, when someone locates the case, they can contact you to return it.
* Not on every models.
#8 Customization and Versatility
Another benefit you can get from investing in a Pelican case is its customizable features. Now, when traveling, you may have a certain way of organizing your items.
Pelican recognized that and developed Trekpak dividers and Pick N Pluck foam interior inserts. You can cut off the dividers and customize how you want your case's compartments to be distributed.
Plus, you can cut off the foam pieces according to the objects you want to place in the case (including cameras, firearms, and medical equipment). That way, the fragile items will remain in place during their journey.
#9 Variety of Sizes
Pelican cases come in multiple sizes to meet your needs. They can come as small as your phone, to as large as a travel case.
The brand also offers a variety of case shapes. You can check out its Storm or Protector Long options fit for guns and ammo. Additionally, you can purchase deep cases to make room for more hunting gear. Here are some size varieities to explore:
Pelican Case Model
Size (L x W x D)
1150
Interior: 8.3 × 5.8 × 3.8″
Exterior: 9.4 × 7.8 × 4.3″
1440
Interior: 17.1 × 7.5 × 16.0″
Exterior: 19.7 × 12.0 × 18.0″
1520
Interior: 18.1 × 12.9 × 6.7″
Exterior: 19.8 × 15.8 × 7.4″
1630
Interior: 27.7 × 21.0 × 15.5″
Exterior: 31.3 × 24.2 × 17.5″
#10 Durability
You can kick, throw, or drop your Pelican case and it'll remain solid. The manufacturing process of these military-grade cases ensures maximum protection from all elements.
Whether it's heat, water, or dust exposure, the cases can withstand it. For this reason, you can trust this case with your prized belongings such as cameras and DJ gear.
I own an 1120 Protector case model that's stayed with me for 20 years. The model, like most others, features crushproof features and a heavy-duty construction that has stood the test of time.
#11 Warranty
Most Pelican cases provide you with a limited lifetime warranty. Nonetheless, some models, like the Vault ones, cover a three-year limited warranty.
A limited lifetime warranty means that Pelican can replace defective cases throughout its lifetime. Aside from that, if the product is misused or broken by the consumer, then it wouldn't result in a replacement.
In regard to Pelican's return policy, you can return a case after 15 days of purchase and get a refund. The policy primarily applies to Pelican's direct online site.
#12 Made in USA
Pelican products are all made in the U.S. This guarantees that the manufacturer adhered to the country's standards.
The standards encompass health and safety regulations and environmentally-conscious production practices.
Reviewing the Pelican Air Carry-On 1535
The Pelican Air Carry-On 1535 case is one of the company's many impressive creations. The shockproof Pelican case is ideal for those smooth and seamless walks across the airport.
Aside from ease of movement, the carry-on is fitted with customizable dividers and foam inserts to keep your items well-assorted and in place. I know I sometimes dread opening my case after a particularly turbulent flight.
That said, I'm excited to purchase this Pelican case. Despite its hefty price, the case proves its quality through features like weather resistance and being lightweight.
Check out the video below for a more in-depth review of the Pelican Air Carry-On 1535 case.
FAQs
Few questions about Pelican cases.
Does the military use Pelican Cases?
Yes, all military branches do use Pelican cases since the products offer trustworthy protection that can deliver critical items. From their waterproof and crushproof features to their pressure equalization valve, the military's items are in good hands.
Is the company Peli the same as Pelican?
Yes, Peli is the same as Pelican. The modified name is mainly branded for European consumers.
Is Pelican made in China?
No, Pelican products are solely manufactured on American soil.
Conclusion: Are Pelican Cases Worth the Investment?
When purchasing a Pelican case, you're signing up for durability, weather resistance, security, and airtight features.
In turn, Pelican cases are worth the investment. Think of it this way, these cases will stay with you for almost a lifetime, and you wouldn't need to replace them.
What do you think? Feel free to comment on whether you think Pelican cases are worth the price tag or not.
Sources
As the founder of Container FAQs, my goal is to provide readers with in-depth information on the containers used in daily life and related subjects. Don't hesitate to reach out to me if you have any suggestions for articles you would like to see on my blog.