Your kid has never missed a payment for every lost tooth. Now, you're unsure what to do with all the milk teeth you've collected from the Tooth Fairy. Don't fret, as I have a few ideas about how to turn them into lasting memories.
There are several creative ways to preserve lost baby teeth. These include a baby tooth flap book, memory box, repurposed ring box, and vintage chest. Parents can also have their children's baby teeth transformed into jewelry or kept in a stem cell facility.
Read on to learn how to store your precious one's pearly whites in more detail!
How Do You Store Baby Teeth?
BabyCenter's global editor-in-chief says: "Losing a tooth is a pivotal moment in a child's development and symbolic of crossing the threshold from baby to big kid." That's why it's hard not to get emotional when your little rascal suddenly flashes you a toothless grin.
More and more parents are keeping a stash of their children's baby teeth in favor of family traditions. In fact, a 2020 survey reveals that 59% of the participants think that it's best to preserve milk teeth.
Of these respondents, here's a breakdown of what they think are the best ways to preserve baby teeth:
31% will keep them in the house or with the family.
24% will save them for stem cell therapy.
4% will hide them.
Different Tooth Storage Boxes: Which One Should You Choose?
Whether you want something ready-made or an art project for the weekend, there's a perfect option for you below.
1. Baby Tooth Keepsake Box
You can buy a specialized box with labeled wells to hold each of your child's deciduous teeth. What's more, you can fill out tidbits about their birth and the dates they lose each tooth.
2. Baby Tooth Flap Book
A baby tooth flap book is another product you can buy online. It has a circular tooth organizer with a clear plastic cover. Aside from that, it lets you keep a few toothless photos and a journal of your kid's dental journey.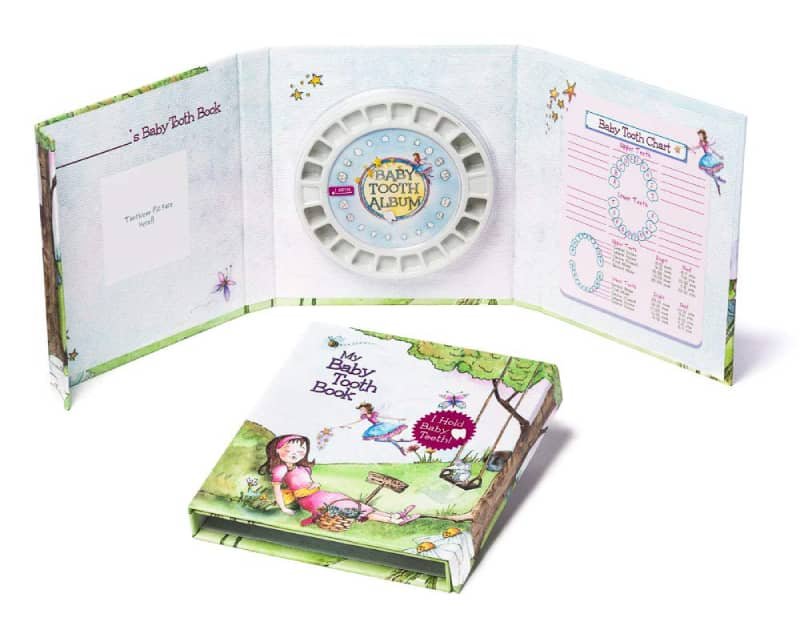 3. Old Ring Box
Your old engagement ring box is the perfect receptacle for your child's baby teeth. It has cushioned slots where you can line up the teeth and keep them secure. You can also add a personal touch to the box using scrapbooking materials.
4. Vintage Chest
Flea markets are a treasure trove for vintage chests, which you can use to store baby teeth. You can then hand-write special notes and dates on decorative cards. Finally, place them inside together with the teeth.
How to Prepare Baby Teeth for Storage
Follow these steps for disinfecting baby teeth before putting them in a storage box:
Clean the teeth in soapy water and rinse.
Use a clean towel to dry the teeth.
Soak the teeth in rubbing alcohol.
Air-dry the teeth.
How to Monitor Falling Baby Teeth
Here's how to keep track of when milk teeth fall out so you can collect them all for storage:
| Upper Teeth | Age |
| --- | --- |
| Central incisor | 6–7 years |
| Lateral incisor | 7–8 years |
| Canine (cuspid) | 10–12 years |
| First molar | 9–11 years |
| Second molar | 10–12 years |
| Lower Teeth | Age |
| --- | --- |
| Second molar | 10–12 years |
| First molar | 9–11 years |
| Canine (cuspid) | 9–12 years |
| Lateral incisor | 7–8 years |
| Central incisor | 6–7 years |
Can You Keep Baby Teeth Forever?
Fortunately, you can keep your child's baby teeth in storage for donkey years! Teeth are the strongest structures in the human body. That's because they contain the same calcium mineral found in rocks: hydroxyapatite.
What Can I Do With My Child's Baby Teeth?
Besides storing your child's baby teeth, here are other interesting things you can do with them.
1. Turn Baby Tooth Into Jewelry
Baby teeth jewelry didn't make its debut on Etsy, Instagram, or an episode of HBO's Girls. It was actually England's Queen Victoria who popularized the trend when she turned her daughters' milk teeth into jewelry.
But honestly I really don't like it, and I find it morbid!
Shown below are Princess Victoria's thistle brooch and Princess Beatrice's fuschia flower earrings and pendant set.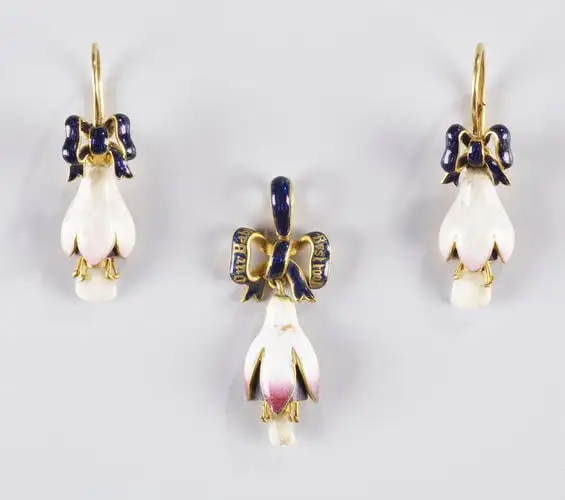 You, too, can turn your child's pearly whites into family heirlooms. Check out these fab options:
Use the actual baby tooth as a centerpiece or accent in jewelry.
Create a baby tooth mold and cast silver or gold jewelry out of it.
Transform the tooth into a pearl-like gem before turning it into jewelry.
2. Bank Baby Teeth in a Dental Stem Cell Facility
Studies have shown that pulp tissues in baby teeth are a rich source of stem cells.
These cells have regenerative properties, showing potential as replacements for dentures and dental implants. Not just that, but there's hope to use them to cure challenging diseases in the future.
If you think your child's milk teeth can save their life one day, then a tooth bank is the best place to store them.
See the video below for more information
3. Save Baby Teeth for Mental Health Analysis
According to an ongoing study, growth marks in baby teeth can show a child's early exposure to stress and adversity. This may prove useful in predicting risks for mental health problems. So, fill those baby tooth memory boxes just in case.
Other FAQs
Should I Keep My Child's Baby Teeth?
I recommend keeping your child's baby teeth—and not just as mementos. With the rapid advancements in stem cell applications, they may be future lifesavers as well.
How Are Baby Teeth Processed for Stem Cells?
First, a healthy milk tooth is extracted at a clinic. Next, a lab technician at the tooth bank will extract the dental pulp from the tooth. Lastly, stem cells will be isolated from the pulp and then frozen using liquid nitrogen.
How Much Is the Cost of Storing Baby Teeth in a Stem Cell Bank?
Initially, you'll pay around $600 for the processing fee. Afterward, you need to shell out about $100 for the annual storage.
Can DNA Be Extracted From Baby Teeth?
Yes, and DNA harvested from a keepsake baby tooth can be used in astonishing ways. For instance, a team of paleoanthropologists used gene sequencing to identify a 150,000-year-old baby tooth!
Wrapping Up
So, what are your thoughts about storing your child's baby teeth?
Let me know in the comments if you're saving them as keepsakes or as medical insurance for when the time comes.
Sources
As the founder of Container FAQs, my goal is to provide readers with in-depth information on the containers used in daily life and related subjects. Don't hesitate to reach out to me if you have any suggestions for articles you would like to see on my blog.